Sales Have Ended
Registrations are closed
Registration for this Mini-Paz retreat in Eureka Springs, Arkansas has ended.
Sales Have Ended
Registrations are closed
Registration for this Mini-Paz retreat in Eureka Springs, Arkansas has ended.
About this Event
Unite with like-minded women for a weekend fall retreat timed just before the Fall Equinox when there is a shift of emphasis from outward achievement to inner reflection and contemplation. The energy of this season helps us release old patterns, paving the way for inspiration, gratitude and compassion. We are excited to harness the energy leading up to the shift occurring at this transformational time of the year. We will take time during this fall retreat for rewriting, clearing and programming through group energy sessions, journaling, and reflection.
As humans, we experience shifts in energy, changes in mood, and changes in thoughts. With increased awareness we can begin to notice energy shifts inside. Angela Holmes will share tools with us to practice how to tap into the energy of our bodies on a regular basis helping us to focus on our intuition, isolating the best way to receive insight.
This all-inclusive women's retreat includes:
a twin bed in a shared room or loft (price and availability varies)
five healthy meals (welcome dinner, breakfast, lunch, dinner, farewell breakfast)
meditations
yoga
group energy sessions
*1:1 energy sessions are available for an additional fee limited availability-purchase in advance!
**You are responsible for transportation to and from the retreat.
About the Teachers:
Angela Holmes, Spiritual Alchemist
Angela is a Spiritual Alchemist--utilizing a variety of modalities to connect with the Divine Universal Wisdom to assist with guiding evolution and humanity towards wellness, joy and unlimited possibilities! Angela holds a degree in occupational therapy and certifications in energetic medicine and bodywork. She has been studying modalities of mind-body-spirit wellness and holistic health coaching since 1995. Throughout her journey of intentional living, she has had the privilege to study and work alongside shamans, mediums, vibrational sound and art therapists, yogis, mystics, allopathic medical doctors and therapists, aromatherapists/herbalists, holistic nutritionists, quantum physicists, environmentalists, a variety of energy practitioners, kinesiologists, spiritual coaches, wiccans, chiropractors, astrologists, hypnotherapists, and most of all children and the elderly. Angela draws upon knowledge from her education, experiences, interactions and intuitive awareness to guide her healing practices and facilitate personal transformation.
Angela Cronk-Braun
Angela is owner of Hagoyah Salon, Yoga Den, and Spa. She is co-founder of Heartland Yoga Festival. Angela's meditation and yoga practice has been so impactful for her, and she wants to share these tools with the world by making yoga and meditation affordable, accessible and part of a weekly self-care regimen. If this is your first time experiencing yoga, you are in great hands. The yoga experiences at our retreat will be suitable for everyone. Angela firmly believe the more that we practice better self-care, we will be nicer people and our world will be a nicer place.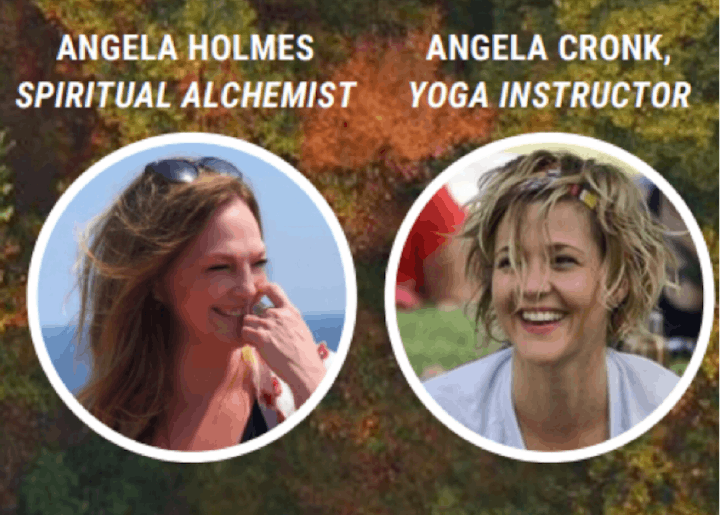 The historic deck house is secluded on a bluff overlooking the Kings River valley and features a gorgeous landscape right outside your door.
Accommodation Configurations:
House Bedroom 1: Two (2) Twin BedsHouse Bedroom 2: Two (2) Twin BedsBungalow 1, Bedroom 1: Two (2) Twin BedsBungalow 1, Bedroom 2: Two (2) Twin BedsBungalow 2, Bedroom 1: Two (2) Twin BedsBungalow 2, Bedroom 2: Two (2) Twin BedsNorth Loft: Four (4) Twin BedsSouth Loft: Four (4) Twin Beds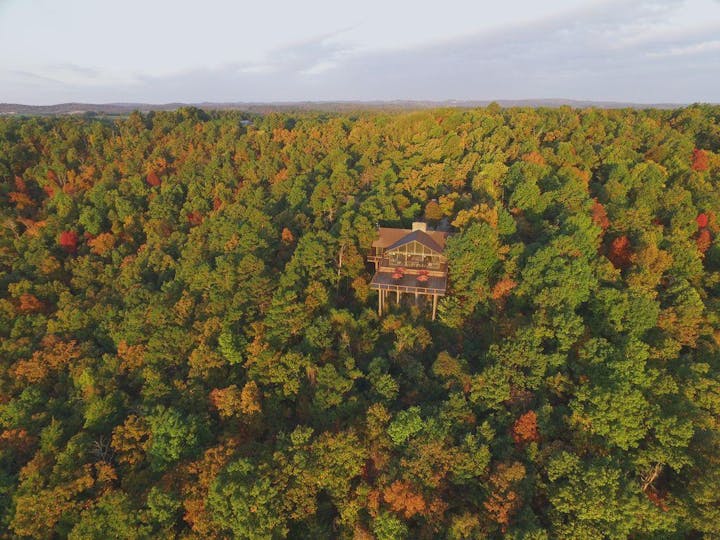 Our favorite feature of the deck house is a large, wraparound wooden deck with a beautiful view of the Trigger Gap Valley portion of the Kings River Preserve.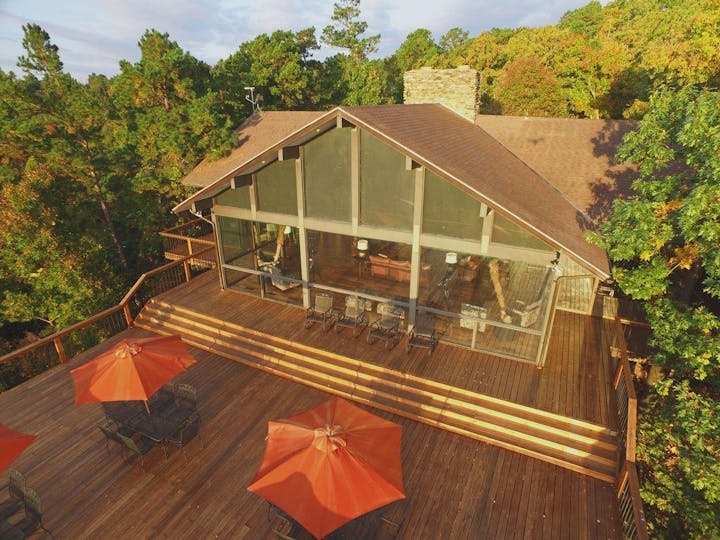 The Deck house sleeps 12 people in two private bedrooms with two twin beds each and two sleeping lofts with four twin beds each. The Deck House has two bathrooms.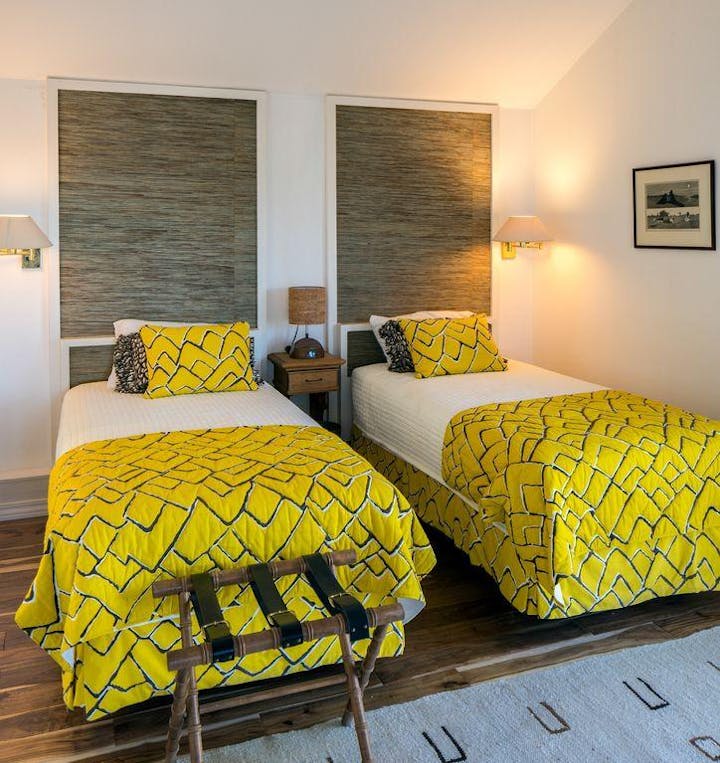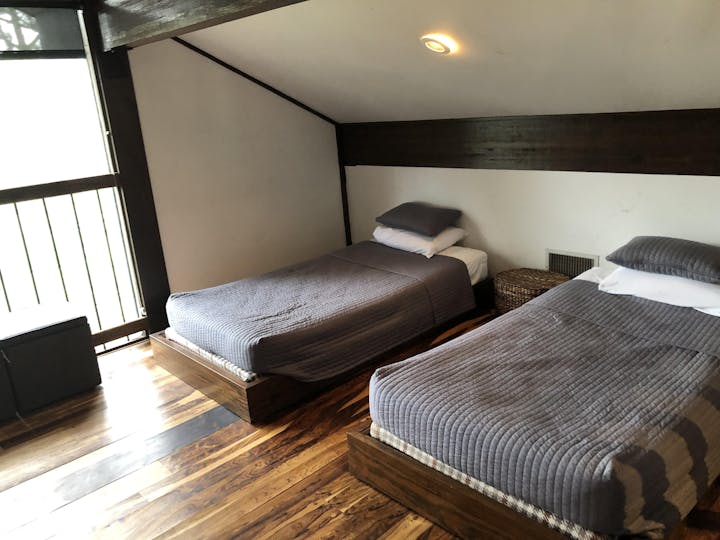 There are two full bathrooms, a large updated kitchen, and a cozy den centered around a grand fireplace.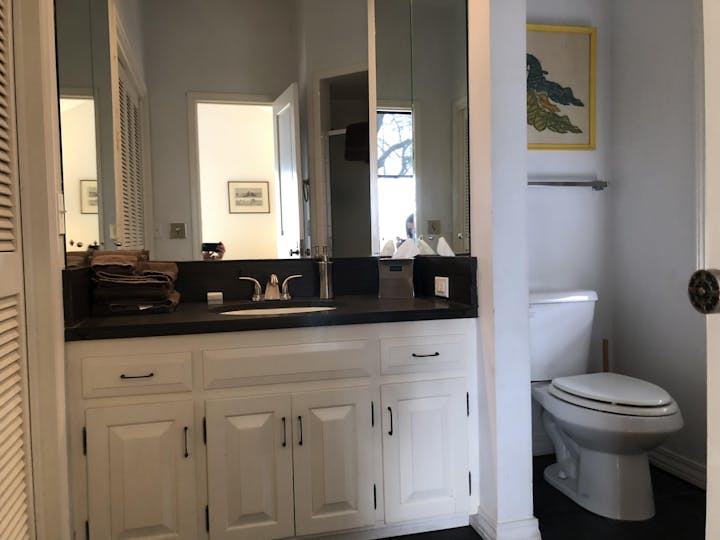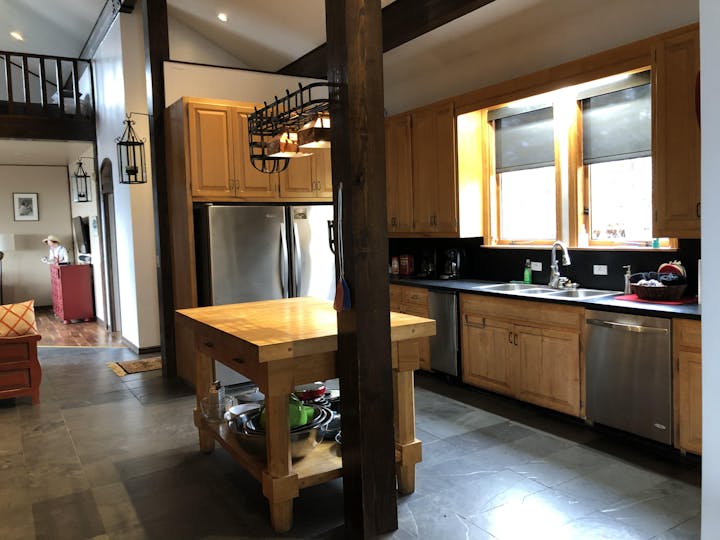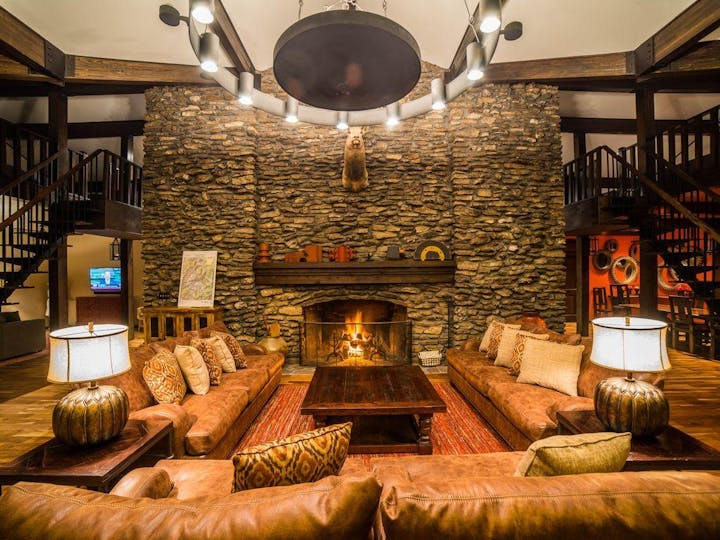 The entire back of the house is enclosed by picture windows allowing you to enjoy the outdoors even when you are inside. A two mile trail connects the deck house to a bluff over the river.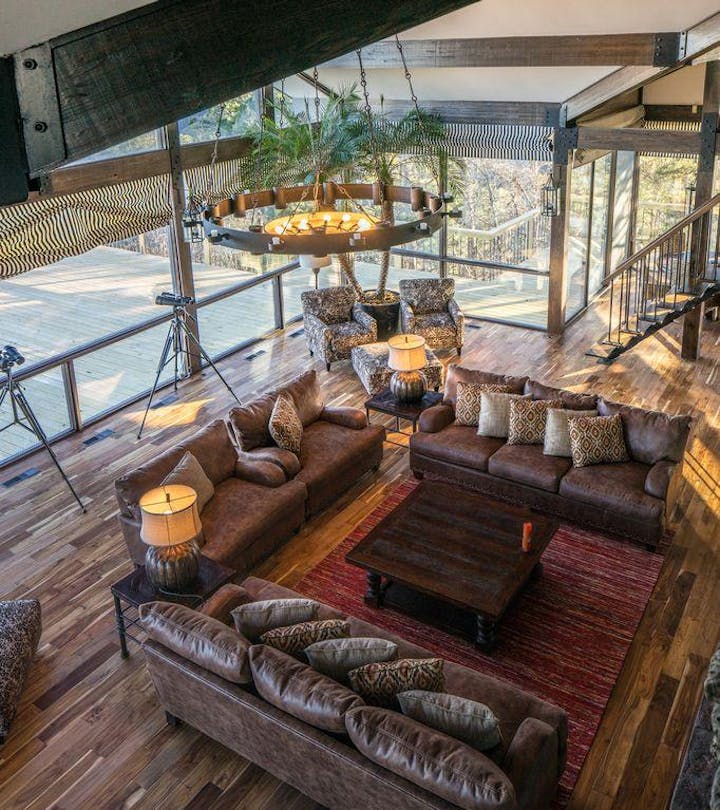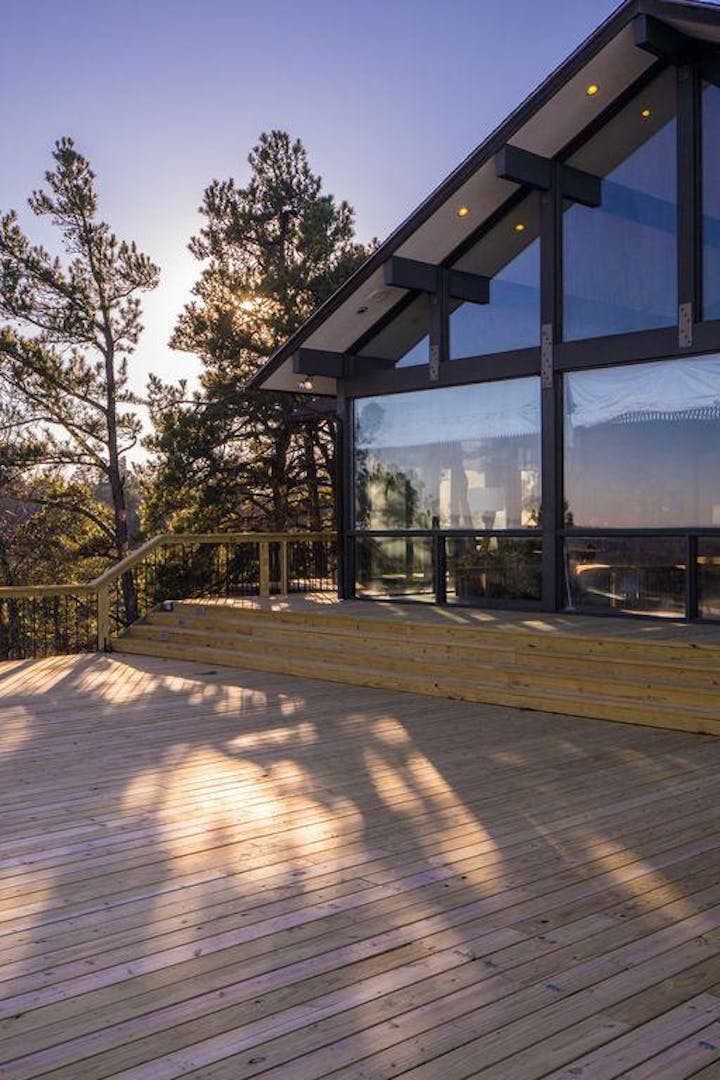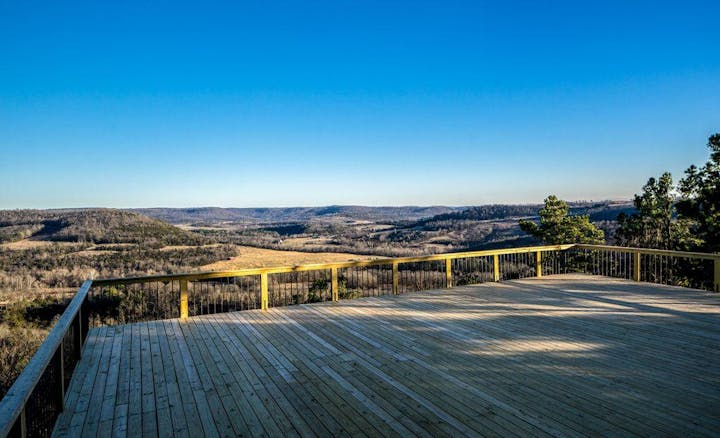 Each of the guest bungalows sleeps four people total, in two bedrooms. Each bedroom has two twin beds and a connected private bath. Each bungalow has its own porch and view of the valley.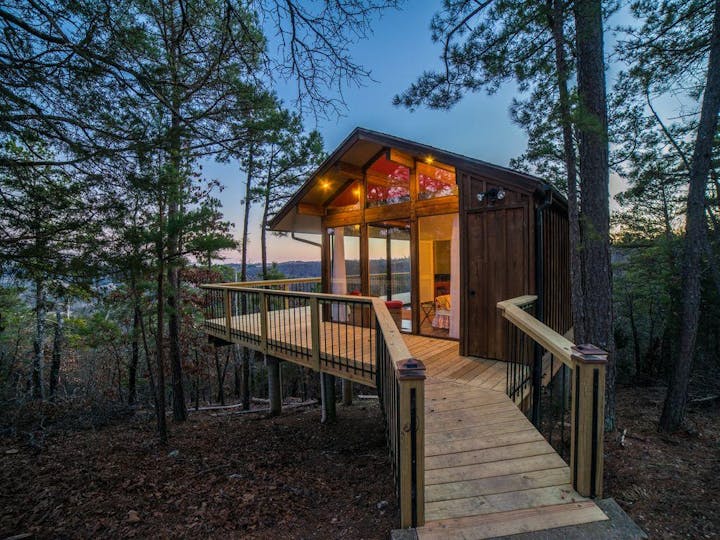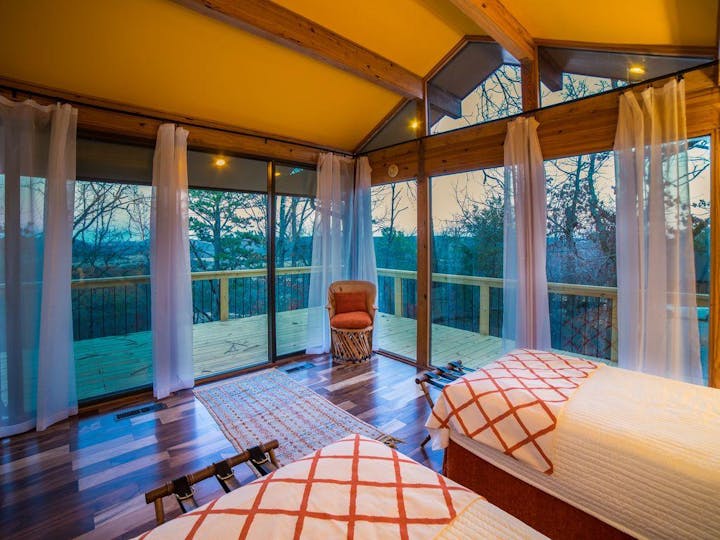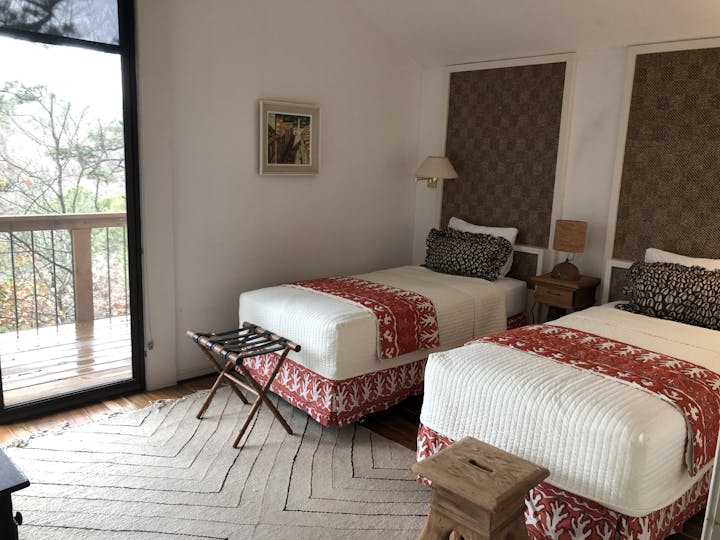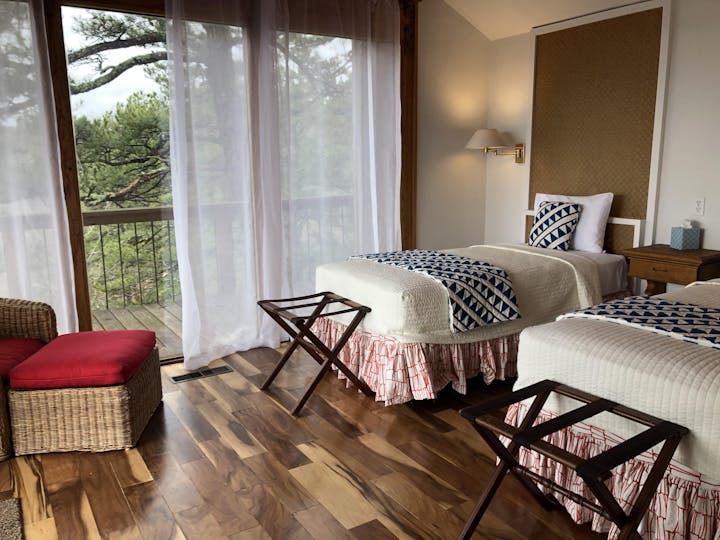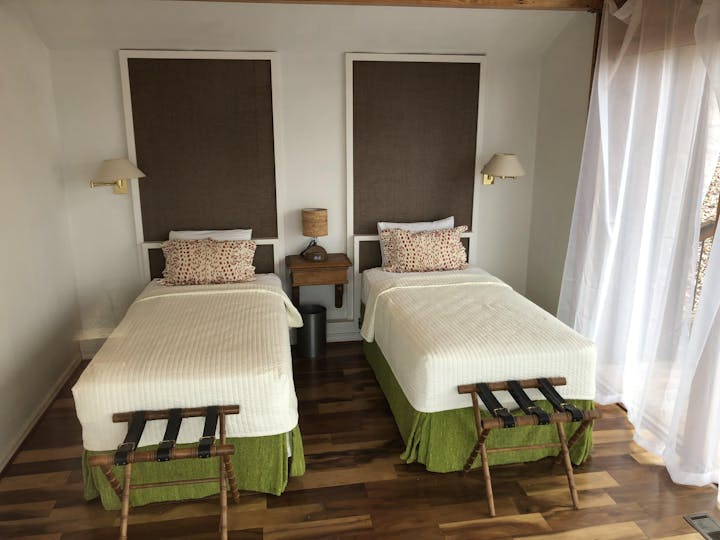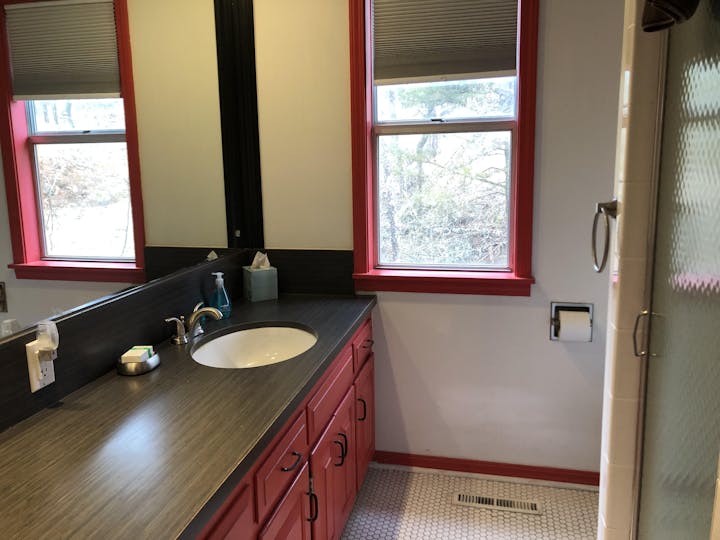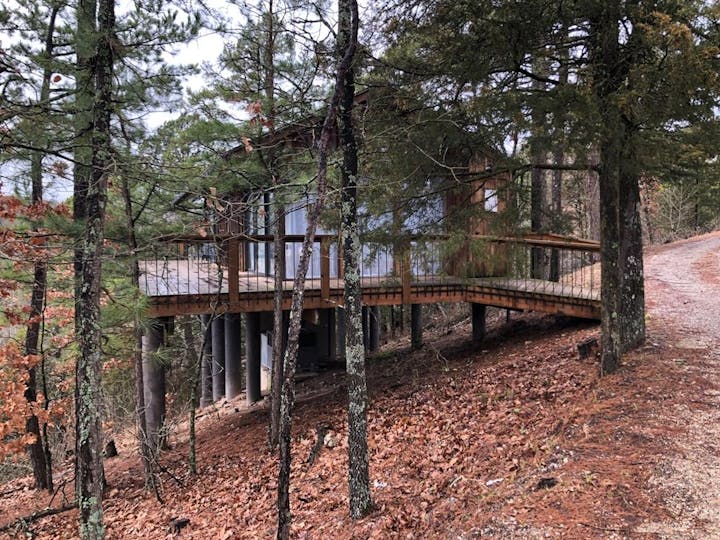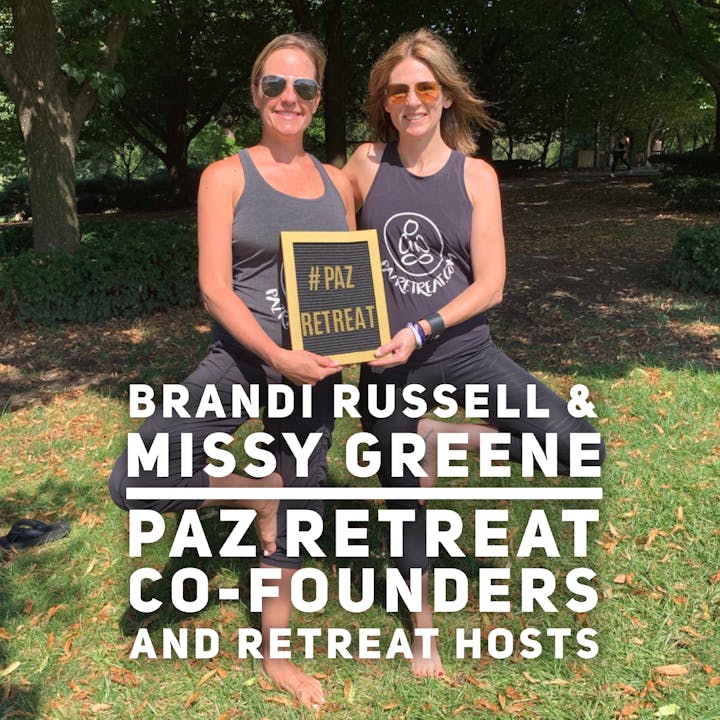 ABOUT YOUR HOSTS
MISSY GREENE AND BRANDI RUSSELL, PAZ CO-FOUNDERS/ RETREAT HOSTS
PAZ (pronounced pause) started as a candid conversation between two friends and neighbors, Missy Greene and Brandi Russell, sipping IPAs and sharing questions and curiosities about their unique energetic experiences and spiritual journeys. Over time, they expanded their conversation to include others. They invited their friends, and their friends invited their friends. What evolved was a beautiful set of women from all backgrounds and religions coming together in a welcoming and open space to collectively expand their mind, body, heart and soul.
This amazing group of women inspired co-founders, Missy Greene and Brandi Russell, to create PAZ. A space where women with open-minds and open-hearts can meet and mingle in the most authenticate way to grow energetically and spiritually. PAZ coordinates local workshops and weekend retreats with the goal of uniting and connecting a small group of like-minded women to support each other along their journey of self-discovery and energy exploration. While there are many yoga, mediation and wellness offerings available, there is a need for experiences that include energy and non-denominational spiritual explorations. As life-long spiritual seekers, Paz founders, Missy and Brandi, wanted to create a Midwest retreat experience hosting a variety of spiritual teachers/yoga instructors in a space where they can be completely present and focused—delivering high quality instruction without the distraction of organizing the details of the retreat. This is what differentiates PAZ from the others. PAZ will feature different types of energy experts to guide us along our journey of self discovery. Sorry, ladies, if you were looking for a boot camp, this is not it!
We are all on different paths, but we all want to be heard and encouraged. PAZ is a platform for both seekers and teachers to come together to connect with like-minded individuals, support each other, and share their authentic gifts--a space where you can take a pause from your busy life to balance your mind, body, heart and soul.
THE PAZ DIFFERENCE
PAZ is on a mission to create a deeply fulfilling and personalized retreat experience where you can enjoy the comforts of home while connecting and expanding your mind, body, heart and soul. You will book your retreat with your hosts and personal concierges (Missy and Brandi). We will gather all the necessary information to make sure your retreat is everything you want and more. During your stay, Missy and Brandi will be your concierges and hosts and will be available 24/7 to help with any issues that may arise.
CANCELLATION POLICY
We offer a full refund when cancelled (5-weeks or 35 days) before the retreat.
We offer a 50% refund for reservations cancelled 14-days before the retreat.
Retreats are subject to cancellation due to lack of minimum required participants registered within 60-days prior to the date of the retreat. In the event that Paz must cancel a retreat, guests will be notified immediately and receive a full refund.
BONUS! Our stay at The Nature Conservancy's Deck House supports conservation of the Kings River. Net income from deck house rentals is reinvested in the future of the preserve. The Conservancy is actively working to restore eroding stream banks, reforest stream side pastures, and repair eroding gravel roads in to reduce sediment and improve river quality for everyone.