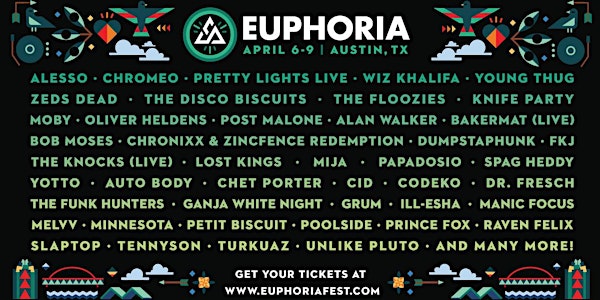 Euphoria Music & Camping Festival 2017
When and where
Location
Carson Creek Ranch 8500 Hergotz Lane Austin, TX 78742
Description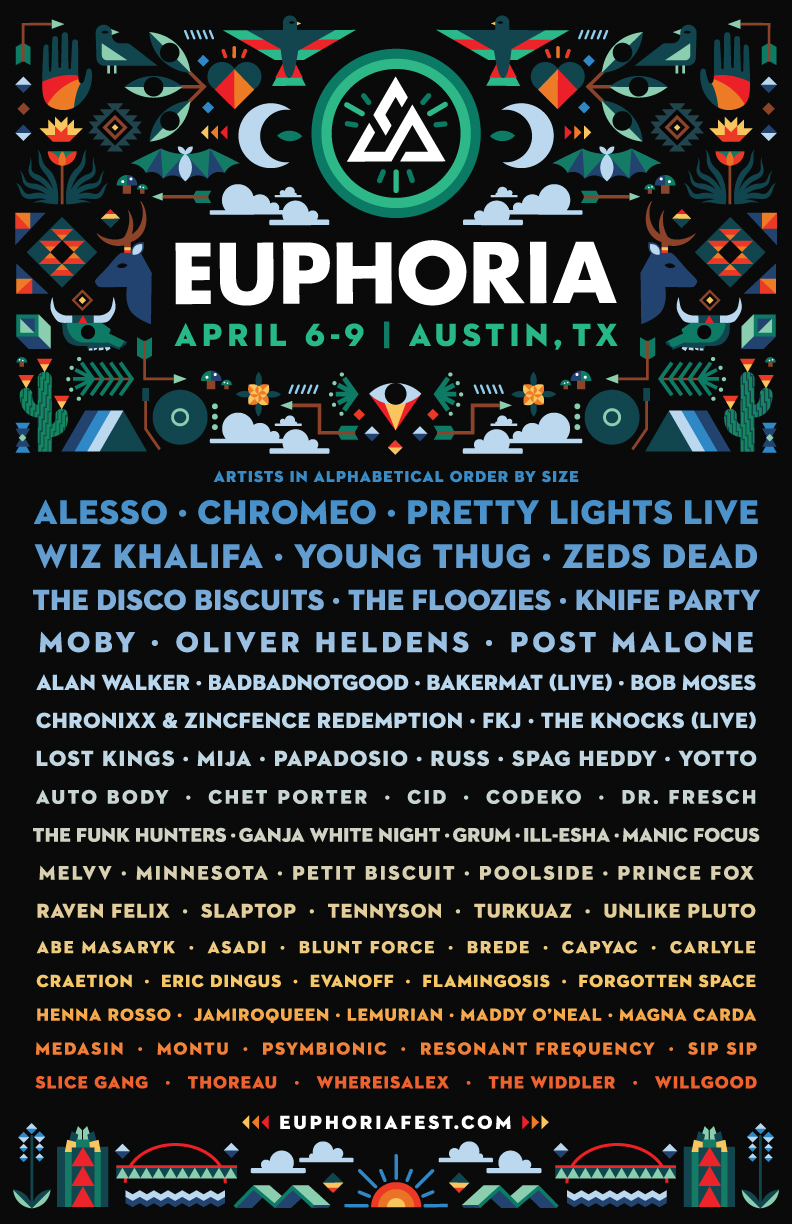 EUPHORIA LINEUP
Alesso ∙ Chromeo ∙ Pretty Lights Live ∙ Wiz Khalifa ∙ Young Thug ∙ Zeds Dead ∙ The Disco Biscuits ∙ The Floozies ∙ Knife Party ∙ Moby ∙ Oliver Heldens ∙ Post Malone ∙ Alan Walker ∙ Bakermat (Live) ∙ Bob Moses ∙ Chronixx & Zincfence Redemption ∙ Dumpstaphunk ∙ FKJ ∙ The Knocks (Live) ∙ Lost Kings ∙ Mija ∙ Papadosio ∙ Spag Heddy ∙ Yotto ∙ Auto Body ∙ Chet Porter ∙ CID ∙ Codeko ∙ Dr. Fresch ∙ The Funk Hunters ∙ Ganja White Night ∙ Grum ∙ Ill-Esha ∙ Manic Focus ∙ Melvv ∙ Minnesota ∙ Petit Biscuit ∙ Poolside ∙ Prince Fox ∙ Raven Felix ∙ Slaptop ∙ Tennyson ∙ Turkuaz ∙ Unlike Pluto ∙ Abe Masaryk ∙ Asadi ∙ Blunt Force ∙ Brede ∙ Capyac ∙ Carlyle ∙ Craetion ∙ Eric Dingus ∙ Evanoff ∙ Flamingosis ∙ Forgotten Space ∙ Henna Roso ∙ Jamiroqueen ∙ Lemurian ∙ Maddy O'Neal ∙ Magna Carda ∙ Medasin ∙ Melvv ∙ Montu ∙ Psymbionic ∙ Resonant Frequency ∙ Sip Sip ∙ Slice Gang ∙ Thoreau ∙ Whereisalex ∙ The Widdler ∙ Willgood
EUPHORIA INFORMATION
○ Event: Euphoria Music & Camping Festival
○ Date: April 6 - 9, 2017
○ Venue: Carson Creek Ranch - Austin, TX
○ Age Policy: Patrons must be 18+
○ Weather: The festival is rain or shine
○ Lineup: Artists and music performances are subject to change
○ Hours of operation:
○ Thursday: 6pm - 12am
○ Friday: 2pm - 2am
○ Saturday: 12pm - 2am
○ Sunday: 12pm - 12am
TICKET INFORMATION
○ All patrons wishing to have access to camping areas must purchase a ticket type that includes festival admission and camping
○ A camping pass is required to enter the venue on April 6th
○ Camping WILL SELL OUT - if you plan to camp, act now. To access the campgrounds, you must buy a Festival Admission + Camping Pass.
○ We cannot guarantee the availability of Camping Add-Ons or VIP Upgrades at a later date. The only way to ensure you can camp or access VIP areas is to purchase that inclusive pass now.
○ All patrons wishing to have EARLY ENTRY access to camping areas must also purchase a ticket with festival admission and camping
○ Early Entry is extremely limited
○ Tent Rentals & RV Passes will be available closer to the event date
○ Parking is not included in either pass and will be available for purchase closer to the event date
○ Fees include Eventbrite ticketing, credit card processing and facility costs
○ Once you purchase, you will receive an order confirmation email from Eventbrite on behalf of Euphoria
○ IMPORTANT: If you do not see your order confirmation in your inbox, make sure to check your junk/spam folder.
○ If you have not received your confirmation or are having any other technical ticketing-related issues with your order, click here to contact Eventbrite: https://www.eventbrite.com/support/contact-us
○ Festival and regular camping passes will be shipped in the form of wristbands
○ Early Entry passes and Camping Packages are emailed as PDF tickets that will be exchanged for wristbands, to be picked up at Will Call at the festival
PAYMENT PLAN INFORMATION

○ Want to attend Euphoria this year but don't have the funds upfront?
○ You can now opt to pay for your Euphoria experience in fixed monthly installments
○ Subject to approval, enjoy payments over 3 or 6 months at $0 down
○ How to sign up for Affirm Payment Plans?
1. Select your ticket as you normally would and proceed to check-out
2. Under "Payment Method," select "Monthly Payments with Affirm" from the drop-down menu
3. Complete the Buyer and Address information on the page and click "Continue to Affirm"
4. Fill out the information for your Affirm application
5. If you are approved, select the plan you want, click Confirm Loan and you're done!
6. Your first monthly payment is due 30 days from the date that Eventbrite processes your order
○ Euphoria accepts no liability for non-payment using Affirm Plans
○ For more info about Affirm, please visit this link: https://www.affirm.com/faqs/

SHIPPING
○ All wristbands from domestic orders purchased before March 2017 will ship in March 2017
○ Please allow to the end of March 2017 for your wristbands to arrive
○ Wristbands will be sent to the shipping address specified on your order
○ For instructions on how to update your shipping address, click here: https://www.eventbrite.com/support/articles/en_US/How_To/how-to-update-the-shipping-address-for-an-event-wristband?lg=en_US
○ All international orders will be held at Will Call
○ All orders placed after the beginning of March, will be held at Will Call
○ TREAT YOUR WRISTBAND LIKE CASH. IT IS YOUR WAY TO GET INTO THE FESTIVAL. IF YOU LOSE, CUT, TAMPER OR DESTROY YOUR WRISTBAND IT WILL NOT BE REPLACED
○ Instructions will be sent with wristband on how to fully activate and easily access the festival
REFUND & TRANSFER POLICY
○ ALL SALES ARE FINAL. No refunds or exchanges will be given under any circumstances
○ IMPORTANT: Only purchase Euphoria tickets from the official ticketing page (this page)
○ If you purchase from a third-party, you risk buying a counterfeit or invalid ticket
○ Euphoria is not responsible for and is under no obligation to accept fake, lost or stolen tickets
○ Euphoria & Eventbrite Customer Service will only assist original ticket buyers
○ Wristbands are treated like cash and will not be replaced if lost, forgotten, stolen, cut, tampered-with or destroyed
○ Once a wristband is registered, it cannot be transferred
TERMS OF SERVICE

○ By purchasing a ticket or entering this site, you are subject to the above-mentioned terms and Euphoria's Terms of Service found here: http://www.euphoriafest.com/terms-of-service
ADDITIONAL QUESTIONS
○ Additional questions? Please see our FAQ here: http://www.euphoriafest.com/faq