Description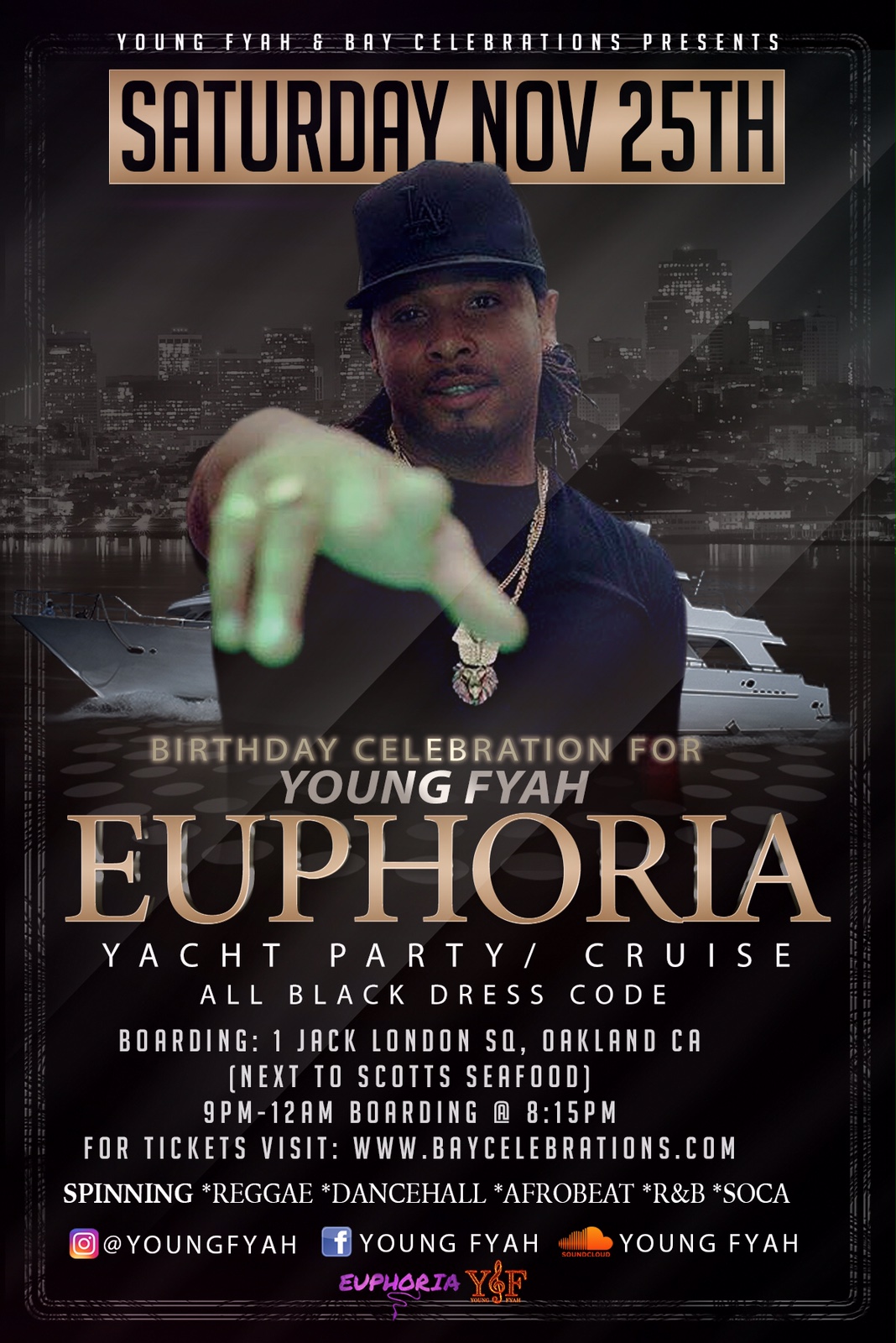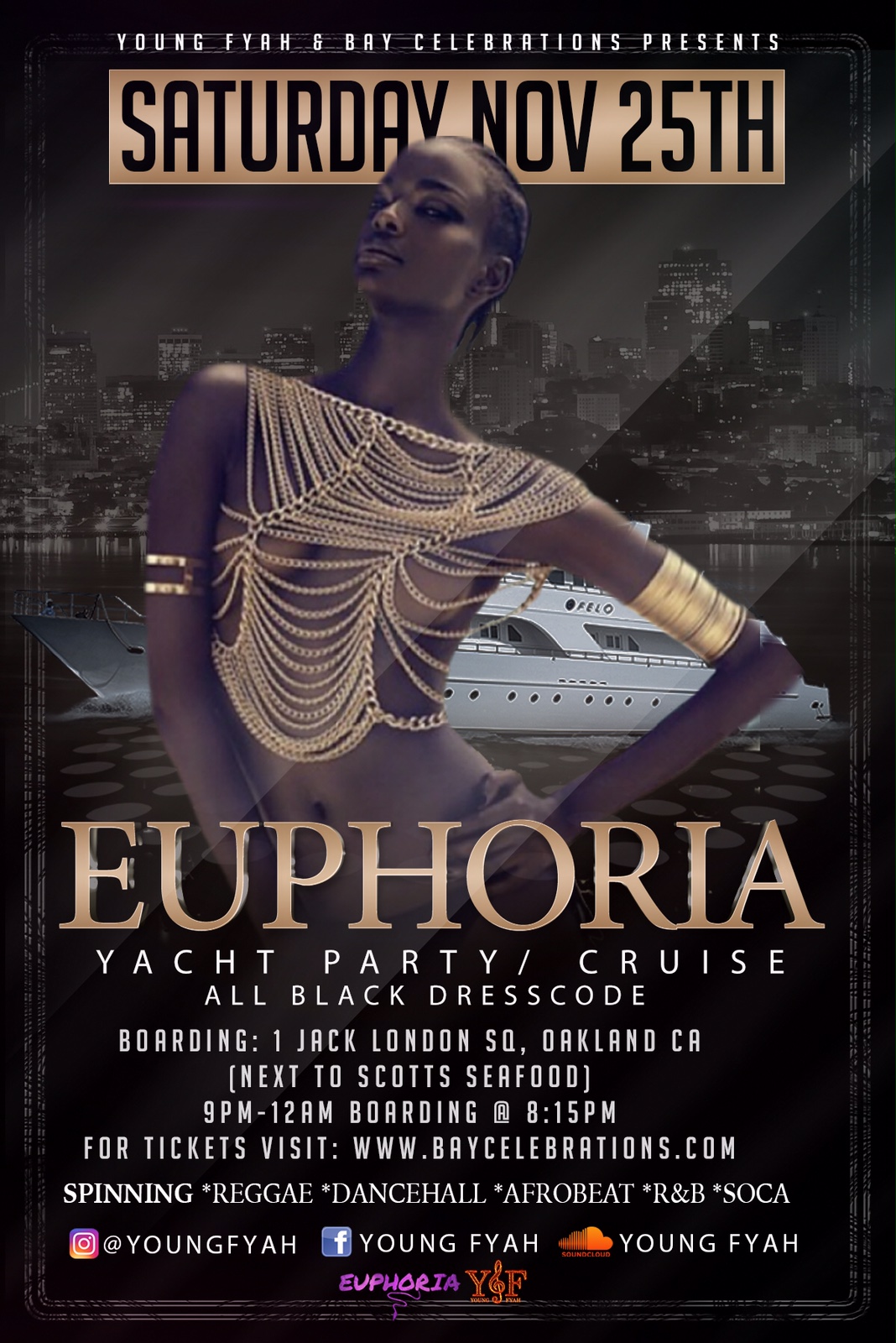 YOUNG FYAH PRESENTS:
EUPHORIA - HALLOWEEN
A Taste of the Caribbean**** Come experience authentic island vybz once again on this beautiful yacht cruise over the Bay Area waters, while partying to the best in REGGAE/DANCEHALL, SOCA, AFRO-BEAT and R&B. See the many wonderful surrounding sights, travel to the Bay Bridge's and enjoy this wonderful excursion on SF Bay!
Cruise**
Boat Loads at 8:15PM all ticketed passengers will be boarded first.
8:45PM all ticketed passengers much be in line or on the boat. YOUR TICKET WE BE CANCELLED IF NOT CHECKED IN.
8:50PM Cash only Tickets go on sale until the boat is full.
Boat departs at "9:00PM SHARP!!"
We "MUST" leave on time and keep on schedule folks. The boat will not wait for you so please arrive extra early to get good parking and familiarize yourselves with the area. There are big parking lots in the Jack London Square area close to our departing place, and public parking on the streets, but can be busy with the many restaurants and shops so please prepare. There are many places to eat & drink by the nearby boat boarding location after you park so choming early is highly recommended to situate yourselves, avoid any stress, and grab a drink or a bite to eat in this beautiful area while you're waiting.

((( BOAT DEPARTURE ADDRESS ))) ~>>> 1 BROADWAY, OAKLAND, CA 94607

...in the Jack London Square (area of Oakland) at the very end of Broadway Street (also next to Lungomare restuarant - in case you need another reference).

*Please remember to bring your PHOTO ID's to be checked thru security and for ticket purchase confirmation. Please bring your ticket print-outs (if possible). *If you have bought multiple tickets, please have these persons with you on arrival before entering the boat to avoid confusion! This is a 21+ event.

About the boat: "Bay Celebrations" is a locally owned, double decked riverboat style vessel powered by twin engines. The boat is wheel chair accessible and features a full bar and indoor / outdoor areas. The boat moves slowly for maximum comfort and will tour the lovely waters of the SF Bay. This boats' capacity is 145 people.

*We highly recommend that you eat a good full meal before arriving to the boat keep your tummies full during the entire boat ride. Alcohol on an empty stomach is no bueno! There will many beverages (water, alcohol, soda, juice, etc.) sold at the boats two bars. We strongly suggest bringing a thick jacket as it can get chilly & windy during the evening hours and out on the deck. No backpacks and only good vibes on this journey...
Let's have some fun!

Please 'like" our public facebook page: https://www.facebook.com/baycelebrations/?ref=hl
Feel free to join our facebook group for what's next for what's next https://www.facebook.com/baycelebrations/?ref=hl
Here is our website events and more infomation http://www.baycelebrations.com/