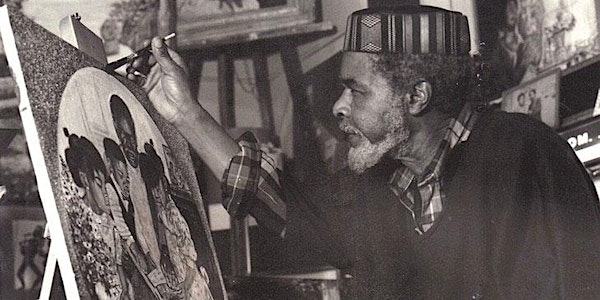 Eugene E. White Day
When and where
Location
African American Art & Culture Complex 762 Fulton Street San Francisco, CA 94102
Description
This day, by proclamation of Mayor Ed Lee, will be a time to pay tribute to this enduring and inspiring figure, an artist whose work has always been about cultural preservation, wisdom and uplifting Black lives. The day is poised to be a landmark event that will bring people of all ages together. Please contribute to this momentous event!
ABOUT EUGENE E. WHITE: ARTIST, EDUCATOR, CULTURE BEARER
Born in Ozan, Arkansas in 1933, White has traveled the world observing and documenting the Black experience from Nigeria to France to Chicago. He arrived in the Bay Area in 1958, and opened the first Black owned art gallery in San Francisco.
Since then, he has displayed his work at FESTAC, an international art festival in Lagos, Nigeria, received a medallion from the city of Nashville, painted murals throughout San Francisco, and published an autobiography. He still runs his gallery in the Western Addition over 50 years later.
KUJIONA means "to see one's self" in Swahili. Eugene E. White has taken on this name to represent his art expressions. He says, "In visual art I begin with me. I related this name to my family ties and in memory of many of the beautiful people whom I have met and watched grow." Art has the power to show the self and to preserve the heritage of the Black experience.