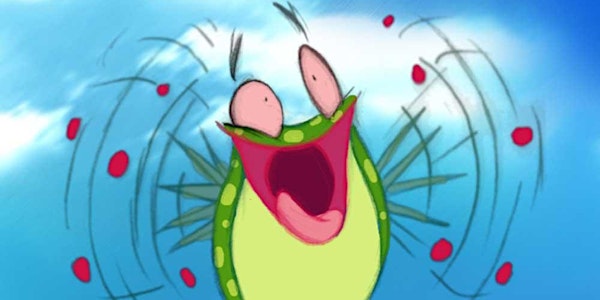 EU Shorts BULGARIA/MALTA/PORTUGAL
Do you have kids of various ages? Can't decide which films to see? Then bring your whole family and come explore short films from across the
When and where
Location
Sitar Arts Center 1700 Kalorama Road, NW Suite 101 Washington, DC 20009
About this event
BULGARIA
"The Air Ace"Animated short filmAge: 2 - 12Duration: 9 mins.Director: Svilen DimitrovLanguage: Non verbal
What it is about…There are only three things you need to fly:Dream,Persistence,and be a frog!
MALTA
"Dream Big Little Cowboy"
Live Action Short FilmAge: 8 – 12Duration: 8 mins.Director: Aldo ZammitLanguage: Maltese with English subtitles
What it is about…James, a seven-year-old boy, is troubled when he learns that his beloved teacher is leaving them halfway through the year. A day before encountering his new teacher, his sister reveals a fact which further fuels his fear of this new beginning into a nightmare. A nightmare based on innocent misinterpretations and cartoonish misconceptions.
PORTUGAL"Uncle Thomas"; "Kali: The Little Vampire"; "Tragic story with a happy ending"Animated Short FilmsAge: 8 - 12Duration: 30 mins.Director: Regina PessoaLanguage: English
What it is about…Uncle Thomas
From the affective and visual memories of my childhood, this film is intended as a tribute to my uncle Thomas, a humble and slightly eccentric man who had a simple and anonymous life. With this movie I'd like to witness how you don't have to be someone to be exceptional in our lives.
Kali: The Little Vampire
This is the story of a boy, different from others, who dreams of finding his place in the sun. As the moon goes through different phases, so too must Kali face its inner fears and demons in order to find its way into the light. One day it will disappear ... or maybe it's just another phase of change.Tragic story with a happy ending
There are people who, against their will, are different. All they want is to be the same as others, to mingle deliciously in the crowd. There are those who spend the rest of their lives struggling to achieve this, denying or trying to stifle that difference. Others take it and so rise, thus finding a place with others ... in the heart.
This event is brought to you by the 12th annual Kids Euro Festival, a two-week long festival of European arts and culture presenting free activities to D.C. metro area children from age 2 to 12. With programs both for the general public and for school groups, more than 10,000 DC-area children and their families enjoy Kids Euro Festival programs each year. This is made possible by the 28 European Union countries and the European Union Delegation in Washington in cooperation with the European-American Cultural Foundation and The Carmel Cultural Endowment for the Arts. For the full lineup of events, please visit www.kidseurofestival.org and follow us at #KidsEUFest.