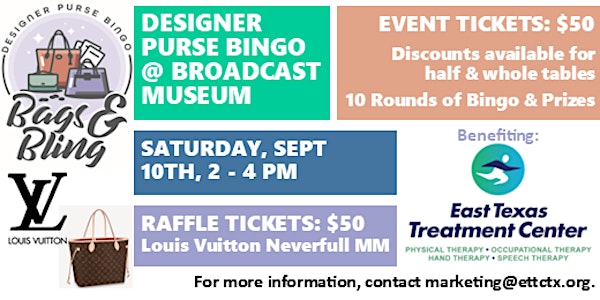 ETTC's 2nd Annual Bags & Bling — Designer Purse Bingo 2022
We are pleased to invite you to participate and support our designer purse/accesories bingo fundraising event! Doors will open at 1:30 p.m.
When and where
Location
Texas Museum of Broadcasting & Communications 416 East Main Street Kilgore, TX 75662
About this event
Join us for an afternoon of handbags, prizes and fun! This event will raise funds needed to assist our sponsorship program and other needs of the East Texas Treatment Center.
ETTC is a comprehensive outpatient rehabilitation facility providing physical therapy, occupational and hand therapy, pediatric therapy and speech therapy to individuals all over East Texas. Since 1950, the ETTC Sponsorship Program has provided therapy services at a reduced rate or free of charge to qualifying patients. We are proud to be the only facility to offer this program in our area.
As we continue celebrating more than 70 years of operation, we hope you will join us in our efforts and be a sponsor and/or attend our 2022 Designer Purse Bingo! We appreciate you and look forward to seeing you in September!