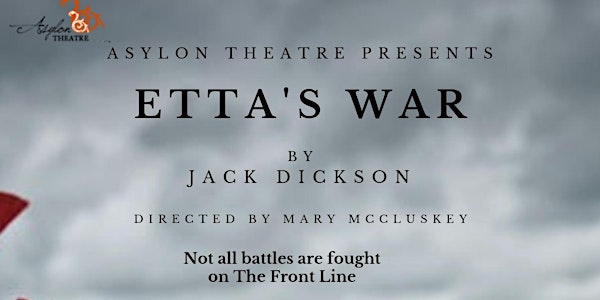 Etta's War
HOME FRONT HEROINES OF HAGHILL 1919-2019 COMMUNITY HERITAGE AND ARTS PROJECT THEN and NOW
When and where
Location
30 Abernethy St 30 Abernethy Street Glasgow G31 3SZ United Kingdom
About this event
Etta's War is a new play from Jack Dickson.
"It is a salute to the women of Haghill. It's also a celebration of the women in my life – the women in ALL our lives – because their strength and sacrifice makes us the men and women, boys and girls we are today".
Because there are many different types of sacrifice – some of which remain unacknowledged. Each of those men and boys had a mother, maybe a wife, a sister, maybe a daughter who were fighting their own wars, back on the streets and in the closes of Glasgow.
Fighting to keep their families strong.
Fighting to put food on their tables.
Fighting to ensure the factories stayed open and the wheels of commerce turned.
Fighting for the right for a say about what happened in their lives.
Fighting to hold their communities together in the face of a world which was changing for ever. A world which is still changing.
Marking the centenary of the signing of the Treaty of Versailles
we created Salute! Heritage and Arts Community Project to Celebrate Home Front Heroines of Haghill.
The project is an immersive event which combines theatre and community engagement celebrating the unsung Home Front Heroes of Haghill, in Dennistoun Glasgow during the First World War. Etta's War is a story of the women and men who fought their own battles on the Home Front and whose lives were changed for ever by "The War to End all Wars". Inspired by real women from Haghill and using material generated during the workshops, "Etta's War" involves professional actors, spoken chorus made of local people and workshop participants, young musicians and singers. One hundred years on, with conflict continuing throughout the world, their stories remain relevant to us all and reflect the cultural diversity of those affected by all wars.
After the performance, the audience is invited to stay for some refreshments whilst exploring a Peacebuilding Exhibition prepared by local residents.