Description
Etsy's Brooklyn Headquarters is partnering with local businesses in Dumbo this year to bring the surrounding community together for a day of meeting and making on June 17, 2016 from 12-8 p.m.
Drop by for an hour or stay for a few and join Etsy employees and attendees by touring the neighborhood and visiting participating businesses that will be offering all kinds of discounts, demos and activities to be enjoyed by kids and adults alike:
Etsy @ Creative Chaos: 28 Jay Street, DUMBO, Brooklyn // 12 p.m. - 8 p.m.
Swing by our Etsy Craft Party "homebase" hosted by Creative Chaos to engage in various coloring activities and face painting provided by Recess d.u.m.b.o.
---
West Elm Market: 50 Washington Street, DUMBO, Brooklyn // 12 p.m. - 8 p.m.
Meet the bath and beauty team behind Etsy shop Mullein & Sparrow and check out their organic and vegan beauty products while getting mini facials and hand massages.
Come by and say hi to Etsy knitwear designer Brandi from purlBknit who will be displaying her handmade wares and knitting patterns. Stock up for those chilly beach nights and follow @purlbknit on Instagram as she shares her journey towards this crafty event.
Etsy designer Jessica from Miniature Rhino will be teaching us how to embroider on paper. Stop by to stitch, and while your at it, check out her pop-up shop full of embroidery goodies and DIY kits too!
Trunk: 68 Jay Street #101, DUMBO, Brooklyn // 11 a.m. - 8 p.m.
Gemologist, Molly Clarke from Etsy shop Rock That Gem will be on hand to explain the process behind her jewelry, make alterations and generally be the rockin' designer that she is. Etsy designer and fiber/photo collage artist, Faune Yerby, will be hosting a DIY make your own yarn wall hanging workshop from 3 p.m. - 8 p.m. Bring $20 or sign up in advance here to cover the cost of supplies. You'll walk away with a new piece of fiber art to decorate your space.
Creativebloch: 145 Front Street, DUMBO, Brooklyn // 4 p.m. - 8 p.m.
Come see how two @creativebloch artists create their masterpieces during live painting demos. Merchandise, prints, originals, snacks, drinks and a good time will be available!
A.I.R. Gallery: 155 Plymouth Street, DUMBO, Brooklyn // 1 p.m. - 6 p.m.
Get involved in a table talk around the topic Is it art? is it craft? with a display of art pins from a collaboration by A.I.R. artists Daria Dorosh and Liz Biddle. Drop in anytime between 1 - 6pm, join the discussion, try on a pin, take one home.
Recess d.u.m.b.o.: 81 Washington Street, DUMBO, Brooklyn // 12 p.m. - 5 p.m.
Get your bounce on! Come on by and jump on into the blow up castle. You'll have: So. Much. Fun!
DUMBO BID & Creatively Wild: Manhattan Bridge Archway, DUMBO, Brooklyn // 4 p.m. - 6 p.m.
Join the DUMBO BID and Creatively Wild for free, hands on crafting under the Archway. Kids and kids-at-heart are invited to join in the fun: making funky monsters!
Smack Mellon: 92 Plymouth Street, DUMBO, Brooklyn // 11:30 a.m. - 8 p.m.
Stop by and see the exhibition Of the people including the Filibuster #2 performance by Alicia Grullon, which reflects of-the-moment political opinions shaping the 2016 US presidential race. You'll also get a chance to make your own political button (while supplies last). Register here.
BoConcept Dumbo: 79 Front Street, DUMBO, Brooklyn // 12:00 p.m. - 7 p.m.
Meet some local makers during an artisan craft fair at Bo Concept's showroom. You will find handmade jewelry by Etsy seller Hook & Matter, apparel, accessories, and more! Bo Concept is teaming up with airweave, provider for Quality Sleep through premium mattresses, to bring you a DIY potpourri station where you create a customized scent for your home and a good night's rest.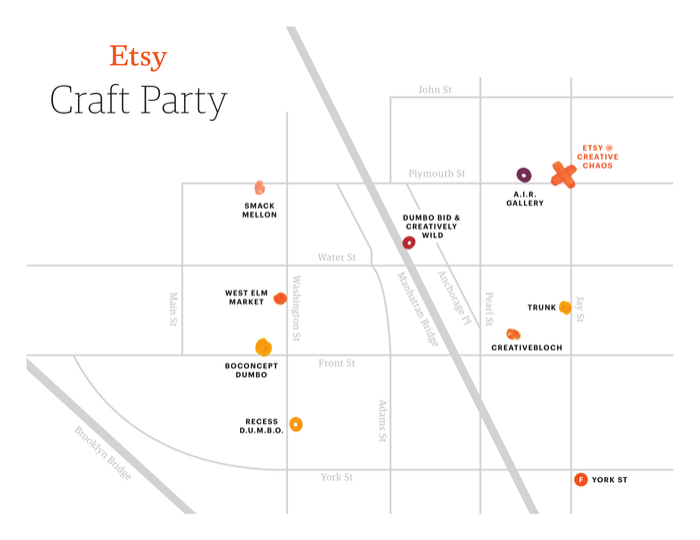 ---
Organizer of Etsy HQ's Dumbo Craft Party @ Creative Chaos
Every year, the Etsy community comes together to create and connect. You can join the fun by organizing a creative event or starting a project you've always dreamed of doing. Really, anything goes! We just ask one thing: Make sure to share it all on social media with #EtsyCraftParty so your fellow Craft Partiers can revel in your creative glory. Find out more about Etsy Craft Party.