Description
More than just a regular concert, eTown is a unique live experience! Audience members will watch the eTown Broadcast recorded before their eyes, complete with performances and interviews with both of our visiting artists, as well as the eChievement Award segment, eTown's opportunity to honor everyday heroes who are doing their part to make the world a better place.
---
Doors: 6:00pm
Show Start: 7:00pm
---
Presented by
---
The Waifs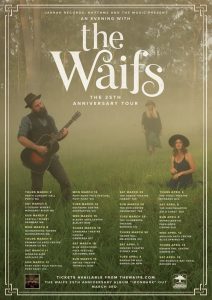 Just one look at the beautiful cover photo on The Waifs' new album Ironbark says a lot about who they are and what they are about; friends and family bound together by their love of music, of performing and of Australia.
It's 25 years since West Australian sisters Donna and Vikki Simpson (now Vikki Thorn) joined forces with Josh Cunningham to create one of the country's best-loved bands. That cover shot, taken near Cunningham's home on the NSW south coast, marks The Waifs' quarter of a century together, but it's also a nod to Australia itself, its nature and its people, essential ingredients in the extraordinary body of work The Waifs have created in that time.
One can't imagine a better way to commemorate this significant landmark in the band's career than with a double album of 25 original songs, one for each year, all of them recorded in the kitchen of Cunningham's home near Moruya, where he grew up. That's the amazing and unexpected harvest from a couple of weeks of recording late last year, when the trio assembled with regular collaborators David Ross McDonald (drums, percussion) and Ben Franz (bass, dobro), not really knowing what they were about to record, other than maybe some covers of other artists' material.
---
Jim Lauderdale
Singer/songwriter Jim Lauderdalehelped lay out the blueprint for the Americana movement of the '90s, earning high critical marks for an eclectic series of albums that spanned hard country, slick pop, rootsy rock & roll, blues, folk, R&B, and bluegrass. Stylistically restless, Lauderdale's roots were in hard country and bluegrass, but his first album to be released, 1991's Planet of Love, was a savvy blend of rock, blues, and traditional country influences. It scored rave reviews, as did its follow-up, 1994's Pretty Close to the Truth, but with 1999's I Feel Like Singing Today, a collaboration with Dr. Ralph Stanley, he revealed he was also a first-rate bluegrass vocalist. Over the next two decades, Lauderdale would move back and forth between electric and acoustic projects, always steeped in roots music, while he also built an estimable reputation as a songwriter, as his compositions were recorded -- often with considerable success -- by a number of country stars, including George Strait, Patty Loveless, Vince Gill, Mark Chesnutt, Kathy Mattea, and George Jones.
Performers
Date and Time
Location
Refund Policy