Ethno Cares & Reesha The Connect Present Art 4 Lupus | A Solo Art Exhibit

Thursday, August 13, 2015 from 6:00 PM to 10:00 PM (PDT)
Event Details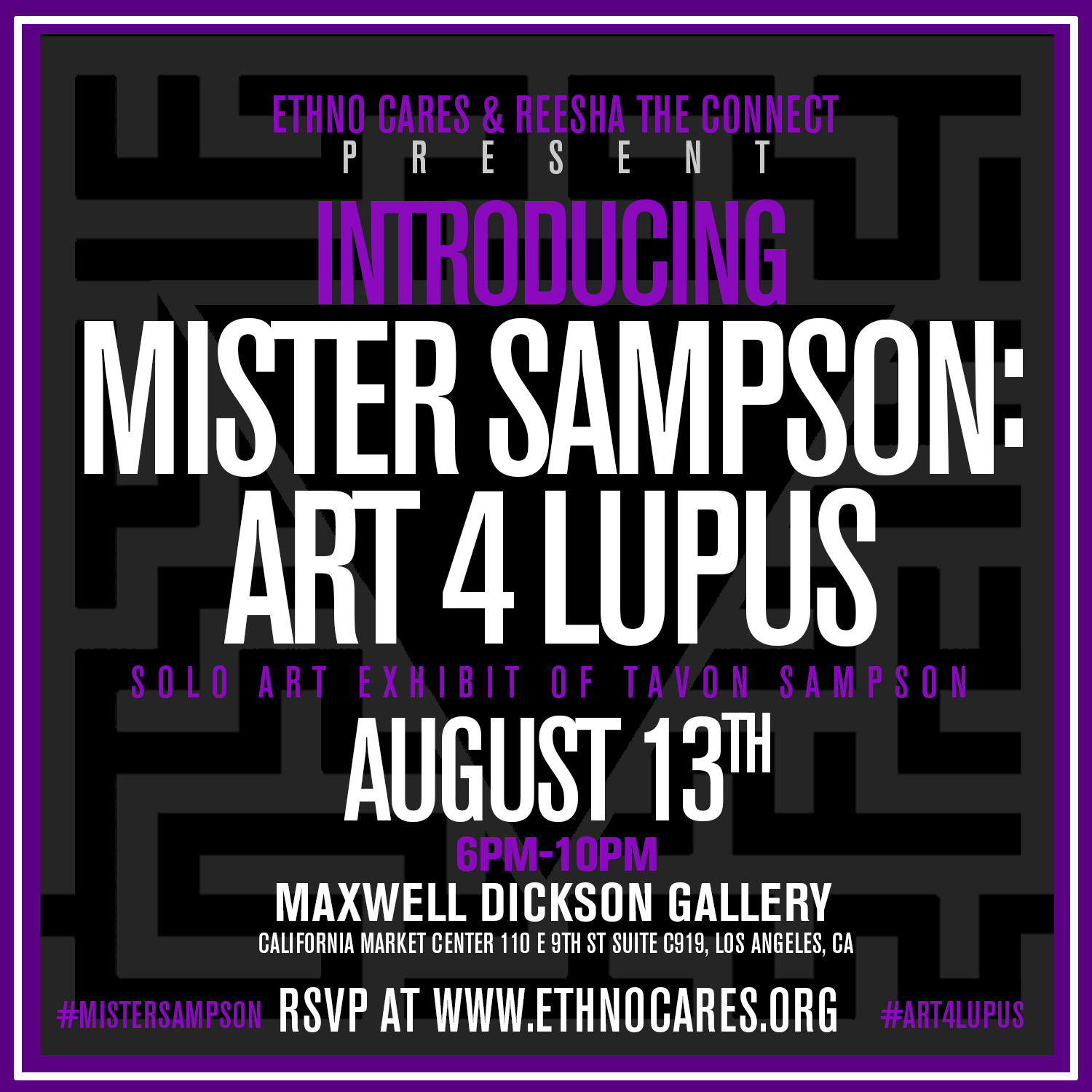 Ethno Cares & Reesha The Connect Present Introducing Mister Sampson: Art 4 Lupus Exhibit at Maxwell Dickson Gallery in Los Angeles, CA on Thursday, November 13, 2015 6PM - 10PM.
RSVP at www.EthnoCares.org
About TaVon Sampson aka Mister Sampson:
Tavon Sampson is a Los Angeles based Fine Artist, Graphic Designer and Illustrator. At the age of twelve, TaVon was diagnosed with Lupus. Over the last twenty-one years, TaVon's learned to manage his illness, even allowing it to influence his art, as evidenced in his first show. Conceptualized while he awaits a kidney transplant, Introducing Mister Sampson is an interpretive collection chronicling the evolution of TaVon's current aesthetic. Part of the shows proceeds will go to Ethnos Cares, a non-profit dedicated to raising awareness and fundraising for Lupus research.
About Ethno Cares:
Ethno Cares is a social responsibility initiative that provides tools and resources to promote Lupus awareness, research, education, and advocacy. Ethno Cares reaches the Lupus community through philanthropy, hands-on service, and social events. Ethno Cares was founded in 2013 by Marketa and Tyrin Ford. The organization created a platform for Marketa to share her story of living with Lupus while dealing with Kidney failure. Her Husband, Tyrin, is a donor match and will be donating his kidney later in 2015. The couple are more than just soulmates. Their story will inspire others in the fight for a cure for Lupus.
About Lupus:
Lupus is an autoimmune disease where the body's immune system becomes hyperactive and attacks normal, healthy tissue.

For Media/Press/Celebrity RSVP or Corporate Sponsorship: Contact Tyrin Ford at Tyrin@EthnoCares.org or Reesha The Connect at ReeshaArchibald@gmail.com.
When & Where

Maxwell Dickson LLC
110 East 9th Street
#C919
Los Angeles, CA 90079


Thursday, August 13, 2015 from 6:00 PM to 10:00 PM (PDT)
Add to my calendar
Organizer
EthnoNightlife.com is YOUR GUIDE TO URBAN NIGHTLIFE & ENTERTAINMENT!

Engaging urban consumers, celebrities, and brands through social entertainment.
EthnoNightlife.com is a multi-media entertainment website geared towards tastemakers, trendsetters, socialites, and information-movers within the urban lifestyle segment. Our site serves as a resource guide for everything related to nightlife entertainment. Our members can log into the site, check-in with one another at any given moment, chat through our IM service, and exchange information and opinions on the best places to eat, play, and lounge.
The website allows Ethno Nightlife to influence users within the digital, social media, and location-based application spectrum. This format offers clientele an all-encompassing branding, marketing, sponsorship, promotional, and/or advertising campaign platform funneled directly toward a coveted target demographic. Ethno Nightlife hones in on the top venues, nightlife circuits, private red carpet events, and elite dining establishments within the nation's premiere cities. We don't just point you to the right nightlife attractions, we give you news you can use such as nightclub reviews, club photos, events, and a little taste of what you can expect during your night out.
Ethno Nightlife drives and promotes consumer interaction through visually-engaging and energetic videography, stellar photography, and first-hand, streamlined blog content. Make EthnoNightlife.com a regular stop for your nightlife & entertainment information.
Sign up to create your online profile to socialize with other tastemakers in your city at www.EthnoNightlife.com.