Ethnic Studies: Empowering Our Youth with Policy and Practices
Empowering our Youth with Policy and Practices
About this event
Ethnic Studies: Protecting our Youth with Policy and Practice
Dr. Theresa Montaño, Lara Kiswani, Dr. Andrew Jolivétte, and Evan Wade will explore how Ethnic Studies is a vital pathway for protecting our public school youth and advocating for their social-emotional learning through effective policy. Topics addressed will be:
Implementing and Sustaining Ethnic Studies in K-16 Education
Representation and Inclusion in Ethnic Studies
Effective Ethnic Studies Policy
*NEW TOPIC AND PANELIST ADDED*
We stand with our Black brothers and sisters and their families as well as ALL communities in solidarity to stop the fatal aggression toward our Black and Brown men and women. Now is the time to demand justice for George Floyd.
That is why we have decided to shift this Thursday's #CafeconCLSBA conversation to also include a safe space for CLSBA members, school administrators and school board members to come together to discuss how Ethnic Studies is a vital pathway for protecting Black, Latino,Indigenous youth, and other youth of color.
We are excited about an additional panelist joining us. Evan Wade is chair of the history program and professor of Social Justice Studies at San Joaquin Delta College in Stockton, California. He is the author/ editor of The African- American Primary Source Reader, From 1865-Present (Kona Press) which narrates the history of the Black experience in America. An avid proponent of student success, Prof. Wade regularly partakes in statewide conversations focusing on racial equity and inclusion at California community colleges. At Delta he is the coordinator of a newly launched Social Justice Studies major.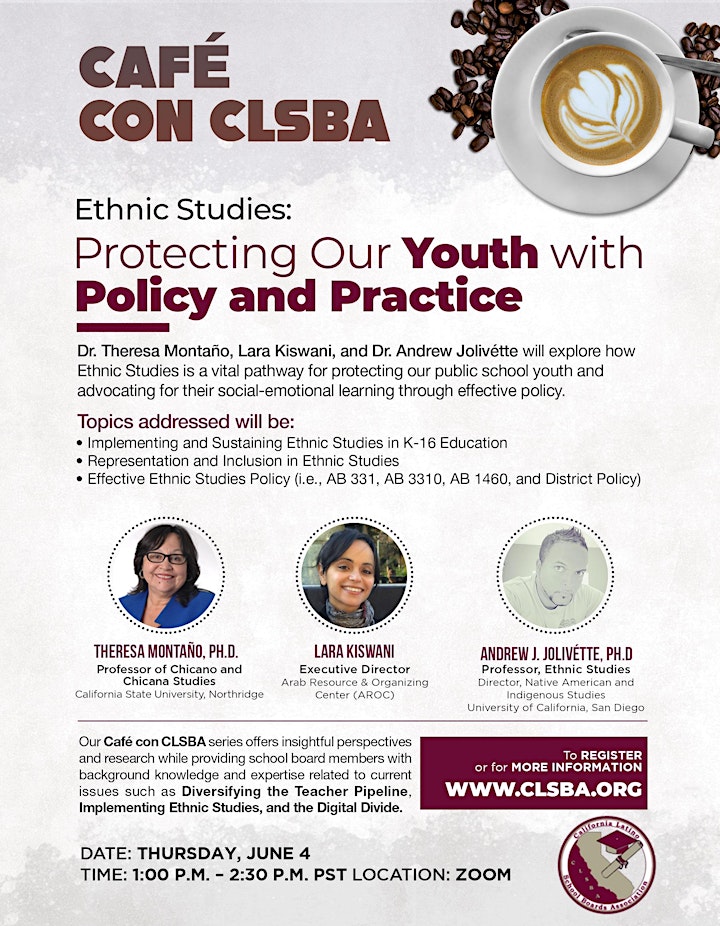 Organizer of Ethnic Studies: Empowering Our Youth with Policy and Practices
CLSBA is a non-profit organization dedicated to ensuring Latino students have the best educational opportunities and resources available to succeed. We are committed to meeting the educational needs for all Latino students by working with educational organizations and empowering current and future Latino School board members. Together, we will positively change and improve the educational outcomes for Latino students in California.