Join the owners of Buunni Coffee, NYC's Ethiopian cafe, for a virtual tutored-tasting of the coffees of Ethiopia. Serves up to 4.
About this Event
BACK BY POPULAR DEMAND! This event was a sell-out when it was first hosted back in January. Another sell-out is expected, book early.
Elias and Sarina, Co-Founders of Buunni Coffee, will talk about Ethiopian coffee, coffee culture and the Ethiopian coffee ceremony. They will also share their personal journey of moving from Addis Ababa, Ethiopia to New York and bringing the ethos of Ethiopian coffee culture to the business, Buunni Coffee, they started in 2012. With Elias and Sarina as your guides, you will prepare and sample, three varieties of Ethiopian coffee, each with a distinct flavor profile, and discuss them.
All participants will receive fresh-roasted samples of three varieties of specialty Ethiopian coffee prior to the event. Please make sure to select your preference—beans or ground (for French press) during check out.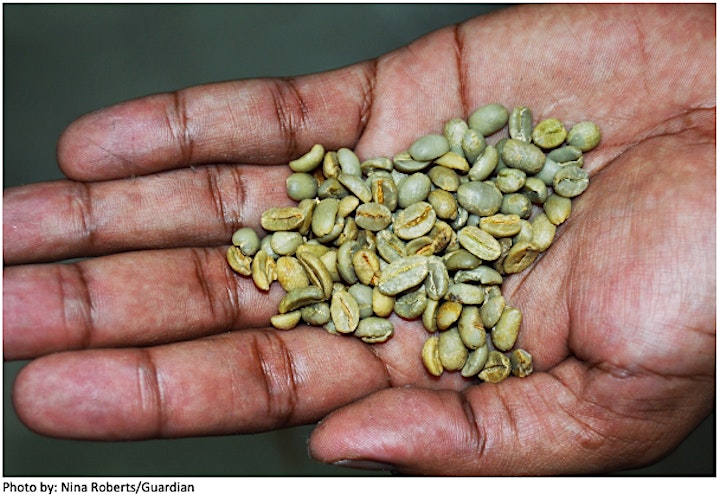 A ticket ($29, serves up to four) to this online event includes the following:
(1) 2 oz. sample of Yirgacheffe Coffee (light roast): Yirgacheffe is one of the most famous Ethiopian coffees, and is named for the place it is grown, in southern Ethiopia. The region is known for its lush, richly-soiled rolling highlands, and coffee is grown at high elevation. With cinnamon and strawberry undertones, Yirgacheffe Ethiopian coffee is known for a thick, rich body, winy acidity and an intense floral, earthy aroma.
(1) 2 oz. sample of Sidama Coffee (medium roast): Sidama Ethiopian coffee is sun-dried, otherwise known as "naturally processed." This process is increasing in popularity in recent years as an authentic and environmentally-sound method that uses less water in processing.
(1) 2 oz. sample of Harrar Coffee (dark roast): Hailing from the historic and colorful Harrar area in the east of Ethiopia, this Fair Trade Organic Harrar coffee as a darker roast brings out a fuller-bodied mocha, chocolate and spice taste.
Direct shipping from Buunni Coffee to your home.
Access to the 60-minute virtual, interactive, tutored-tasting event conducted via video conference. Note: while the samples for this seminar serve up to four people, all must be present to view together at one location. One access code is provided for each ticket purchased. All samples ship to one location.
Tickets are limited. Deadline to purchase is 5:00pm on May 21, 2021 or when maximum capacity is reached. Buy now to guarantee delivery and participation. This event, when hosted back in January, sold out early.
Although this virtual class is open coffee lovers nationwide, remember the class will be taking place EST at 10am on Sunday, June 6, 2021 and be conducted in English. International shipping is not available for this event. Please refer to the FAQs below for additional information.
This virtual class is sponsored by Buunni Coffee & Coffee & Tea Newsletter.
About the Presenters:
Sarina Prabasi and Elias Gurmu, Owners, Buunni Coffee.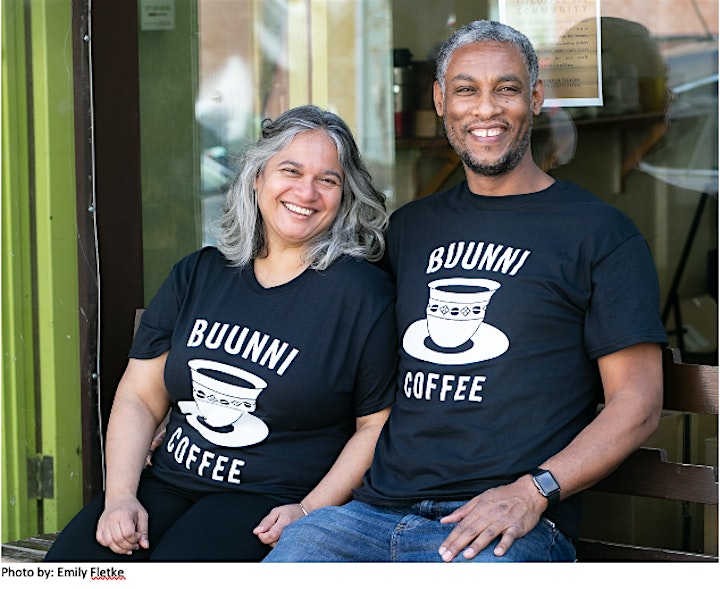 Sarina and Elias, a husband-and-wife team, started their independent coffee shop, Buunni Coffee, when they moved from Ethiopia to New York in 2011.
Sarina grew up in a tea-drinking culture and first discovered her passion for Ethiopian coffee during her first visit to Ethiopia in 1997. Her work in the non-profit sector brought her back frequently, and she eventually moved to Addis Ababa, making Ethiopia her second home. Ever since, she's been hooked on the Ethiopian Macchiato, similar to a latte, but smaller, stronger, creamier and immensely more flavorful. Sarina's first book, The Coffee House Resistance: Brewing Hope in Desperate Times was published in 2019.
Elias and Sarina met in Addis Ababa, Elias's hometown and Ethiopia's capital city. Elias, a successful entrepreneur who in the past has launched a restaurant, a taxi service and a pharmaceutical distribution service, decided to connect his personal passion and pride in Ethiopian coffee to launch an Ethiopian cafe in New York.
With a flagship cafe in Washington Heights, and upcoming locations in the GWB Terminal and in Riverdale, Buunni Coffee hones in on coffee and community. As small business owners growing their independent coffee business, Sarina and Elias look forward to sharing their love for the Ethiopian Arabica bean with you so you can find your own perfect cup of Buunni Coffee.

FAQ:
What is included in the ticket price? All tickets include access to the online event and the coffees which you will be brewing and tasting, shipped to a single address.
Can I select whole beans or ground coffee for my coffee samples? Yes. At checkout, please select whole beans or ground (for French press).
How will the samples be shipped to me? The samples for this event will be shipped to the mailing address provided at the time of purchase.
Do these coffees contain caffeine? Yes, all contain caffeine. Unfortunately, there is not a caffeine-free option for this seminar.
Where do you ship to? Buunni can ship nationwide (USA). No international shipping at this time.
Can you ship to a PO Box? No. Please provide your home address as your shipping address.
When will I receive the coffee that is included with my ticket? We will close ticket sales with ample time to ensure delivery to you on time. Your samples will be delivered 2-3 days in advance of the seminar.
I missed the cut-off date. Can I still get a ticket for the virtual class? No, unfortunately to guarantee delivery of the samples in time for the seminar, we must adhere to the strict cutoff date for enrollment.
How will you ensure the samples get to me in time? The ticket sales end date allows for ample processing time and ensures adequate shipping time to all participants.
Can I buy more than one ticket? Yes, an email address is required for each ticket purchased. This email is used for communicating the passcodes to the online portion of the meeting.
Can I buy a ticket as a gift? Yes, as long as you provide an e-mail and shipping address for the gift recipient. Note, an e-mail notification will be sent immediately to the gift recipient upon completion of your purchase so they can gain access to the online portion of the event.
I can't make the online event. Can I still purchase a ticket and get the coffee? Yes. If you can no longer attend the online event or simply are not interested in doing so, you can still purchase a ticket to receive the coffee shipped directly to the mailing address provided. Please note that all sales are final and there are no discounts, refunds or exchanges should you not join the online event portion.
Will the online event be recorded? Yes. The event will be recorded and made available to attendees after the event. However, it is best enjoyed live.
How do I join the online event? Prior to the online event taking place, you will receive a number of emails reminding you of the date and time. Within these emails will also be a link to the Online Event Page which has the ZOOM video conferencing link to join. The link will become active 5 minutes before the event.
Can I ask questions during the online event? Yes! We encourage you to ask questions but please do so using the CHAT feature. This will ensure we avoid people talking over each other and all questions can be answered.
How will you ensure the online event is a safe environment? We ask that all participants be polite and courteous. Starfish Junction and its sponsors/partners reserve the right to remove any participant from the video conference that is disruptive or behaving inappropriately with no refund.
Can I take part in the online event by phone only? No, attendees must join from the link on the online event page.
What happens if I lose internet connection during the online event? If you lose internet connection and leave the video conference, simply click the link again to re-join.
Can you help me with my technical difficulties accessing the video conference? Yes, please email help@starfishjunction.com. It is important for you to try accessing the video conference before the day of the online event so we can fully assist you as we have some limitations.
Do I need anything besides the coffee to participate? In addition to the coffee that is being shipped to you for the tasting, you will need:
o Water for brewing, filtered water recommended
o Brewing vessel (French press, pour over, etc.)
o If you selected whole beans at check out, please grind the beans in advance of the seminar
o three tasting cups (one for each coffee per person recommended)
o spoons
o milk and/or sugar (optional, depending on your preference)
Date and Time
Location
Refund Policy