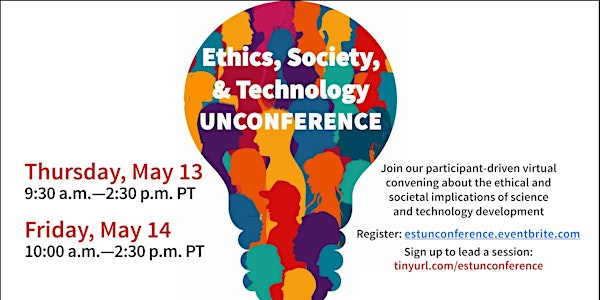 Ethics, Society, & Technology Unconference
Join us for our first annual Ethics, Society, & Technology Unconference
By Ethics, Society, & Technology Hub @ Stanford University
Date and time
May 13, 2021 · 9:30am - May 14, 2021 · 2:30pm PDT
About this event
Thursday, May 13th 9:30AM-2:30PM PT
Friday May 14th 10:00AM-2:30PM PT
Register here through Eventbrite to attend. Participants are welcome to come and go from the event as their schedule allows. 
If you're interested in leading a session (which is not necessary to participate) more information is below. Email ajaeger@stanford.edu if you have any questions.
How a Virtual Unconference Works
An unconference means the conference is driven by the interests of participants and sessions are created by all of us. If we were in person, we would gather at the beginning of the event and collaboratively set the agenda for the day together. Instead we invite members of the Stanford community to help collectively set the agenda by posting sessions to a shared doc. Participants do not need to lead a session to attend.
The session possibilities are endless—share current research or projects, ideas you're exploring, teaching tools, or anything else that makes you curious and excited at the intersections of ethics, society, and technology.
Talks may be scheduled by unconference participants before and during the event. 50-minute sessions will be held over Zoom.
Some current sessions include:
Fireside chat: EST Hub Co-Director Rob Reich in conversation with Susan Liautaud about her new book The Power of Ethics 
Psychology vs. Technology: From AI Mediated Communication to Zoom Induced Fatigue (Jeff Hancock, Sunny Liu, Mufan Luo, & Hannah Mieczkowski)
New Perspectives: Artistically interrogating AI (Joe Khoury & Muhammad Khattak )
Centering Equity in Technology Education: Reflections on the Digital Civil Society Class Redesign (Toussaint Nothias and Ashley Lee)
Using Social Media to Reduce COVID-19 Vaccine Disinformation (Rachel Barber and Dr. Michael Gisondi)
Scheduling a Session
• To schedule a session please click here and find the spreadsheet with the room names and time slots. After choosing your spot, please enter a title for your session in addition to your first and last name. (We've added an example so you can see how it works.)
• You do not need to do any preparation in order to convene a session. If you get an idea the day of the event, call a session.
• We will follow up with more instructions on how to join sessions and move between sessions closer to the event.
You don't have to lead a session to participate in the EST Unconference, but you are encouraged do so if you feel inspired! Sessions can take any form you prefer. Below are a few ideas:
• Short presentation: Start off with a 5-15 minute presentation to spark conversation and then open it up for an interactive discussion
• Show and tell: Share your art, demo a technology or tool, or anything else you want to show and discuss with a group to get feedback, inspire discussion, or generate new ideas
• Group discussion: Propose a topic you'd like everyone to discuss and lead a conversation about it. This could be a question or problem you'd like input on, something your read about in the news recently, an ethical issue you been mulling over about your own work…really anything you're excited to talk about.
• Learn how to X: If you love to teach, leading a session could be a great opportunity to share skills and lessons or test out new curriculum.
• Longer presentation: Good for sharing a pretty developed idea or project with a group
To schedule your session find a time that works for you on the schedule doc and add a short title + a pithy description in one of the available "rooms." Please include your name, so if other people want to collaborate with you on the session, they can contact you. Before posting a session, please read through the sessions other folks have already posted—you might want to team up existing session.