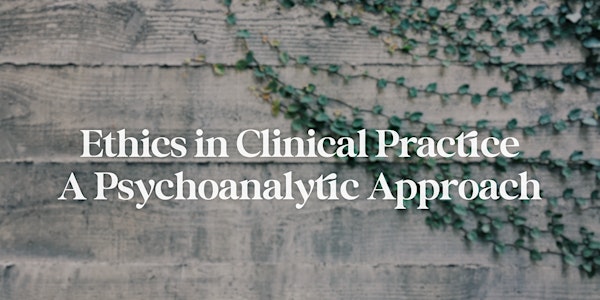 Ethics in Clinical Practice: A Psychoanalytic Approach
Mental health professionals will explore ethical issues in clinical practice from a psychoanalytic perspective.
Refund Policy
Contact the organizer to request a refund.
Eventbrite's fee is nonrefundable.
About this event
Ethics in Clinical Practice: A Psychoanalytic Approach
Instructor: Jennifer Kunst, PhD
When: Saturday, September 24, 2022, 9 am to 12:15 pm (break from 10:30 to 10:45 am)
Where: Live on-line (Zoom)
Number continuing education credits: 6 (3 credits for reading; 3 credits for in-person sessions)
Program Description
In this Psychoanalytic Essentials seminar, licensed mental health professionals will come together virtually to explore ethical considerations from a psychoanalytic perspective, applied to clinical practice. In this read-and-discuss format, participants will read two papers in advance of the live meeting. During the live session, Dr. Kunst will provide an overview of the key ideas from these papers and then lead a discussion among participants.
In preparation for the live portion of the seminar, participants will read two published papers*: "The function of the frame: To protect the psychoanalytic room" (Künstlicher, 1996) and "Altruism and Boundary Violation" (Seelig, 2017). Participants will complete a quiz verifying that they have read the paper in advance of the live session.
In the first paper, Künstlicher explores how the "rules of treatment" have a more meaningful function as the "rules of play" in psychoanalytic psychotherapy practice. He writes, "Their function is to create a frame that protects the two participants on their vulnerable positions, enclosing a room where two persons mutually can listen to their thoughts and partake in feelings and the movements of the unconscious." We will explore how the analytic frame consecrates the space, guards against violations, upholds the incest taboo, establishes an inner room to think, and allows mutuality that is protected from seduction and violent acting out.
In the second paper, Seelig explores how therapists' common altruistic motivation to help others can, in rare cases, progress to boundary violation. Using clinical material from the analysis of a generally ethical therapist, Seelig sensitively, respectfully, and thoughtfully illuminates factors and psychodynamics in both the patient and the therapist that may come together to increase the risk of progression from boundary crossing to boundary violation. She also provides an ethical framework for handling boundary crossing and violation when they occur.
*For those participants who do not have access to the journal article, access will be made available upon registration. Registration will close 24 hours in advance of the meeting to allow time for registrants to read the paper before the live session.
Number continuing education credits
6 (3 credits for reading; 3 credits for live Zoom sessions)
Instructor
Jennifer Kunst, PhD is a clinical psychologist and psychoanalyst in private practice in Pasadena, CA where she works with adults, adolescents, couples, and families. She earned her PhD at Fuller Graduate School of Psychology and is licensed in the state of California. Dr. Kunst trained at the Psychoanalytic Center of California, where she is a Training and Supervising Analyst and teaches courses on Kleinian theory and technique. She is passionate about distilling the complexity of psychoanalysis into ideas that can be applied to everyday life. She has published numerous papers in peer-reviewed professional psychology journals on the topics of psychoanalytic psychotherapy and the interface between religion and psychology. Her outreach projects include her Psychology Today blog, "A Headshrinker's Guide to the Galaxy", and her book, "Wisdom from the Couch: Knowing and Growing Yourself from the Inside Out" (Central Recovery Press, 2014).
Learning Objectives
1. Name three ways that the analytic frame prevents violation between therapist and patient
2. Name three ways that the analytic frame supports involvement between therapist and patient
3. Articulate two ways that the therapist can respond ethically when the rules of play break down
4. Describe how the asymmetrical balance of power protects psychoanalytic treatment
5. Differentiate a boundary crossing from a boundary violation.
6. List three features of the defensive use of altruism by a therapist.
7. Identify the protective step clinicians can take when concerned about a potential boundary violation.
8. List four factors that increase the potential for boundary violations.
Target Audience
This activity is designed for psychologists and other mental health professionals who have an interest in providing psychoanalytically-informed treatment. The level of the course is intermediate.
Cost: $180 (early bird registration, $160)
CANCELLATIONS are subject to a 20% processing fee and must be received 7 days prior to be eligible for a refund. IMPORTANT NOTICE: Those who attend this workshop in full and complete the appropriate evaluation form will receive CE credits. Please note that credit will only be granted to those who attend the entire workshop. Partial credit is not an option. Those arriving more than 15 minutes after the start time or leaving before the workshop is completed will not receive CE credit.
Commercial Support Disclaimer
The planners and presenters for this activity have not received commercial support for this activity nor are there any relevant financial relationships between the sponsors, presenters, program content, research, grants or other funding that could reasonably be construed as conflicts of interest.
Jennifer Kunst, PhD is approved by the California Psychological Association to provide continuing professional education for psychologists. Jennifer Kunst, PhD maintains responsibility for this program and its content.
The California Board of Behavioral Sciences recognizes CPA's continuing education credits for use by CA mental health professional licensees (psychologists, LCSWs, LMFTs, etc).
If you plan to use the credits in another state please check with that licensing jurisdiction to see if the credits will be accepted.
To learn more about Dr. Kunst's continuing education program, including complaint processes, special needs accommodation, respect and diversity statement, and more, visit www.drjenniferkunst.com