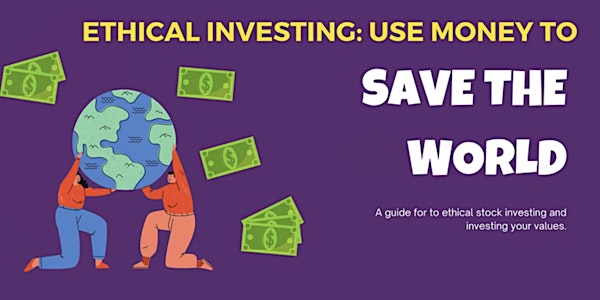 Ethical Investing: How to Use Money to Save The World
Ethical investing- is it even possible? And can you make money off of it?
About this event
Invest your values and save the world!
In this FREE workshop you'll learn exactly how to invest according to your personal values and still retire.
Agenda:
-what is ethical investing
-how ethical investing can make an impact on the world
-where to begin your ethical investing journey
-how profitable ethical investing can be
-resources for you to invest ethically
What Your Ticket Includes:
Access to the full workshop (including a recording watchable at your convenience)
Participation in a live Q&A with Kara
A downloadable worksheet that outlines sustainable investing concepts and definitions
Reminders:
This prep will take place from 7:00 pm - 8:00 pm (EST). Please make note of your time zone.
In case you can't make it, a replay will be available for one week afterwards
You will receive an email closer to the event date inviting you to access the event online.
You will recieve an email with the LIVE link one hour before the event starts
A REPLAY WILL BE AVAILABLE FOR ONE WEEK
Your hosts
Bravely Go is a financial education company based in Austin TX. Latina founder Kara Pérez started the business after paying off $30,000 in student loans on a $20,000 salary. Today Bravely has a community of over 53,000 members and has helped hundreds of women get better with money.
Jhánneu is a sustainable lifestyle blogger who helps you live low waste while living well.