Description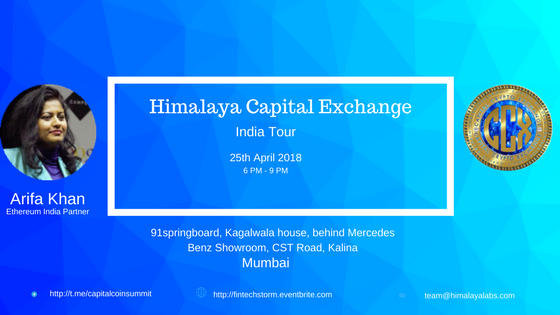 Arifa Khan is Ethereum India Partner.

Arifa's latest project is setting up a Decentralised Capital Markets Platform for Initial Public Offerings through a tokenised platform for securities. She will be leading the Himalaya Capital Exchange ICO in mid 2018 as CEO and Founder. Arifa is Member Wharton UK Club Committee, Founder Europe-India Conclave Series, speaker at ICBI's "Payments International 2015" and an acclaimed painter. Arifa has spoken at several international blockchain conferences alongside Vitalik Buterin. She was a speaker at several international blockchain conferences in 2017 in Macau, China, Ethereum India Summit featuring Vitalik Buterin, Davos (D10e), Istanbul (ICO Summit), Bengaluru Tech Summit, Kiev (Blockchain UA) etc.

She is a London based Blockchain & Fintech expert, a seasoned Banking & finance, strategy and operations executive, with over 15 years experience in Investment banking, Leveraged Finance/ Financial Sponsors Coverage/ Debt Products & Credit. She has worked with two suisse banks Credit Suisse & UBS, which honed her ability in deal origination, analysing strategic growth maps of companies, leading teams for impeccable execution. She has deep sector expertise in Banking & Financial services & Fintech, operational insights, the business acumen to forge big strategic partnerships. She currently advises Government of India on infrastructure financing. Arifa has an MBA from The Wharton School of Business, USA. She is also mathematically gifted, and has a B.Tech from IIT Madras. She is a Blockchain evangelist. Her profile features among 100 Fintech influencers in Lattice 80.

Arifa is bringing leading international cryptocurrencies, ICOs and token experts to India for Himalaya Crypto Summit 25-26 May and will be hosting Ethereum community building activities, hackathons etc during Blockchain India Week 22-27 May 2018. Chief Guest Nick Szabo. Details at http://himalayacrypto.show.
Arifa Khan's upcoming global appearances

Ethereum Mumbai Meetup 25 April 6pm-8:30pm , Mumbai
91 Springboard, Kalina, Santacruz , Behind Mercedes Benz Showroom (Shaman Motors)

India Business Forum, London Business School, London 27 April

Cube Tech Fair, Berlin 15-16 May 2018

Himalaya Crypto Summit , Mumbai, INDIA, 25-26 May 2018

Hackathons in Bangalore & Mumbai - Blockchain India Week 22-26 May 2018

Sign up for Ethereum Hackathon Mumbai 23-24 May
Sign up for Ethereum Hackathon Bangalore 22-23 May
http://fintechstorm.eventbrite.com
Sign up for HImalaya Crypto Summit 25-26 May http://himalayacrypto.show