Description
In this 3-day Ethereum developer training you will learn the basics of how to write and test smart contracts. In addition, you will learn how to build a web-frontend which interacts with a smart contract (D-App).
This course equips you with the tools and knowledge required for professional Ethereum development including: VS Code, Truffle, Ganache, Remix, Geth, OpenZeppelin, Etherscan, Rinkeby, Metamask.
You will learn...
The main concepts and features of the Solidity programming language.

How to setup a professional development environment with automated tests, coverage, linting, debugging and deployment.

What possibilities and limitations Ethereum and smart contracts have.

DApp development. How to connect a web application to a smart contract using web3 and how to host it on decentralized storage.

How to set up your own private Ethereum network.
This is a hands-on course with several pair programming sessions per day using a TDD (Test Driven Development) approach. We will answer all your individual questions.
Agenda
Day 1
Introduction to Solidity

Using Remix for smart contract coding

Setting up the development environment

Introduction to Truffle and Ganache

Setting up a private PoA Ethereum Network
Day 2
Ethereum in detail: Accounts, Transactions, Gas, EVM

Writing, compiling, deploying and interacting with smart contracts

ERC20 Tokens standard

Automated smart contract deployments to main or test-net
Day 3
Web3 decentralized applications and decentralized storage

Individual or group work on your own project with coaching support

Project presentations
Format of the course
Lectures with time for Q&A

Lots of hands-on practice and coding

Group work with coaching
Requirements
This is a hands-on course with several coding sessions

Basic programming knowledge (JavaScript, HTML, Python, …)

Engineering or computer science background

Basic understanding of what a blockchain is

We will use Oracle Virtualbox. A laptop with admin access is required. If you've never run VirtualBox before, bring your private laptop. Most corporate laptops have restrictions on virtualization

If you don't want to use Virtualbox, install: Npm, Truffle, ganache-cli. Mac or Linux OS is preferred
Your instructors
Kasimir Blaser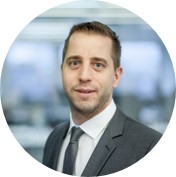 Kasimir is a senior Software & IT Consultant with a deep understanding of blockchain technology; especialyl in Ethereum and smart contract development. He holds a Bachelor of Science degree in Computer Science and is certified in AWS Solution Architect - Associate, Professional Scrum Master and Developer, Oracle Certified Java SE 7 Programmer II.
​
---
Please contact our team, if you have any questions about the Swisscom Blockchain Academy trainings: Blockchain.Academy@swisscom.com
Visit our website for more information: https://blockchain.swisscom.com/training.html
Or follow us on:
LinkedIn: https://www.linkedin.com/company/swisscom-blockchain