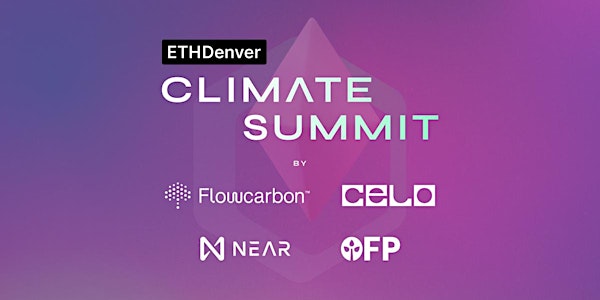 ETHDenver Climate Summit
A series of conversations and keynotes bringing together thought leaders across ReFi, carbon markets, ESG, sustainability & blockchain.
Date and time
Wednesday, March 1 · 9:30am - 11:30pm MST
Location
Bigsby's Folly Craft Winery & Restaurant 3563 Wazee Street Denver, CO 80216
About this event
ETHDenver Climate Summit is a day-long summit bringing speakers at the intersection of ReFi, blockchain, ESG, carbon markets, and sustainability together for interactive conversations on the path to net zero and building climate resilient communities.
Agenda:
9:00AM - 10:00AM: Welcome Registration, Breakfast & Networking
10:00AM - 1:00PM: First Session: Thought Leadership Panels & Keynotes
1:00PM - 2:00PM: Networking Lunch / Break
2:00 PM - 5:30 PM: Second Session: Thought Leadership Panels & Keynotes
5:30 PM - 7:30 PM: Interactive Social Hour
8:30 PM -11:30PM: Summit Celebration
About The Space:
Bigsby's Folly's beautifully restored building which dates back to 1886 serves as the perfect backdrop for ETHDenver Climate Summit
Featuring over 7,000 square feet, 30 feet of exposed timber ceilings and 6 distinctive rooms within the building, Bigsby's Folly full-production "sustainable" urban venue pair's the tradition and authenticity of the world's most prestigious vineyards - with the sophistication of a roaring 20s-inspired tasting room. Bigsby's Folly is located in the heart of Denver's hottest neighborhood, the River North Art District or "RiNo" as the locals call it.
Summit guests can lounge in a care-free work environment in any of the rooms throughout the day.