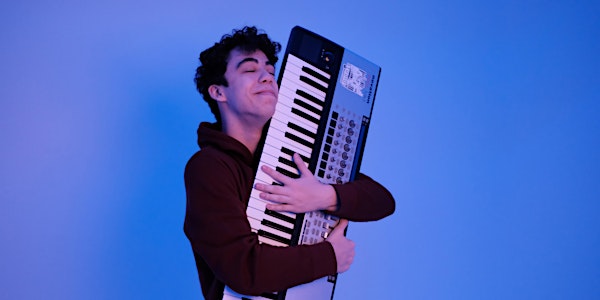 Ethan Bortnick - Live in Concert -(Celebration of Music Winners Announced)
Location
Fox Performing Arts Center
3801 Mission Inn Avenue
Riverside, CA 92501
Refund policy
Contact the organizer to request a refund.
Eventbrite's fee is nonrefundable.
Ethan Bortnick - Live in Concert w/ Special Guests and Celebration of Music Winner Performance.
About this event
19-year-old Global Music Sensation Ethan Bortnick will be performing, with his band, a powerful and entertaining concert. Ethan's award winning PBS Concert specials have been seen by millions in the U.S. and abroad. Join him as he performs some of the most favorite songs for all generations to enjoy together! Ethan's concert features him playing and singing the perfect mix of his original songs, current radio hits and a ton of surprises.
Ethan is recognized by The Guinness Book of World Records as "The World's Youngest Solo Musician to Headline His Own Concert Tour,"and he has been performing around the world ever since, raising over $60,000,000 for charities across the globe.
Ethan has also been featured on countless national television shows, including multiple appearances on The Tonight Show, Good Morning America and Oprah, where he was named one of Oprah's Most Talented.
Ethan's live concerts are filled with surprises and talent that dazzle audiences and fill them with a sense of wonder and awe. People leave Ethan's shows feeling elated, transformed, uplifted and inspired, saying it was the best show they have ever been to, hands down. Audiences around the world have laughed, cried, sung, danced and experienced some of their most exciting and memorable moments at Ethan's shows. This is a must-see for the entire family! He will also involve the audience in the show, compose music on the spot, put together songs instantly using audience stories/ideas and answer questions.
Never before has a show delighted audiences with such unmatched talent, heart, and joy. Whether you're on your own, with your friends, or with your whole family, time spent with Ethan is magical. This concert event is a great opportunity for people of all ages to bond over exhilarating music, Ethan's entertaining sense of humor and his unbelievable talent and musicality! This concert brings all generations closer together and will create memories to last a lifetime and will make the perfect gift for anyone in your life, of any age.
"Ethan's imagination and ability to create music from stories is unbelievable."- QUINCY JONES
"I'm amazed by your songwriting." - CELINE DION
"Musicality like this comes along once in a generation." - PETER YARROW (Peter, Paul, and Mary)
"Ethan Bortnick's show at the Hilton (on Friday) night was history-making. It was a sold-out crowd, and there was so much heart and soul, plus energy felt from the audience. It was a spectacular night, 90 minutes of pure entertainment." - Las Vegas SUN
"Ethan is as comfortable playing before a live TV audience in Hollywood, Calif., as he is noodling on his piano at home in Hollywood, Fla. The little boy with the grown-up talent seems happily adjusted to his double life. Elfin, cheerful and self-assured, Ethan tackles music with fervor and focus." – USA TODAY