Description
The 2018 ETFs Global Markets Roundtable series of conferences will offer an opportunity for a substantive and in-depth discussion about the liquidity, trading, technological and regulatory developments impacting ETFs in the respective jurisdictions.
The events are designed to provide the opportunity for institutional investors and financial advisors, as well as other market participants and professionals involved in the ETF space, to hear current thoughts from industry leaders on ETF trends, market structure and regulation, and obtain a better understanding of how to trade and use ETFs, and of the impact that ETFs have on the markets and market structure.
Schedule of Conferences:
---
Agenda
7:30am-8:00am

Registration and Continental Breakfast



8:00am-10:00am

Buyside-Only

W

o

r

kshop


Separated into small groups, participants in the buyside-only morning workshop will have the opportunity to discuss with their peers a number of topics of importance relating to ETFs, as well as raise any questions with, and obtain guidance from, outside experts.


Topics to be discussed will include:
How institutions are trading ETFs

Understanding and evaluating ETF liquidity

Experiences to date with MiFID and its impact on ETFs

Innovations in the ETF industry and the effect on buyside trading
Discussion Leaders:
Thomas Bartolacci,

Head of European ETF Capital Markets, Vanguard

Jurgen Blumberg

, Head of Capital Markets EMEA, PowerShares by Invesco

Henry Glynn

, Head of ETF Capital Markets Europe, VanEck

Howie Li,

Head of ETFs, Legal & General Investment Management

Frank Mohr

, Global Head ETF Sales Trading, Commerzbank

Laura Morrison

, SVP, Global Head of Listings, Cboe Global Markets

John Reade

, Chief Market Strategist, World Gold Council

Henry Reece

, Head of Sales, Susquehanna International Group

Tom Stephens

, Head of International ETF Capital Markets, JP Morgan Asset Management


10:00am-10:30am Refreshment and Networking Break


10:30am-11:00am

Opening Remarks and Keynote Address


"Fireside Chat" on ETF Policy and Regulatory Issues
Martin Moloney




Special Advisor (Policy & Risk)




Central Bank of Ireland
Robert Taylor




Head of Global Asset Management Regulatory Strategy


Financial Conduct Authority


11:00am-11:45am Examining the Impact of Regulatory Developments on ETFs
MiFID and ETFs – early impressions

Update from regulators and policymakers on key developments and studies impacting ETFs

Examination of the need for specific trading rules for ETFs


Monica Gogna, Moderator




Partner




Dechert



Federico Cupelli


Senior Regulatory Policy Advisor
EFAMA (European Fund and Asset Management Association)

Michelle Moran


Partner


K&L Gates



Sander van Nugteren
Managing Director, ETF and Index Investments


Blackrock


11:45am-12:30pm Creating Better Trading Systems and Trading Tools – How Institutions are Trading ETFs
Most commonly used strategies in trading ETFs

The use of RFQ platforms for ETFs

How to evaluate the ETF trade and best execution issues

Examination of pre-and post-trade transparency
Ari Burstein, Moderator




President
Capital Markets Strategies
Gregoire Blanc




Head of Capital Markets


Lyxor ETF

Frank Mohr




Global Head ETF Sales Trading




Commerzbank



Henry Reece


Head of Sales
Susquehanna International Group

Slawomir Rzeszotko


Head of Institutional Sales & Trading, Europe


Jane Street
Jason Xavier
Head EMEA ETF Capital Markets
Franklin Templeton Investments


12:30pm-1:15pm Luncheon and Keynote Address


"Fireside Chat" on the Future of the ETF Industry
Manooj Mistry
Co-Head Index Investing
DWS
Rory Tobin
Global Head – SPDR ETF Business
State Street Global Advisors


1:15pm-2:00pm Exchange Roundtable
Discussion on how to trade ETFs more efficiently on exchanges

Discussion of competition for ETF listings

Examination of the ETF settlement system
Ari Burstein, Moderator
President

Capital Markets Strategies
Lida Eslami
Head of ETPs Business Development
London Stock Exchange


Benjamin Fussien
Managing Director - Head of ETFs & Investment Funds
Euronext
Stephan Kraus
Senior Vice President, Cash Market Development
Deutsche Börse AG
Laura Morrison
SVP, Global Head of Listings
Cboe Global Markets


2:00pm-2:15pm Presentation -
Overview of Trends Impacting the ETF Industry
Deborah Fuhr
Managing Partner
ETFGI LLP


2:15pm-3:00pm Understanding and Evaluating ETF Liquidity – Busting the Myths around the Impact of ETFs on the Markets
Discussion of concerns surrounding ETF liquidity

Are ETFs really contributing to volatility in the markets?

Metrics for gauging ETF liquidity

Examining the growth of passive investing and the impact on trading
Deborah Fuhr, Moderator
Managing Partner
ETFGI LLP
Jurgen Blumberg
Head of Capital Markets EMEA
PowerShares by Invesco
Thomas Bartolacci
Head of European ETF Capital Markets
Vanguard
Henry Glynn
Head of ETF Capital Markets Europe
VanEck
Paul Young
SPDR ETF Capital Markets - EMEA
State Street
3:00pm-3:30pm
Refreshment and Networking Break


3:30pm-4:30pm
Bringing New ETFs to Market – An Examination of Innovation and Distribution in the ETF Industry
Examination of new ETF product offerings and approvals

Discussion of offerings of ETFs in jurisdictions across EMEA

Discussion of the growth of robo-advisers and fund platforms

Examination of issues surrounding distribution
Deborah Fuhr, Moderator
Managing Partner
ETFGI LLP
Bryon Lake
Managing Director, Head of International ETF
J.P. Morgan Asset Management
Pat Lardner
Chief Executive
Irish Funds

Howie Li
Head of ETFs
Legal & General Investment Management
Tara O'Reilly
Partner
Arthur Cox


4:30pm Conference Adjournment
---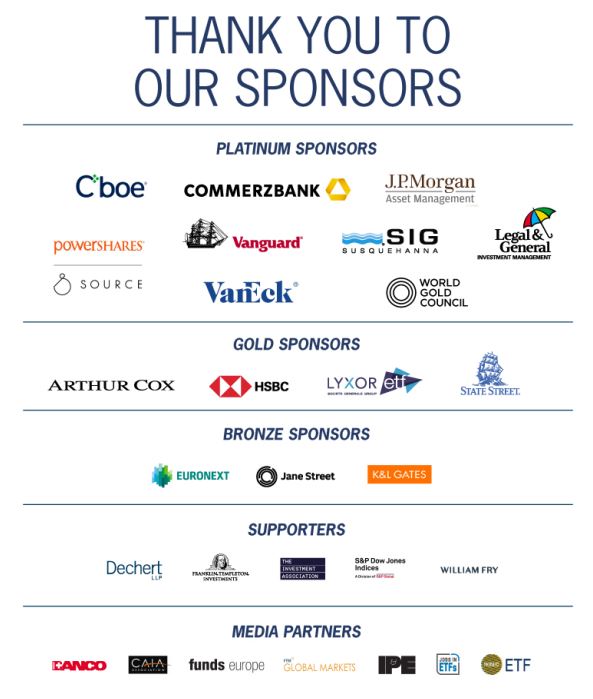 Frequently Asked Questions
What is the registration cancellation policy?
Cancellations received by April 5, 2018 are subject to a $150 administrative fee. Notice of cancellation must be received in writing. After April 5, 2018, no registration fees can be refunded. However, if you are unable to attend, substitutions can be made, subject to conference organizer approval, and the administrative fee will not be applied.
What is the complimentary passes policy?
Complimentary passes are allocated at the discretion of the conference organizers. Complimentary bookings made online are still subject to verification before final confirmation by the conference organizers of the complimentary pass. If the conference organizers review an online complimentary pass registration and determine that the company and/or registrant does not fulfill the criteria for the complimentary pass, the complimentary pass can be withdrawn at the discretion of the conference organizers.
Who qualifies as "buyside" for a complimentary pass?
Buyside complimentary passes are provided for portfolio managers and trading professionals at institutional investor firms, and investment advisers only. All buyside complimentary passes are subject to the conference complimentary pass policy delineated above.
What if I have dietary restrictions or other special needs?
Please provide any dietary restrictions or special needs during your conference registration or contact the conference organizers.
Is the conference open to the media?
Yes, this conference is open to the media.
What is the conference dress code?
The conference dress code is business attire.
Does the conference offer sponsorship opportunities?
Yes. For information regarding sponsorships, please contact Deborah Fuhr at deborah.fuhr@etfgi.com or Ari Burstein at ari.burstein@capmktstrategies.com.