Description
The last conference of the 2018 ETFs Global Markets Roundtable series will be held in Hong Kong on October 9 (covering APAC) and offer an opportunity for a substantive and in-depth discussion about the liquidity, trading, technological and regulatory developments impacting ETFs in the region.
The conference series is designed to provide the opportunity for buyside traders, portfolio managers, investment advisers and others from the institutional investor community, as well as other market participants and professionals involved in the ETF space, to hear current thoughts from industry leaders on ETF market structure and regulatory issues, and obtain a better understanding of how to trade and use ETFs, and of the impact that ETFs have on the markets and market structure.


---

EVENT HOST


AGENDA
8:30am – 9:00am Registration and Continental Breakfast


9:00am - 9:30am Opening Remarks and "Fireside Chat" on ETF Regulatory Issues 


Deborah Fuhr, Moderator
Managing Partner
ETFGI LLP

Trevor Lee
Director, Investment Products
Securities and Futures Commission

9:30am – 10:15am Examining the Impact of Regulatory Developments on ETFs

Update on k

ey regulatory developments impacting ETFs

Discussion of future

ETF

rulemakings and reforms

Issues

to include: ETF C

onnect, China A Shares and Chinese Bonds, Asia Passporting, Fee-Based Advisors and

 

Robo

-Advisors

Ari Burstein, Moderator
President
Capital Markets Strategies


Grace Chong
Senior Associate
Herbert Smith Freehills   


Brian Roberts
Senior Vice President, Head of Exchange Traded Products
Hong Kong Exchanges and Clearing Limited

Cindy  Shek
Partner
King & Wood Mallesons 

Eugenie Shen
MD, Head of Asset Management Group
Asia Securities Industry & Financial Markets Association


10:15am - 10:45am Refreshment and Networking Break

10:45am - 11:45am Facilitating ETF Trading – Creating Better Trading Systems and Trading Tools
Most commonly used strategies in trading ETFs

Innovations in trading platforms and trading tools


Discussion on how to trade ETFs more efficiently on exchanges

Evaluating the ETF trade - best execution issues

Brian Roberts, Moderator
Senior Vice President, Head of Exchange Traded Products
Hong Kong Exchanges and Clearing Limited

Jürgen Blumberg
Head of Capital Markets, EMEA
Invesco

Frank Mohr
Global Head ETF Sales Trading
Commerzbank 

Viktor  Östebo
Head of Institutional Trading
Flow Traders Asia  

Jacqueline Pang
Head of Capital Markets, APAC
State Street Global Advisors  


11:45am - 12:00pm Presentation – ETFs and the Implications of a Changing Market Structure

Ari Burstein
President
Capital Markets Strategies


12:00pm – 2:00pm Luncheon and Breakout Workshops
Separated into small groups, participants will have the opportunity to discuss a number of topics of importance relating to ETFs, as well as raise any questions with, and obtain guidance from, outside experts. 


Topics to be discussed will include:
How institutions are trading ETFs

The future of investing into China

Understanding and evaluating ETF liquidity

Innovations in the ETF industry
Jürgen Blumberg, Head of Capital Markets EMEA, Invesco 

Shaokai Fan, Director - Central Bank & Public Policy Team, World Gold Council
Matthew Mark, Director - Asset Owners Distribution, World Gold Council  

Frank Mohr, Global Head ETF Sales Trading, Commerzbank 

Eric  Pollackov,  Global Head of ETF Capital Markets,  Invesco 

Robin Tsui , Gold Specialist APAC, State Street Global Advisors


2:00pm - 2:30pm "Fireside Chat" - Future of ETFs in India
Deborah Fuhr, Moderator
Managing Partner
ETFGI LLP
Anuradha Thakur
Joint Secretary
Department of Investment and Public Asset Management
Ministry of Finance, Government of India

2:30pm - 2:45pm Presentation - Overview of Trends Impacting the ETF Industry

Deborah Fuhr
Managing Partner
ETFGI LLP

2:45pm - 3:30pm Examination of the Use of ETFs by Institutional Investors and Financial Advisors in Asia Pacific 
Examination of new ETF product offerings and approvals in the APAC market

Use of ETFs as tools for asset allocation, risk management and portfolio diversification

 

Concerns surrounding ETF liquidity

Examination of issues surrounding distribution 

Ari Burstein, Moderator
President
Capital Markets Strategies


Eric  Pollackov
Global Head of ETF Capital Markets
Invesco 


Antoine de Saint  Vaulry
Head of ETF Trading, APAC
Citibank  


Rebecca Sin
Head of ETF Sales Trading, Asia
Commerzbank

3:30pm Conference Adjournment


---

THANK YOU TO OUR SPONSORS & SUPPORTERS!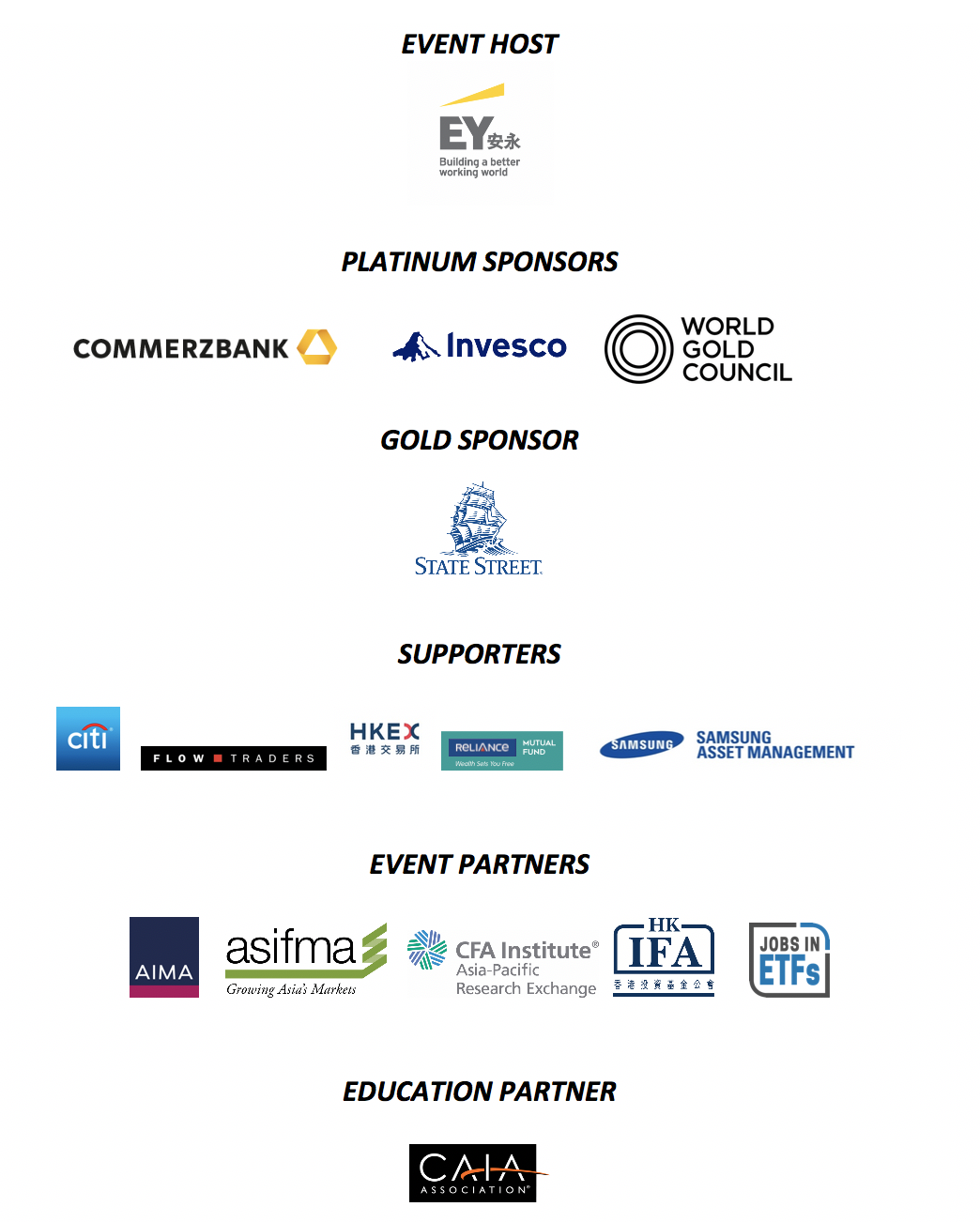 ---
Frequently Asked Questions
What is the registration cancellation policy?
Cancellations received by September 24, 2018 are subject to a $150 administrative fee. Notice of cancellation must be received in writing. After September 24, 2018, no registration fees can be refunded. However, if you are unable to attend, substitutions can be made, subject to conference organizer approval, and the administrative fee will not be applied.
What is the complimentary passes policy?
Complimentary passes are allocated at the discretion of the conference organizers. Complimentary bookings made online are still subject to verification before final confirmation by the conference organizers of the complimentary pass. If the conference organizers review an online complimentary pass registration and determine that the company and/or registrant does not fulfill the criteria for the complimentary pass, the complimentary pass can be withdrawn at the discretion of the conference organizers.
Who qualifies as "buyside" for a complimentary pass?
Buyside complimentary passes are provided for portfolio managers and professionals on the trading desks at institutional investor firms, as well as investment advisers. All buyside complimentary passes are subject to the conference complimentary pass policy delineated above.
What if I have dietary restrictions or other special needs?
Please provide any dietary restrictions or special needs during your conference registration or contact the conference organizers.
What is the conference dress code?
The conference dress code is business attire.
Does the conference offer sponsorship opportunities?
Yes. For information regarding sponsorships, please contact Deborah Fuhr at deborah.fuhr@etfgi.com or Ari Burstein at ari.burstein@capmktstrategies.com.