ETFGI and Kreab 2017 ETF Trading and Market Structure Conference

Wednesday, June 7, 2017 from 8:00 AM to 5:30 PM (EDT)
Event Details
The ETF Trading and Market Structure Conference will focus on regulatory and technological developments in the markets impacting the trading of ETFs.  This event will bring together leaders from across the ETF industry, including ETF sponsors, exchanges, broker-dealers, institutional investors, regulators, and other market participants.
---

Conference Program
The conference program can be found below.  Please check back frequently for updates to speakers and panels.
8:00am-9:00am  Registration and Continental Breakfast

9:00am-9:30am  Opening Remarks and Keynote Address
Ari Burstein
Head of US Regulatory Affairs
Kreab
Thomas Farley
President
NYSE Group

9:30am-10:30am  Impact of Regulatory Developments on ETFs
Update from regulators on key regulatory developments impacting ETFs

Examination of the need for specific trading rules for ETFs

Impact on ETFs of potential reform to the Dodd-Frank Act, fiduciary rule, and SEC liquidity risk rules
Ari Burstein, Moderator
Head of US Regulatory Affairs
Kreab
Michael E. Coe
Assistant Director, Office of Market Supervision
Division of Trading & Markets
US Securities and Exchange Commission
Stacy L. Fuller
Partner
K&L Gates
David LaValle
Managing Director, US Head of ETF Capital Markets
Global SPDR Business
State Street Global Advisors 
Ryan Louvar
General Counsel
WisdomTree Asset Management
Eric W. Noll
Former President and Chief Executive Officer
Convergex Group
Christine Podolak
Senior Director, Exchange Traded Products Surveillance and Investigations
FINRA


10:30am-11:00am  Refreshment and Networking Break


11:00am-12:00pm  Exchange Roundtable 
Discussion of competition for ETF listings 

Creating sensible ETF initial and continued listing requirements

Discussion on how to trade ETFs more efficiently on exchanges

Establishing workable market maker incentive programs
Eric M. Pollackov, Moderator
Global Head of ETF Capital Markets
PowerShares by Invesco
Paul Roland
Head of ETP Listings
Nasdaq
Laura Morrison
SVP, Global Head of Exchange Traded Products
Bats Global Markets, a CBOE company

Douglas M. Yones
Head of Exchange Traded Products
New York Stock Exchange
12:00pm–12:15pm  Presentation
Overview of Trends Impacting the ETF Industry
Deborah Fuhr
Managing Partner
ETFGI LLP


12:15pm–1:15pm  Luncheon and Keynote Speaker
"Fireside Chat" on ETFs, Exchanges, and Media Coverage of ETF Industry

Chris Concannon
President and Chief Operating Officer
CBOE Holdings
Jim Ross
Executive Vice President
State Street Global Advisors (SSGA)


1:15pm-2:15pm  Creating Better Trading Systems and Trading Tools for ETFs
Creating specific algorithms and order types for ETFs

Best execution issues

How to assess the optimal firm to trade with and when to trade

The use of RFQ trading for ETFs
Joe Gawronski, Moderator
President
Rosenblatt Securities 
Matt Brennan
Vice President, iShares Capital Markets
BlackRock
Adam Gould
Head of U.S. ETF Trading and Equity Derivatives
Tradeweb
Joe Mahoney
Head of Sales
Jane Street Execution Services
Bill Stush
Managing Director, Head of Trading
Flow Traders US Institutional Trading
2:15pm-3:15pm  Understanding ETF Liquidity and the Active/Passive Debate  
Are fixed income ETFs liquid?

Are ETFs really contributing to volatility in the markets?

Examining the growth of passive investing and the impact on trading
Deborah Fuhr, Moderator
Managing Partner
ETFGI LLP
Rochelle Antoniewicz
Senior Economist
Investment Company Institute
Gregg E. Berman
Director of Research, Market Analytics and Regulatory Structure
Citadel
Stephen Sachs
Managing Director, Investment Management Division
Goldman Sachs 
Charles Thomas
Head of US ETF Capital Markets
Vanguard


3:15pm-3:30pm  Refreshment and Networking Break


3:30pm-4:30pm  New ETF Product Approvals and Bringing New ETFs to Market 
Examination of the future of new ETF product approvals

Update on obtaining seed capital for new ETFs

Trading non-transparent ETFs and ETMFs
Noah Hamman, Moderator
CEO
AdviserShares 
Edward Baer
Counsel
Ropes & Gray
Stephen W. Clarke
President
NextShares Solutions LLC
Barry Pershkow
Senior Special Counsel
US Securities and Exchange Commission
D.J. Tierney
Managing Director
Charles Schwab Investment Management


4:30pm-5:00pm  Keynote Address
"Fireside Chat" on ETFs, Exchanges, and Media Coverage of ETF Industry
Robin Wigglesworth, Moderator
US Markets Editor
Financial Times 
Thomas A. Wittman
Executive Vice President of Nasdaq and Global Head of Equities
Nasdaq
5:00pm  Conference Adjournment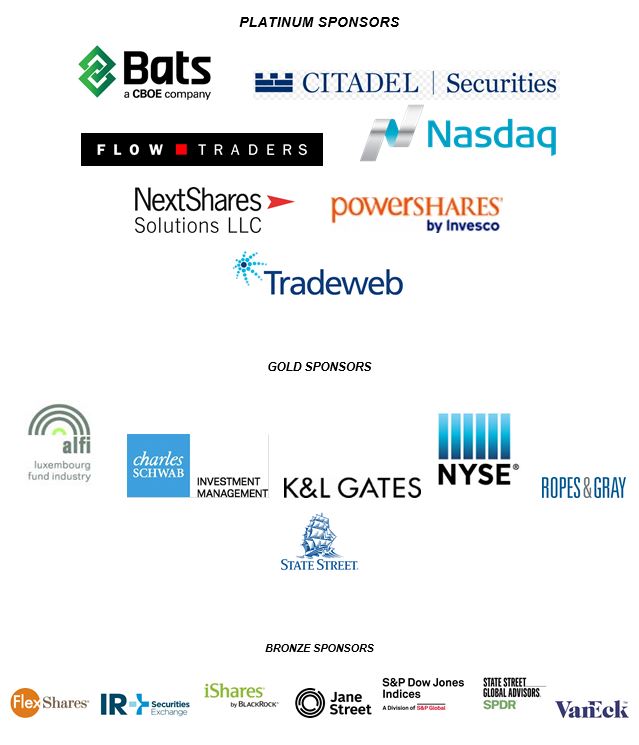 Frequently Asked Questions
What is the registration cancellation policy?
Cancellations received by May 31, 2017 are subject to a $150 administrative fee.  Notice of cancellation must be received in writing.  After May 31, 2017, no registration fees can be refunded.  However, if you are unable to attend, substitutions can be made, subject to conference organizer approval, and the administrative fee will not be applied.
What is the complimentary passes policy?
Complimentary passes are allocated at the discretion of the conference organizers.  Complimentary bookings made online are still subject to verification before final confirmation by the conference organizers of the complimentary pass.  If the conference organizers review an online complimentary pass registration and determine that the company and/or registrant does not fulfill the criteria for the complimentary pass, the complimentary pass can be withdrawn at the discretion of the conference organizers.
What if I have dietary restrictions or other special needs?
Please provide any dietary restrictions or special needs during your conference registration or contact the conference organizers.
Is the conference open to the media?
Yes, this conference is open to the media.
What is the conference dress code?
The conference dress code is business attire.
Does the conference offer sponsorship opportunities?
Yes.  For information regarding sponsorships, please contact Ari Burstein at 202-904-8480 or at ariburstein@comcast.net.

When & Where

Yale Club of New York City
50 Vanderbilt Avenue
New York, NY 10017


Wednesday, June 7, 2017 from 8:00 AM to 5:30 PM (EDT)
Add to my calendar