Actions and Detail Panel
Eternity Desert Awakening
Sat, May 6, 2017, 5:00 PM – Sun, May 7, 2017, 12:00 PM PDT
Description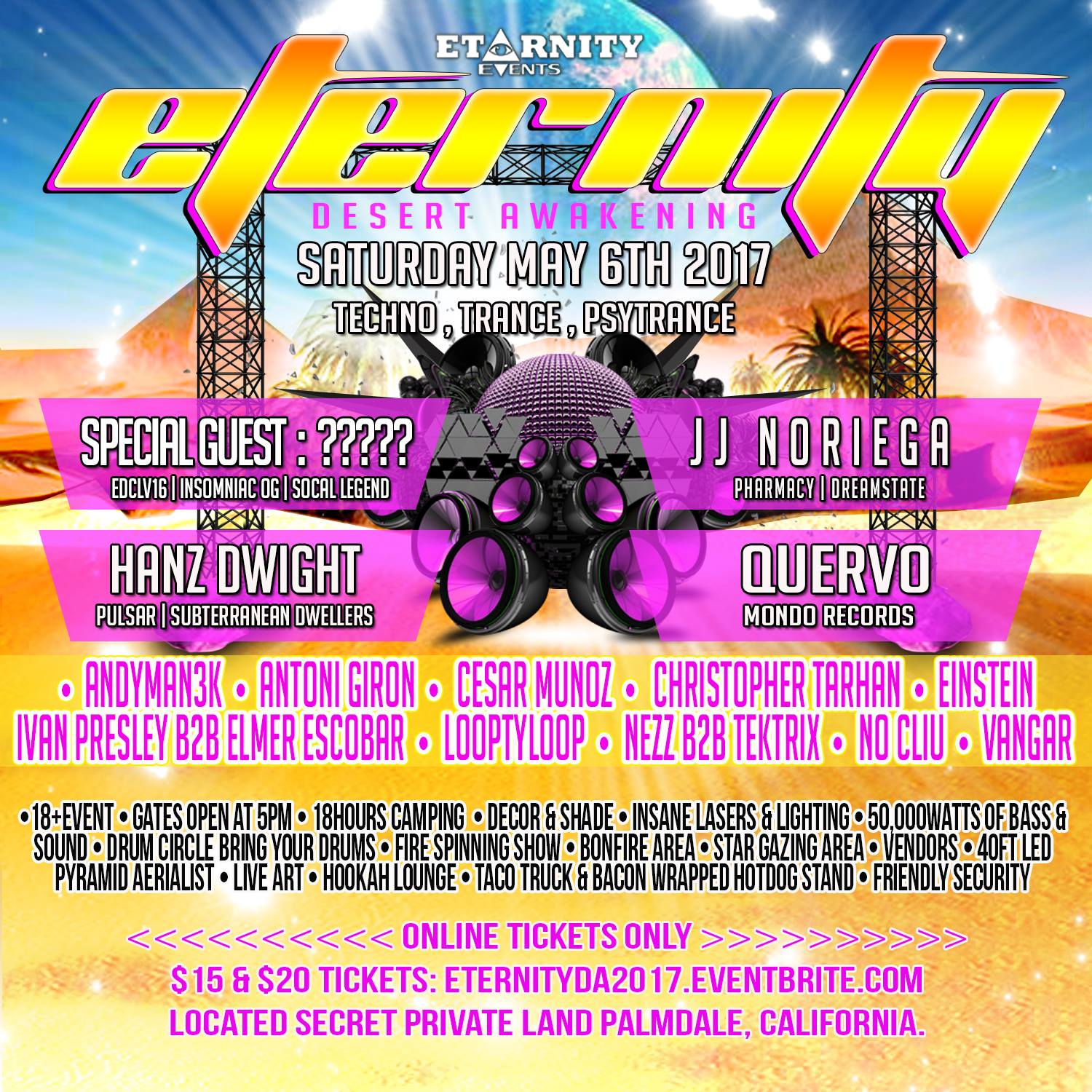 ▲ETERNITY Desert Awakening▲ Techno, Trance & Psytrance Destination - Saturday May 6th 2017 - 18+Event - Gates Open at 5pm - 18Hours Camping - 1Special Guest & 14Dj's from all around California - Decor & Shade - Insane Lasers & Lighting - 50,000watts of Bass & Sound - Drum Circle Bring Your Drums - Fire Spinning Show - Bonfire Area - Vendors - 40Ft LED Pyramid Aerialist - Live Art - Hookah Lounge - Taco Truck & Bacon Wrapped Hotdog Stand - Friendly Security - Location Secret Private Land in Palmdale, California.

TICKETS ON SALE NOW!!!
═══ ONLINE TICKETS ═══
════ ೋღ☆ღೋ════
◉ Early Bird Admission & Camping = $15 (100 Tixs) SOLD OUT!!!
◉ General Admission & Camping = $20
◉ Car's, Truck's, SVU's & Van's Pass = $5
◉ Motorhome's & RV's Pass = $10
NO REFUNDS, ALL SALES ARE FINAL!!!

Location address will be given out by email 2Hrs before the event to all ticket purchasers the night of the event. Car pulling is highly suggested. There will be no tickets sold the gate. This event will sell out fast. Grab your tickets ASAP & Be Apart Of The Experience That Will Last ETERNITY...!!!
1-2 hours from LA & OC.
3 hours from Fresno.
3 hours from SD.
3 hours from Vegas.
═══ ETERNITY STAGE ═══
═════ ೋღ☆ღೋ════
Sound from 5pm-5am (12Hrs Non-Stop ll 1 Stage 1 Vibe ll TECHNO , TRANCE , PSYTRANCE)

Special Guest: ????? ????????? (InsomniacOG l EDCLv16 l SoCal Legend)

★✯✫ Jj Noriega Aka Triceradrops ✫✯★ (Pharmacy ll Dreamstate)
★✯✫ Hanz Dwight ✫✯★ (Pulsar ll Subterranean Dwellers ll Nebula)
★✯✫ Quervo ✫✯★ (Mondo Records ll Atlantis & 420Fest ll QTopia)

✪ Vangar ✪ (Sensory Sessions)
✪ No Cliu ✪ (Pulsar || Pharmacy || Nebula)
✪ Einstein ✪ (Eternity Artist ll N.A.S.A.)
✪ Cesar Munoz ✪ (Eternity Artist ll EDM Junkies)
✪ Nezz b2b Tektrix ✪ (Eternity Artists ll Pharmacy)
✪ Ivan Presley b2b Elmer Escobar ✪ (Eternity Artists)
✪ Andyman3k ✪ (Eternity Artist)
✪ Christopher Tarhan ✪ (Eternity Artist)
✪ Looptyloop ✪ (Station Undrground)
✪ Antoni Giron ✪

═══ CAMPING AREA ═══
═════ ೋღ☆ღೋ════
Campsite Opens 5pm to set up & Ends at 12pm 5/07/16.
This is a rugged outdoor campout site. You will need to make sure to bring Camping Gear, First Aid Kits, Fire wood, Tents, Pillows, Blankets, FlashLights, GlowSticks, LED Gloves, LED Toys, 12Pack of Beer Per Person 21+ Cans Only, Plenty of Water, Food, Snacks, Trash Bags and Everything you need to be comfortable to party and camp!!!

21+ (You can only bring (1) 12pack of beer per person cans only. NO ALCOHOL BOTTLES. Alcohol bottles will be taken away at the gates.)

All Attendess & Vehicles will be searched Thoroughly before allowed into the event grounds. We want to ensure everyones safety:

(((NO WEAPONS OF ANY KIND // NO BOTTLES // NO ALCOHOL BOTTLES // NO DRUGS // NO NOZ TANKS // NO BAD VIBES // YOU WILL NOT BE ALLOWED INSIDE THE EVENT & NOT REFUNDED!!!)))

NO PETS ALLOWED // Only Service Animals with License allowed. Must be on a lesh.

__________________________
__ IMPORTANT DISCLAIMER __
By YOU buying a Ticket or Tickets, You & Your group Understand/Agree to the following below:
ETERNITY EVENTS, IS NOT RESPONSIBLE FOR ANY PERSONAL BELONGINGS MISPLACED, LOST OR STOLEN.
ETERNITY EVENTS, IS NOT RESPONSIBLE FOR ANY INJURY, DEATH OR LIABILITY. DO NOT TAKE ANY DRUGS. THERE WILL NO DOCTOR ON SITE & NO MEDICAL FIRST AID TENT. DO NOT WONDER OFF FROM CAMPSITE. LEAVE WITH THE FRIENDS YOU ARRIVED WITH. YOU ARE AN ADULT, ACT LIKE ONE. LET'S LOOK OUT FOR EACH OTHER AND CELEBRATE SAFELY! HAVE A BUDDY SYSTEM! MOST IMPORTANTLY HAVE FUN & ENJOY THE EVENT.