Description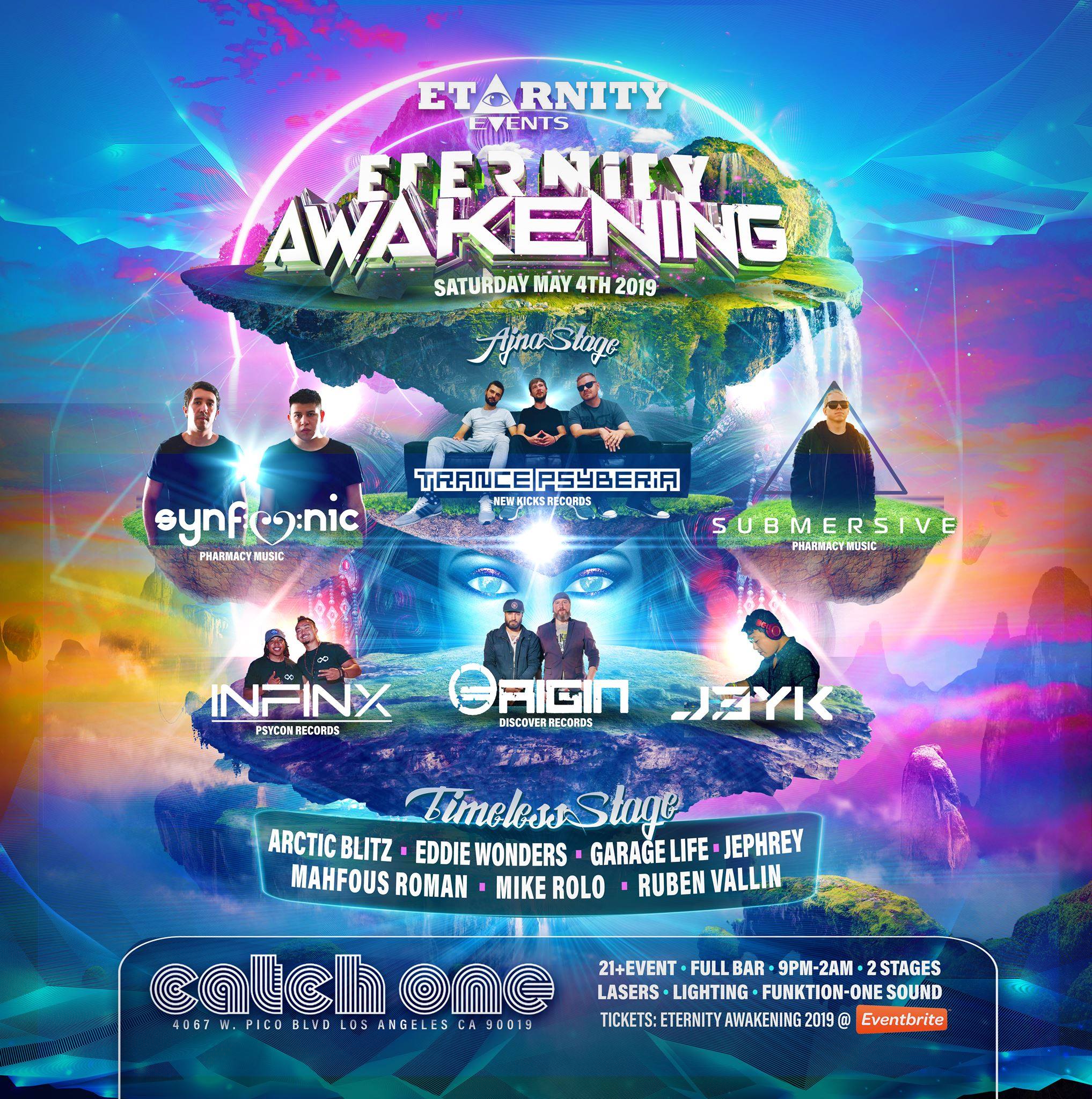 Eternity Events presents "ETERNITY AWAKENING" 2nd Annual Saturday May 4th 2019 21+Event doors open 9pm-2am 2 Stages Ft: Synfonic, Trance Psyberia, Submersive, Origin, Infinx, J3yk along with 8 other Djs mixing the best Trance & Psytrance with mind blowing state of the art Lasers, Lighting, Trippy Visual, Funktion-One Sound + more located inside the famous "Catch One" in Los Angeles. Get ready to open your third eye, dance the night away and have an experience in another dimension full of amazing people, good vibes & beautiful music!!!
▚▚▚▚▚:: Online Tickets ::▚▚▚▚▚
Tickets selling quick. So grab your tickets now.
:: Parking :: There is a couple parking lots by the venue you must arrival early. There is street parking around the venue. We suggest you car pool or take Uber/Lyft.
Synfonic is an up and coming duo fusing trance with elements of psy-trance, electro, complextro, tech trance, progressive house and classical music. By breaking the boundaries of genres they are already uplifting and captivating fans around the world.
Making their first breakthrough with Appointed Recordings, their first single Supernatural was quickly noticed by Christopher Lawrence, leading to their first EP release with Pharmacy Music.
In 2016, their debut EP on Pharmacy charted as high as #2 on the overall Psy-Trance releases chart. Since then, they have only continued working hard, releasing tracks on Appointed, Pharmacy, and Pharmacy Plus; being asked to compile the latest Pharmacy Plus compilation; getting a track signed to M.I.K.E Push Studio; starting their own sublabel, Trancefonic Records; and much more to come!
Synfonic keeps breaking the top100 trance & psytrance charts. Their recent colloboration with Christopher Lawrence reached #1 on the beatport top 100 psytrance charts. The boys are on fire. Synfonic's productions have received support from some of the genre's biggest names, including: ATB, Christopher Lawrence, Paul van Dyk, Simon Patterson, Heatbeat, M.I.K.E. Push, Giuseppe Ottaviani, Alex M.O.R.P.H, and many more. In addition, the duo has played at shows featuring artists such as Christopher Lawrence, Standerwick, Liquid Soul, Captain Hook, Perfect Stranger, Eskai & SNR, Triceradrops, and more.
soundcloud.com/synfonicofficial
(Russia ) Prog / Full - On
Trance Psyberia is a Trio from Russia, currently based in LA. Since 2015 played many performances in Clubs and Festivals alongside DJ's like: Neelix, Coming Soon, Berg, Perfect Stranger, Upgrade, Space Cat, Deedrah, Shanti, etc…
soundcloud.com/trancepsyberia
SUBMERSIVE is experiencing a breakout year in 2018. The Psy-Trance producer released records on Pharmacy Records, Bounce Recording's, and Tremor Records, reaching the top 20 on the Beatport Psy-Trance release chart and 4th on the Beatport Psy-Trance hype chart. He also performed at world renowned venues including two main stage performances at Avalon Hollywood and a headline performance at Hawaiian Brian's (Honolulu). The Los Angeles-based DJ and producer's tracks are supported by: Christopher Lawrence, Paul van Dyk, Phanatic, Giuseppe Ottaviani, Kaeno, Adam Ellis, Talla 2XLC, and more. SUBMERSIVE is one of the hottest rising talents in the scene; nothing is impeding his rise to the top.
soundcloud.com/submersivemusic
Origin a duo, Cypher & Brendan Bartels. In the midst of generating fans globally with their chart topping tech/psy productions and performing in legendary electronic venues from both New York City to Los Angeles Origin has also been creating a presence outside the trance industry. From product development for Roland to working as consultants training high profile artists such as George Clinton, DJ Yella (NWA) & Trinidad James, Origin has been applying their brand to multiple sectors of the music industry. They have secured several new partnerships and as Roland Artists they have been exploring the boundaries of live performance technology both in the clubs and the studio.
www.soundcloud.com/originproductions
Bringing together the sounds of psychedelic music, INFINX brings you a sensation of euphoria and driving beats. Influenced by the beauty of Mother Earth, shape shifting sounds, spiritual journey, the experience that INFINX brings draws the mind to infinite possibilities. In the world of INFINX, nothing is impossible and the feelings are real. The pure feelings of trance music rest in the heart of each and every listener.
Based in Los Angeles, DJ and Production duo: Chris Huitink and Devin Wilson, came together to create INFINX. Being best friends since high school, they took aim to bring their love of trance music to others. Their productions have been inspired from their long time passion of electronic music and the rave culture. Aiming to bring their fans to a higher dimension, they developed music with beautiful, melodic breakdowns that takes each listener on a journey; and heavy, energetic bass lines that slams them right back on earth and gets them dancing again.
"INFINX is a display of the infinite possibilities that music and the universe possesses. We want to be an inspiration to those who believe in the power of positivity and flow in life. Always keep developing your Infinite Mind. We want our listeners to feel the energy and life in each of our songs. We want to bring a heart beat to our music so that listeners feel connected with their truest self as well as with those who listen as well."
soundcloud.com/infinxmusic
Jeyk Janish aka J3YK is a Musician, producer, DJ, promoter, and electronic music enthusiast alike, has been running the Southern California music circuit for the last 5 years. Having spent time playing at all of the major Los Angeles/Orange County night clubs (alongside local hard-hitters and national acts alike), holding multiple residencies, DJing special events and promoting his own shows, Jeyk has had a lot of time to develop his sound. For him, it's all about creating a feeling in the crowd and getting everyone to groove, regardless of genre, tempo, style, or release date. You can find him browsing through crates of any genre, creating a mix that is truly unique.
~~~~~ Timeless Stage ~~~~~
Emazing Lights - Give A Ways
IHeartRaves.com - Give A Ways
▬ Following will be allowed ▬
✔
YES Glowing/Illuminated Costumes or Jewelry.
▬ Following NOT Be Allowed ▬
✘ NO Drugs or Drug Paraphernalia.
✘ NO Weapons of any Kind.
✘ NO Re-entry / Ins & Outs.
✘ NO Markers, Pens or Spray Paint.
✘ NO Stickers, Flyers, Banners or Posters.
✘ NO Large Purses or Bags.
✘ NO Outside Food or Beverages.
✘ NO Refunds or Exchanges.
✘ NO Unauthorized/Unlicensed Vendors Allowed