Location
Consolidated Theatres Ward with TITAN LUXE
1044 Auahi Street
Honolulu, HI 96814
Dick Jones, CEO of Blue Ocean Mariculture, will provide an overview of aquaculture as a potential industry in Hawai'i
About this event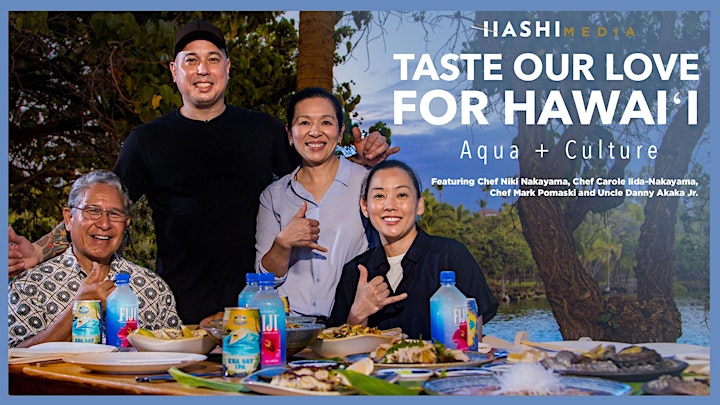 HONOLULU, HI – The Hawai'i Agricultural Foundation (HAF) will host its 18th EAT THINK DRINK (ETD) called What's the Catch—Cultivating Hawai'i's Seafood Future presented by Alaska Airlines on Wednesday, June 15, 2022 from 5:00-7:30pm at Ward Consolidated Theaters. For this event, HAF is hosting a private screening of Hashi Media's Taste Our Love for Hawai'i Episode 3: Aqua+Culture, featuring chefs Niki Nakayama and Mark Pomaski. Following the screening, we will hear from keynote speaker Dick Jones, CEO of Blue Ocean Mariculture and a panelist of leaders in aquaculture.
In 2019, aquaculture sales in Hawaiʻi reached a record of $83.2 million, up from a high of $78.2 million in 2014. In 2020, as a result of the pandemic those numbers retreated by about 15 percent. However, with tourism rebounding at a record pace in 2022, the demand for seafood in Hawaiʻi is expected to also remain strong.
Dick Jones, CEO of Blue Ocean Mariculture, will provide an overview of aquaculture as a global industry and the potential for the industry here in our islands. He will also share his view on why Hawaiʻi can be a leader in new technologies and innovations for the industry. The presentation will be followed by a panel that will share how loko iʻa of the past are also contributing to our local food supply, where investments are being made in aquaculture, and how this industry can contribute to Hawaiʻi's economic diversification, food resiliency, job creation and cultural preservation.
The panel discussion will be moderated by Hawai'i Senator Glenn Wakai and feature:
Alexia Akbay, Founder and CEO of Symbrosia
John Dobovan, CEO of Kulahaven Farms LLC
Ikaika Rogerson, President of Waimānalo Limu Hui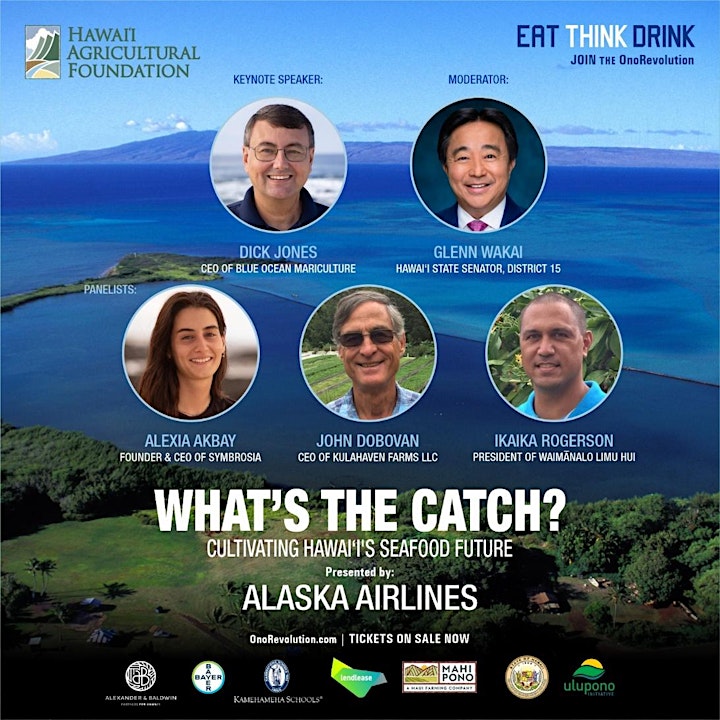 GENERAL ADMISSION TICKET RATE: $85 to join the live in-person event at Ward Consolidated Theaters with after party networking opportunity at Dave & Buster's for an additional $50
In-person tickets include one (1) complimentary dinner featuring Kona kanpachi and other aquaculture-inspired dishes by MW Restaurant's chefs Wade Ueoka and Michelle Karr-Ueoka, one (1) small popcorn, and two (2) drinks from Ward Consolidated Theater's beer and wine selection.
This event at Ward Consolidated Theaters will have assigned seating. If you would like to sit with another person (that will NOT be under the same order number), please indicate their first and last name(s) in your order form.
To continue the conversation, there will be an after party networking opportunity at Dave and Buster's Sunset Lanai from 7:30-9:30pm. For an additional $50, tickets will include two (2) drink tickets and light pupus.
GET A DOZEN LOCAL EGGS – FOR FREE!
All registered attendees on O'ahu will be eligible to receive a dozen eggs from Hawaiian Maid or Ka Lei Eggs. No purchase necessary.
#EATTHINKDRINK Join the #OnoRevolution, was developed by HAF in response to the need to provide better information to the community on important food issues. The quarterly event series aims to build and engage a larger network of younger generation consumers and create new opportunities to learn about the food we eat and the people that grow it. The goal of ETD is to find and develop areas of common ground, such as increasing awareness and support for local farmers and developing better infrastructure and consumer demand for value-added products to empower Hawaiʻi's next generation of community and industry leaders.
ETD18 is presented by Alaska Airlines. The event is also supported by Alexander & Baldwin, Mahi Pono, State of Hawai'i, and Ulupono Initiative.
Mahalo to the following for their generous donations for this event's aquaculture-inspired meal: Dick Jones of Blue Ocean Mariculture (Hawaiian Kanpachi); Jason Brand of Kunia Country Farms (greens); Ron Weidenbach of Hawaii Fish Company (Tilapia); and Anthony Mau of Kupu Place (microgreens) and Kualoa Rance (shrimp).
For more information, visit OnoRevolution.com.
MUST BE 21+ YEARS OF AGE TO ATTEND IN-PERSON