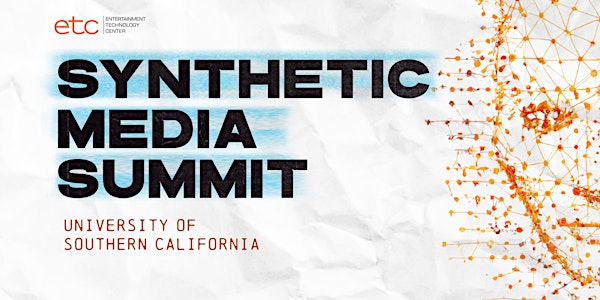 ETC's Synthetic Media Summit at the University of Southern California
Sr researchers, startup founders, sr m&e executives will discuss the promises and perils of Generative AI for the media industry
By The Entertainment Technology Center@USC
Date and time
Thursday, June 8 · 9am - 5pm PDT
Location
The Ray Stark Family Theatre (SCA 108) USC School of Cinematic Arts Complex 900 W. 34th Street George Lucas Building Los Angeles, CA 90007
About this event
After many false starts, AI is here. And it's equally parts powerful, promising, and concerning. Generative AI promises to change the way media content is produced, distributed, and consumed. It even alters the nature of media itself. None of us, inside or outside of the industry, is fully ready for what AI is about to bring about. So to chart the course of this AI-driven media future, the University of Southern California is organizing the world's very first Synthetic Media Summit.
This one-day event is a historical collaboration between two of the world's leading media schools, USC's School of Cinematic Arts and the Annenberg School of Communication and Journalism. It will gather dozens of the most senior researchers and startup founders of the Generative AI field, as well as senior executives from the entertainment and news industries, to discuss the promises and perils of Generative AI for the media industry and the society it serves.
Join us at the Ray Stark Family Theatre, SCA 108, George Lucas Building, USC School of Cinematic Arts Complex in Los Angeles, CA.
8:00am: Registration and Continental Breakfast
9:00am: Introduction
9:30am: The View From Artists
10:30am: State of the Tech
11:30am: News Panel
12:30pm: Lunch
1:30pm: Entertainment Executive Panel
2:30pm: Legal Panel
3:00pm: Ethics Panel
4:30pm: Closing Remarks
In-person seating is limited so register early ($175+tax). Many more can join remotely via teleconference ($50+tax).
Confirmed speakers (subject to change)
Dr Morten Bay, Lecturer / Research Fellow, Center for Digital Future (USC Annenberg School for Communication and Journalism)
Yves Bergquist, AI Researcher / Director, AI & Blockchain project (ETC@USC)
Stella Biderman, AI Ethics Researcher (Eleuther.ai)
Elizabeth Daley, Dean, USC School of Cinematic Arts
Laura Davis, Associate Professor, Professional Practice (USC Annenberg School of Communication and Journalism)
Angela Dunning, Partner (Cooley LLC)
Emilio Ferrara, Associate Professor, Communication, Computer Science and Preventive Medicine (USC Annenberg School of Communication and Journalism)
Anthony Guarino, EVP, Global Production & Studio Technology (Paramount)
Evo Heyning, Executive producer/ CEO (Realitycraft)
Melody Hildebrant, CISO (Fox Corp )/ President (Blockchain Creative Labs)
Renard Jenkins, SVP, Production Integration & Creative Technology Services (Warner Bros. Discovery)
Julianna Kirschner, Lecturer, USC Annenberg School for Communication and Journalism
Dr Mark Lemley, Professor, Director of the Program in Law, Science & Technology  (Stanford University)
Ryan Luu, Director of Product, CoreUX & Personalization (The Washington Post)
Margaret Mitchell, Chief Ethicist (Hugging Face)
Dr Gary Marcus, Author, Entrepreneur, and Professor of Psychology (NYU)
Sanjay Pandit, CTO (CAA)
Jennifer Peterson, Associate Professor of Communication / Director, Graduate Certificate in Science and Technology Studies (USC Annenberg School of Communication and Journalism)
Nikki Pope, Head of AI Legal (NVIDIA)
Nikola Todorovic, Founder & CEO (Wonder Dynamics)
Ken Williams, Executive Director, Entertainment Technology Center at USC
Simon Yuen, Sr Director (NVIDIA Omiverse)
About the organizer