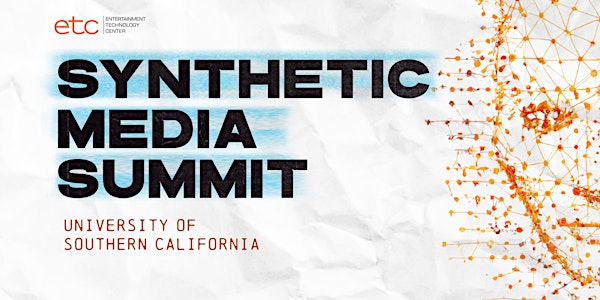 ETC's Synthetic Media Summit at the University of Southern California
Sr researchers, startup founders, sr m&e executives will discuss the promises and perils of Generative AI for the media industry
By The Entertainment Technology Center@USC
Date and time
Thursday, June 8 · 9am - 5pm PDT
Location
The Ray Stark Family Theatre (SCA 108) USC School of Cinematic Arts Complex 900 W. 34th Street George Lucas Building Los Angeles, CA 90007
About this event
After many false starts, AI is here. And it's equally parts powerful, promising, and concerning. Generative AI promises to change the way media content is produced, distributed, and consumed. It even alters the nature of media itself. None of us, inside or outside of the industry, is fully ready for what AI is about to bring about. So to chart the course of this AI-driven media future, the University of Southern California is organizing the world's very first Synthetic Media Summit.
This one-day event is a historical collaboration between two of the world's leading media schools, USC's School of Cinematic Arts and the Annenberg School of Communication and Journalism. It will gather dozens of the most senior researchers and startup founders of the Generative AI field, as well as senior executives from the entertainment and news industries, to discuss the promises and perils of Generative AI for the media industry and the society it serves.
Join us at the Ray Stark Family Theatre, SCA 108, George Lucas Building, USC School of Cinematic Arts Complex in Los Angeles, CA.
In-person seating is limited so register early ($175+tax). Many more can join remotely via teleconference ($50+tax).
Confirmed speakers (subject to change)
Bill Baggelaar (EVP & CTO, Technology Development, Sony Pictures Entertainment)
Randy Bean (Writer, Harvard Business Review)
Stella Biderman (AI Ethics Researcher, Eleuther.ai)
Tom Davenport (Writer, Harvard Business Review / Professor, University of Oxford)
Angela Dunning (Partner, Cooley LLC)
Tom Graham (CEO, Metaphysic.ai)
Tony Guarino (EVP, Global Production & Studio Technology, Paramount)
Melody Hildebrant (CISO, Fox Corp / President, Blockchain Creative Labs
David Holz (CEO, Midjourney)
Renard Jenkins (SVP, Production Integration & Creative Technology Services, Warner Bros. Discovery)
Dr Jan Leike (Alignment Team Lead, OpenAI)
Dr Mark Lemley (Professor, Director of the Program in Law, Science & Technology, Stanford University)
Dr Gary Marcus (Author, entrepreneur, and Professor of Psychology, NYU)
Sanjay Pandit (CTO, CAA)
Nikki Pope (Head of AI Legal, NVIDIA)
Greg Reed (VP, Technology Partnerships, Universal Pictures)
Max Sills (General Counsel, Midjourney)
Nikola Todorovic (Founder & CEO, Wonder Dynamics)
… and more to be confirmed.
About the organizer