Etching "One Hundred Years of Solitude": Gabriel García Márquez Through the...
Description
University of Miami Libraries cordially invites you to
Etching One Hundred Years of Solitude: Gabriel García Márquez Through the Hands of Pedro Villalba Ospina,
an artist's book exhibition featuring original etchings, drawings, and prints, with a special presentation by
Omar Vargas, Ph.D.,
of
University of Miami's Department of Modern Languages and Literatures, and a Q&A session with
Pedro Villalba Ospina.
---
About the Event
Pedro Villalba Ospina's artistic evocation of the novel One Hundred Years of Solitude (Cien años de soledad), by Colombian author Gabriel García Márquez, brings to life a story that immerses the viewer in a timeless and magical literary world of love and loss.

On display at the Otto G. Richter Library are original drawings, etchings, and prints that are a testament to the more than 20 years of passion and dedication Villalba Ospina has devoted to the work, culminating in the handmade bibliophile version that contains all of the elements of the exhibition and the artist's lifework in one exquisitely crafted edition. Also on view are several of Villalba Ospina's personal papers and tools which he used to imagine and realize the pages on display, an audiovisual presentation that affords us brief glimpses into his processes and the emphasis on deliberate, manual creation, and Villalba Ospina's handwritten journal, opened to the page where he estimated that the entire process of bringing to life García Márquez's literary classic would be completed in one year's time.

We are thrilled to feature an exhibition at the University of Miami Libraries that materializes the touch and feel of myth and magical realism, as a celebration and representation of connecting us with the diverse talents, and literary and artistic contributions, which abound in and connect the Americas.

This event is made possible in part by the support of The Tonkinson Foundation.
---
About the Artist

Colombian artist and printmaker Pedro Villalba Ospina has dedicated more than 22 years of his life to creating an illustrated representation—in drawings and etchings—to honor One Hundred Years of Solitude by Nobel Prize winner Gabriel García Márquez. To create this exquisite work, he used cotton paper from Casa Fabriano imported from Italy, and printed each page with a XIX manual British press, Hopkinson & Cope, 1878.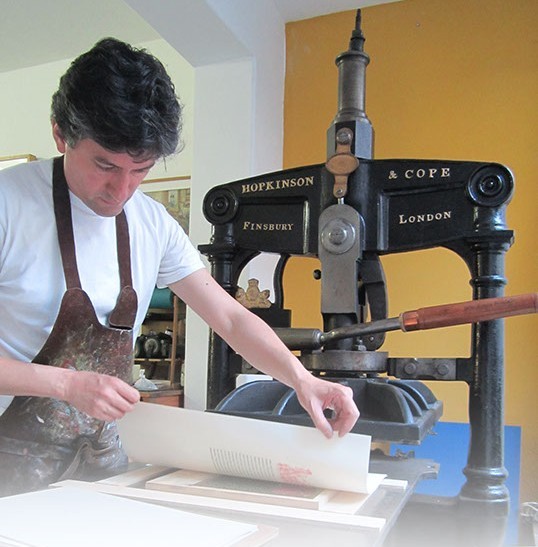 ---
This event is free and open to the public. A self-guided tour of the exhibition will follow the presentation.

Header image: Detail from One Hundred Years of Solitude: The Bibliophile Edition, 2016, by Pedro Villalba Ospina.
UM is a smoke-free campus. Metered parking is available at all lots on the Coral Gables campus.