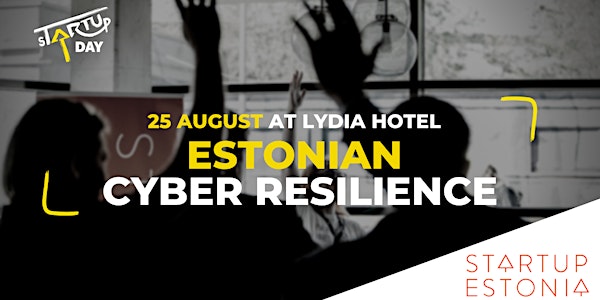 Estonian Cyber Resilience – sTARTUp Day 2022
Estonian Cyber Resilience in Current Geopolitical Tensions – sTARTUp Day 2022
When and where
Location
Hotel Lydia event centre Ülikooli 14 51003 Tartu Estonia
About this event
Russian aggression in Ukraine has put Estonian cyber resilience under the spotlight. The unprecedented amount of cyber threats highlight the need for Estonia to become bulletproof when it comes to the security of Estonian information systems as well as the protection of its citizens.
Cyber security will play an increasingly more important role in the next decades, Estonia has developed national risk assessment and security strategies with a clear vision to involve private businesses. In current affairs of risk management, how ready and secure is Estonia against cyber threats? In the rapidly developing geopolitics, how can startups and startup support organisations be involved in mitigating security risks that we might face?
Panelists:
Mihkel Tikk - Deputy Commander, Estonian Defence Forces Cyber Command
Mihkel is a public sector cyber executive with an entrepreneurial mindset. Over the years he has worked with many organisations and countries resolving issues on how to build effective and resilient infrastructures for user friendly services. He's currently working as Deputy Commander in Estonian Defence Forces Cyber Command and was previously in charge of the Cyber Policy Department in Estonian Ministry of Defence. His background also includes working for the Estonian Information System Authority and several NATO and EU bodies governing cyber security. He's familiar with the global startup community and entrepreneurship where he has seen success as well as "lessons for the future".
Aare Reintam - Co-founder and COO, CybExer Technologies
Aare is the Chief Operational Officer and Member of the Executive Board of CybExer Technologies since June 2018. Previously, he worked as the Cyber Defence Exercise Manager of the NATO Cooperative Cyber Defence Centre of Excellence where Aare planned, executed and oversaw several iterations of world-leading cyber defence exercises (Locked Shields, Crossed Swords and other NATO organized exercises) between 2014 and 2018.
Jaana Metsamaa - VP of Product, Binalyze
Jaana is the VP of Product of Binalyze, an category-defining Enterprise forensics tool that makes enterprises cyber resilient through fast, scalable, and automated digital forensics. Previously she has been building products and teams in Estonian success stories like Pipedrive - a SaaS CRM and Fortumo (now Boku) a global mobile payments company.
Moderator:
Lauri Tankler - Head of ​​R&D Coordination Department, Estonian Information System Authority
Lauri is a former TV journalist, he has been working for the Estonian Information System Authority and raising awareness on cyber threats and cyber hygiene through trainings, media appearances and ad campaigns for years. He is currently in the process of launching a new initiative to foster the Estonian and European cybersecurity research, innovation and entrepreneurship through EU investments, collaboration on research and market incentives.
Food & drinks? - Gather at Lydia Hotell's event centre from 15:15 onwards to enjoy refreshments and a small bite. The main event starts at 15:30.
The number of seats is limited! We may need to close the registration earlier!
The event is organised by Startup Estonia and is open to everyone with an interest in cyber security. Startup Estonia is a governmental initiative aimed to supercharge the Estonian startup ecosystem to be the birthplace of many more startup success stories to come. Startup Estonia focuses on making Estonia one of the world's best places for startups, partnering with and uniting the best of startups, incubators, and accelerators in the private and public sectors.
Estonian Cyber Resilience – sTARTUp Day 2022 is a side event of sTARTUp Day 2022 – the most startup-minded business festival, taking place on 24–26 August 2022 in Tartu & online.
Learn more and get your tickets: www.startupday.ee
Find the Facebook event here.