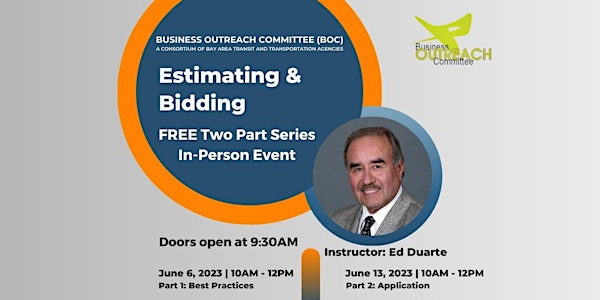 Estimating & Bidding Part 2
A deeper dive into project estimating & bidding with a focus on how to properly estimate costs and bid on heavy civil construction projects.
By Business Outreach Committee (BOC)
Date and time
Tuesday, June 13 · 10am - 12pm PDT
Location
AC Transit 1600 Franklin Street (2nd Floor Board Room) Oakland, CA 94612
About this event
A Two-Day Learning Experience!
This event is primarily designed for disadvantaged and small business subcontractors, but all content applies to prime contractors as well. The instructor, Ed Duarte will continue with this two part series to demonstrate how to properly estimate costs and submit a bid. BRING YOUR LAPTOP!
Day Two: Instructor will illustrate how to finalize a spreadsheet and prepare a completed bid through Microsoft Excel. Final presentation becomes the Scope Letter that subcontractors must utilize to submit their bids.
Meet the Instructor
About the organizer
The Business Outreach Committee (BOC), a consortium of Bay Area transit and transportation agencies whose goal is to assist small and disadvantaged companies in doing business with Bay Area Transportation Agencies.