Description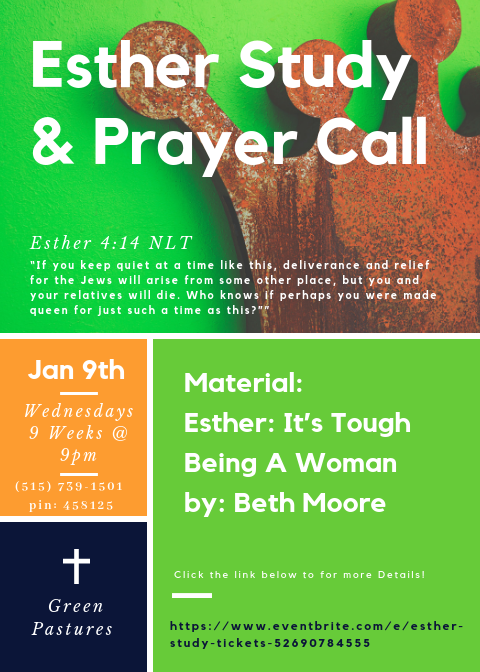 Join us for a 9 week self-study to kick off our year! We will glean from Esther and learn what it means to be a woman in a time and season "such as this"!
This is a self study that you will commit to weekly for 9 weeks. I will host a weekly prayer call and share one thing that I believe stood out in that week for the study and pray over our week!
We will join by conference call every Wednesday for the 9 week study. The prayer call will mute all participants, if you have prayer requests please submit to jeanicesherai@gmail.com. These prayer calls will be recorded as God leads each week!
Please order your study book as soon as possible!
https://www.amazon.com/Esther-Its-Tough-Being-Woman/dp/1415865965/ref=sr_1_1?ie=UTF8&qid=1542324469&sr=8-1&keywords=esther+by+beth+moore
or
https://www.lifeway.com/en/product/esther-bible-study-book-P005162885
On January 9, 2018 we will begin with our first prayer call as we study Esther and pray for God's wisdom on why we were each created for "such a time as this." Please start your study the week prior to 1/9/2019.
I truly believe that starting our year studying and learning Esther will truly make 2019 life changing for each of us! Are you ready to live out the purpose that you were created to live "for such a time as this."