Esther Rising Ladies Conference with Christa Smith. Daughter Arise! Worship by Delana Wood & Emma Back of Ramp Worship.
About this event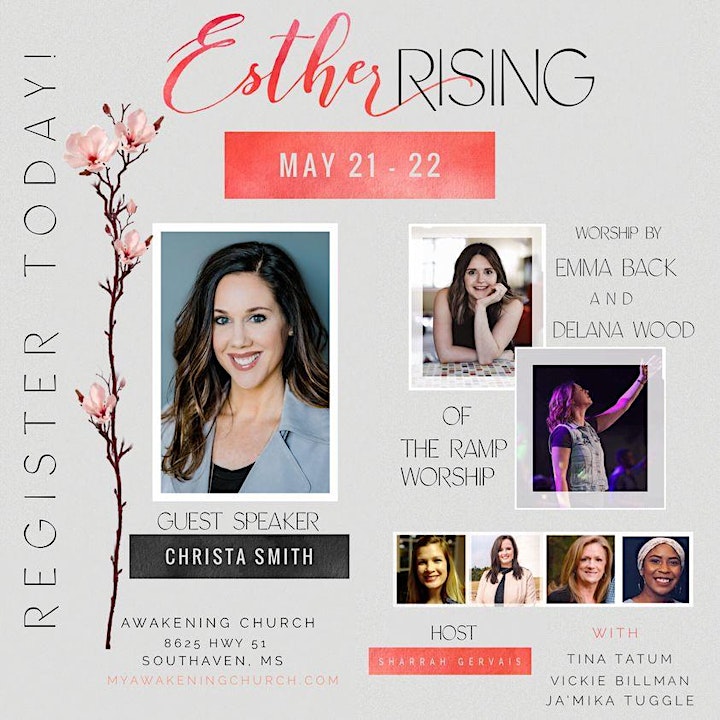 Daughter Arise! This is our moment! Hosted by Sharrah Gervais. Tina Tatum, Vickie Billman, & JaMika Tuggle also ministering. Free admission and registration for in person tickets.
View free LIVE online @rignation.usa on Facebook without registration and on youtube at Greg d Gervais.
Less than a week away. Revised times: Friday evening 7 pm-9pm. Saturday 9am -3pm and in the evening 7pm -9 pm. Limited seating. Guaranteed seating for first 250.
Childcare is available if preregistered and paid before event.
$25/ child for weekend. Parent must be on site. To arrange childcare email: Greg@myawakeningchurch.com
Christa Smith has a passion for seeing God unleashed across the nations and across the generations. Whether it is through revelatory teaching, prophetic ministry, evangelistic outreach or moving in signs and wonders, Christa has invested her life for the gospel. She has experienced incredible moves of God throughout this nation and abroad. She is impassioned for the harvest and revival, which often places her and her husband, Sean, in diverse settings, but always dependent on God's presence to show up and show off. They reside in the San Francisco Bay area and serve full time as itinerant ministers.
Tina Tatum is a Memphis born, Mississippi raised, Cajun blooded lover of Jesus and His people! Her primary passion is to see the Gospel of Jesus Christ set the captives free, both spiritually and physically. She is an Author, Conference Speaker and Advocate for freedom. Her ability to speak to the heart of the matter, while conveying the truth of Scripture helps establish people in their identity and empowers them to arise with purpose as agents of change in the earth. Tina also has a passion of justice, and together with her husband, founded the anti-exploitation/trafficking organization, R3 The Movement. Tina is also founder of Tina Tatum Ministries, RefresHER and worked to establish GatHER with sisters in Christ across the Mid-South. She and her daughter Faith, wrote and published THRIVE, A 30 Day Journey for Teen girls and their Moms of growing closer to God and to one another. Tina is an ordained minister of the gospel, through Destiny Leadership Institute and Generals International and she holds a bachelor's degree in Marketing.
Tina is also the owner of Coffee Central in Southaven and Hernando MS, creating a space for meaningful connections over coffee.www.tinatatum.comhttps://www.facebook.com/tinatatumministries/
Vickie Billman, a lifelong dreamer, sought to understand the messages from her dreams. Through a life-changing experience with the Holy Spirit, she started on a journey culminating in a ministry of teaching dream seminars, prophetic workshops and training classes for establishing prophetic prayer teams. Through years of training and personal experience, Vickie's practical teaching style has helped many to unlock their dreams and find faith, freedom, and power in Jesus Christ. Vickie and her husband, Dan, have been pastoral and training leaders throughout their 30 plus years of marriage. They live in the greater Memphis area.
Ja'Mika Tuggle is down to earth, humorous, and powerful. She is a trumpet for her generation to hear the call of God upon their lives to live with purpose. Her heart is compelled to see a generation move into the kingdom and become a mighty advancing army. She ministers with a spirit of revelation that opens heaven and unlocks the understanding of the hearers. She communicates with excellence and power. She also has a passion for the mission field. A graduate of Christ for the Nations, she currently lives in the greater Memphis area and serves on staff at Awakening Church.
Sharrah Gervais has a passion to see every believer awaken to God's original intent for their lives bringing them into their full purpose. Her messages prophetically peel away layers of ideals that have hidden the believer's true calling and potential. She ministers with a great anointing that leads the hearer to find the courage to face their fears and move forward. Sharrah has a strong draw for young people equaled to her passion to see them saved and set free. Sharrah and her husband, Greg, launched Awakening Church in the greater Memphis area as a ministry base for an awakening across the Mid-South.
Worship Team Leaders
Delana Wood serves with her husband, Micah, as Lead Pastors of Ramp Church Hamilton and on the Ramp's senior leadership team. She is a featured worship leader as a part of Ramp Worship and has been a part of The Ramp since 2004.
Emma Back and her husband, Matthew, are the Worship Directors at the Ramp School of Ministry. They have been a part of the Ramp since 2010 and serve on the Ramp's Senior Leadership team. Emma is a featured worship leader as part of Ramp Worship where Matthew is also the Musical Director.