"DRAGONIA" 1st Annual Music Festival created for LA's diverse party people with a fusion of Live Reggaeton EDM HipHop Techno x House Music
About this event
🔥🐉DRAGONIA🐉🔥
Dragonia is a new magical world who's gates will only open once a year. A world where Music and Dragons come to life as they fly from corner to corner inside and out of walls, roaring unto a stage of Live Performances infusing the sounds of EDM Reggeaton HipHop and Electronic Music that'll tickle your eardrums like never before, visuals effects that'll trip out your eyes and a Glow In The Dark House x Techno Room that you won't want to leave!!
This is a Blue Carpet 21&Over event.
Created by Artists, Dj's and Visionaries who want to give LA's music and party lovers something they've never had before! Dragonia is here!
ABOUT OUR HEADLINER ESTHER ANAYA IG@estheranaya
Esther Anaya Live (EAL) is a musical experience beyond comparison.
Created, composed and choreographed by international violinist, DJ/singer and producer Esther Anaya, this limited engagement takes its audience on a truly unique, symphonic journey. EAL is made for the big stage and features Anaya's signature style—a blend of electronic violin, DJ sets, vocal performances and accompanying drum solos—complemented by absorbing and acrobatic-like dances. Attendees become part of the show - hearing, seeing and feeling the music as it comes to life, one note at a time.
LIVE ON STAGE:
Esther Anaya . Anthony V. El Peluche . Medalex420 . LUonthe Beat . Aaron Bones . No Shame . Jay Uno . Ayy Peru . Kilo . Xander Da Lowk . Bansil . Jairo . Mc Rome . Tony Floress . Platero . Oro Beats . DeLeon . Raquel . Slinks . Angel Sandoval . Chango . Jessica .Luie Beat . Wash Music . Senz . Mondayys . Shabeem . SurfMyster . Kenneth James . Dj Spot . Beezy . Yoly and many more!
Blue Carpet Event . 21+Event . 4pm - 2am . Indoor x Outdoor Areas . 30+ Artists Live On Stage . 15+ Djs Spinning Reggaeton EDM Hiphop Techno Underground x House . 20+ Vendors . 2 Full Bars . Glow In The Dark EDM House Techno Room with Body Painting Available . Holographic Dragon Themed Effects . Celebrity Guests . VIP Sections . Bottle Service . Exotic Drinks . Food . Casting Agents
LA, we're ready for you, are YOU ready for us??
#dragonia #dragonia2021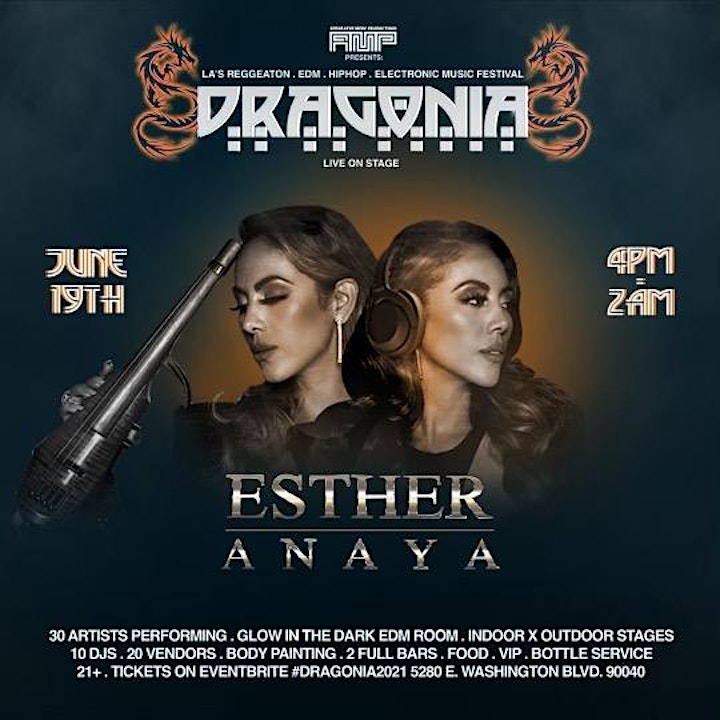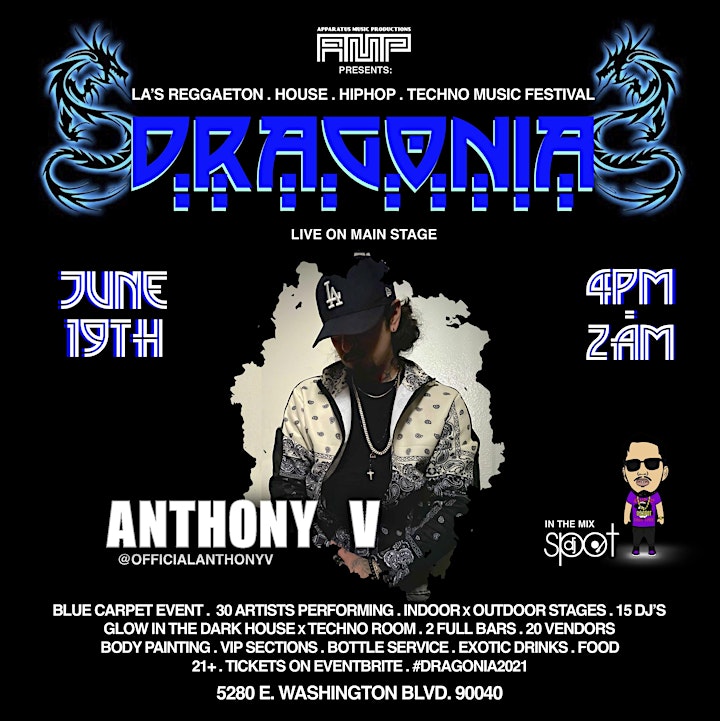 Organizer of Esther Anaya Live at Dragonia 1st Annual MUSIC FESTIVAL