Description
Learn about the essentials of Estate Planning in this workshop, led by award-winning Attorney Holly Geerdes.
In this session, you will learn:
The differences between wills, revocable & irrevocable trusts (& why you should have one, or none)

How to avoid probate, especially during the course of your life

How to protect your assets and prevent losing them to the government, creditors, and lawsuits

About Asset Protection and Succession Planning for businesses to pass your assets to loved ones without being at risk to government, predators, divorce, lawsuits, bankruptcy, and disability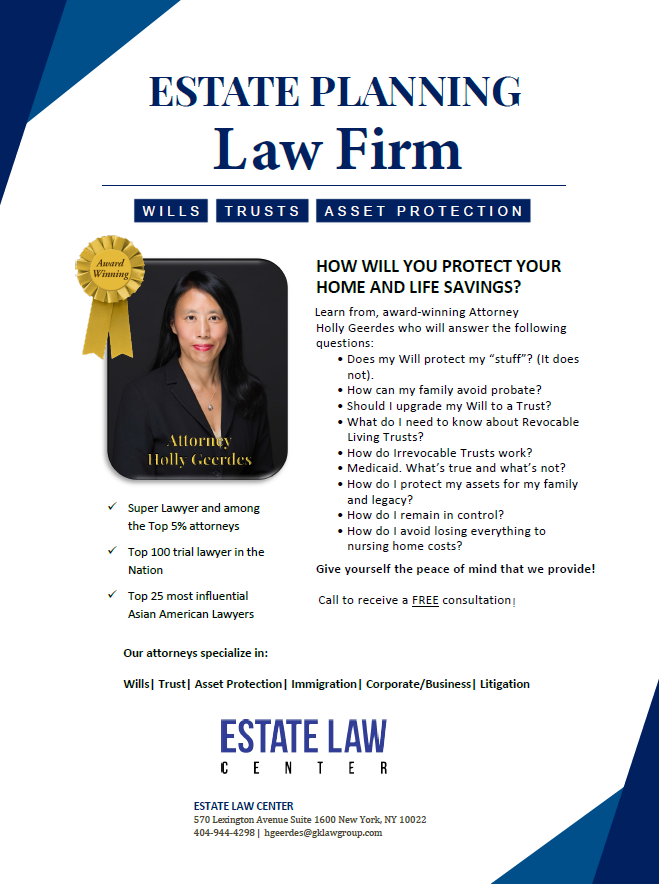 About Attorney Holly Geerdes:
Ms. Geerdes specializes in estate planning and asset protection. Attorney Geerdes' numerous case victories set her apart from most veteran attorneys throughout the state and in the United States. In four consecutive years, from 2001 to 2005, she received the prestigious Case of the Year award for her winning representations at the Highest Supreme Court. She was also named Outstanding Young Lawyer in 2004 by the State Bar governing attorneys in recognition of her accomplishments. She continues to contribute to the legal community through her numerous articles and publications and by serving on the boards of multiple Bar-affiliated organizations and adjunct professor at the local law school. In 2006, Ms. Geerdes was named one of the State's top 14 attorneys under 40 by the legal newspaper for attorneys and judges. She was also named in 2018 and 2019 as a Super Lawyer voted by the legal community, attorneys and judges in the State where only the top 2.5 percent of attorneys in the State are selected. Most recently, Ms. Geerdes was selected as top 100 trial lawyers in the nation by the National Trial Lawyers Association and 25 most influential Asian American Lawyer. Ms. Geerdes travels across the United States training lawyers on estate planning and asset protection. Ms. Geerdes currently oversees over 50 attorneys in the United States in every state dedicated and specializing in asset protection for various financial companies and their clients.
For more information, please contact:
Dolma Lhamu
Email: dolmalhawfg6@gmail.com
Phone: (917) 671-7619
Our Expo references the iconic 1964 World's Fair through the prism of today's global village of Flushing, Queens, and will include presentations and workshops, as well as a showcase of resources for entrepreneurs and local businesses. We will also launch our walking tours featuring the "Passport to Flushing" food and culture crawl with special discounts and prizes. For more information, please visit http://www.worldsfair.nyc.

Find Yourself Here! #FlushingFantastic