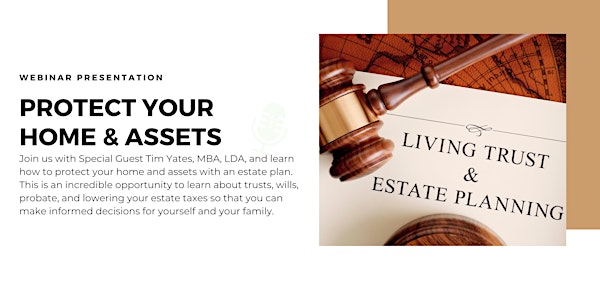 Estate Planning Webinar
Protect Your Home & Assets with Tim Yates, MBA, LDA
About this event
Hi Friends! I want to invite you to a 30-minute live webinar.
Join us and our Special Guest Tim Yates, MBA, LDA, and learn how to protect your home and assets with an estate plan. This is an incredible and valuable opportunity to learn about trusts, wills, probate, and lowering your estate taxes so that you can make informed decisions for yourself and your family.
Please forward this email invitation to any family, neighbors, or friends who may also want to learn this valuable information.
Thanks, and we hope to see you on the 31st.
Topic: Protect Your Home & Assets with Tim Yates, MBA, LDATime: Jan 31, 2023 07:00 PM Pacific Time (US and Canada)
Reasons to look into estate planning.
1. Protecting your loved ones: By creating a comprehensive estate plan, you can ensure that your loved ones are taken care of and that your assets are distributed according to your wishes.
2. Avoiding probate: Probate can be a long and costly process, but with proper estate planning, you can avoid it and ensure that your assets are distributed quickly and efficiently to your heirs.
3. Ensuring that your wishes are carried out: Do you have specific wishes for your funeral or burial? Do you want to donate some of your assets to charity? With an estate plan, you can make sure that your wishes are followed.
4. Protecting your business: If you own a business, estate planning is crucial to ensure that it is passed on to your heirs or sold in a way that is most beneficial to you and your family.
5. Saving on taxes: Estate planning can also help you minimize taxes on your estate, which can save your heirs money in the long run.