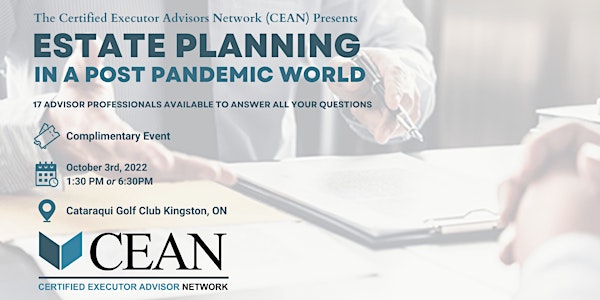 Estate Planning in a Post Pandemic World
Location
Cataraqui Golf and Country Club
32 Country Club Drive
Kingston, ON K7M
Canada
17 advisor professionals available to answer all your questions. Discover how to plan your estate, beginners welcome. Hosted by CEAN.
About this event
The Certified Executor Advisors Network (CEAN) is proud to announce the first Kingston community Chapter event, Estate Planning in a Post Pandemic World.
Being an executor at some point in your life, whether you are choosing an executor, being elected as one, or are on both sides at once - it is a job role most of us are surprised by and underprepared for. As a result of the recent pandemic, we know it's been more difficult to get help and answers on this topic, which is why we are proud to host the first event of this kind in Kingston.
17 advisor professionals will be on hand to answer whatever questions you may have related to being an executor in Ontario, such as:
How do I choose an estate trustee?
I'm an executor - now what?
What are the dangers of not having a power of attorney?
How do I make a gift and save taxes
Will my family fight over my money if I don't have a power attorney?
Why choose a mediator with legal experience in estates?
And more! If you have questions, we will be happy to provide answers. This event has been designed as an interactive, round robin format to ensure you get access to as many industry experts as possible. Come out to see us and find out first hand what's in store for executors in Ontario.
Join us for this complimentary event on Monday October 3rd, at 1:30pm or 6:30 pm. We look forward to seeing you at the Cataraqui Golf Club in Kingston, ON.
Please note that this is a complementary event with limited seating.