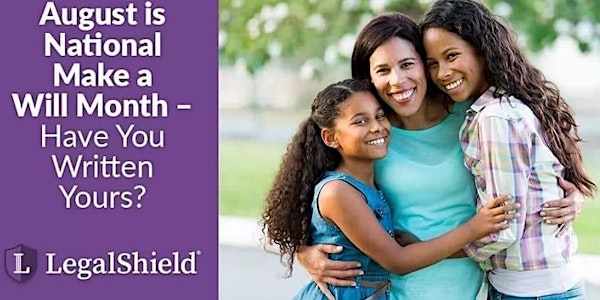 Estate Planning FREE Webinar
August is National Make a Will Month, and it reminds us how important it is to have our Will prepared.
About this event
FREE webinar for ENROLLED COLORADO LegalShield members. To register, have your membership number ready.
Your law firm, Riggs/Abney will provide this live webinar. As part of your membership, your will package is included no extra cost.
A Will is not a common document that people have prepared yet, it is necessary legal document.
Regardless of age, gender, and demographic, everyone needs a Will. A Will helps ensure your estate, children, pets, and finances are handled with responsible care. Without a Will, the care of your children, pets and assets could be left up to the state.
With a Will you can:
1. Reduce the stress and financial burden on your loved ones
2. Decide who will receive your assets and property
3. Decide who will care for any of your dependent children
4. Ensure a safe home for your pets
5. Provide any specific funeral arrangement requests
LegalShield, our offered legal protection benefit, includes Will preparation as part of its many benefits. With LegalShield, preparation of estate planning documents such as a Will and health care directive are covered in full. It is also a simple and quick process, saving you both time and money.