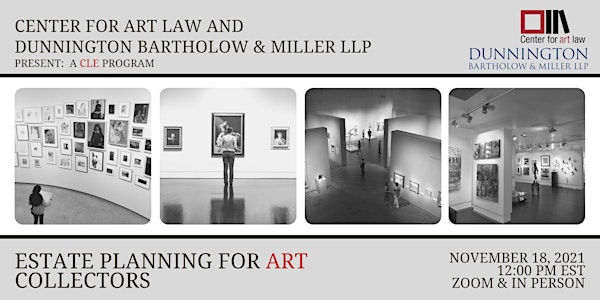 Estate Planning for Art Collectors (CLE)
The Center for Art Law is proud to present a CLE on Estate Planning for Art Collectors together with Dunnington Bartholow & Miller LLP.
Refund Policy
Contact the organizer to request a refund.
About this event
Center for Art Law and Dunnington Bartholow & Miller LLP are excited to present a CLE event on the topic of Estate Planning for Art Collectors. From antiquities to NFT's, collectors of art have eclectic tastes that may or may not be shared by their heirs. Join our panelists as they discuss issues that all art collectors face in their estate planning efforts. To gift or to sell? Let's consider questions and best practices on for deeds, wills and consignment agreements, not to mention the posterity. Join our moderator Helen Allen and guest speaker panelists: Natasha Chang, Sherri Cohen, Burton Fendelman, and Darsi Monaco as they discuss case law and issues that all collectors of art may deal with in their estate planning process.
MODERATOR: Helen Allen, The Winter Show
SPEAKERS:
Natasha Chang, Esq., Dunnington, Bartholow & Miller LLP
Sherri Cohen, Esq., Bonhams
Burton Fendelman, Esq., Burton M Fendelman & Associates
Darsi Monaco, Esq., Gurr Johns
MEET OUR MODERATOR AND SPEAKERS
Helen Allen recognized by Crain's New York Business as one of the "40 Under 40 Rising Stars" for her work as an art fair founder and director, Helen Allen has orchestrated the market entry and direction of several fairs over the years. Prior to joining The Winter Show as Executive Director in the spring of 2018, she produced Saatchi's The Other Art Fair in Brooklyn and co-founded and produced (e)merge art fair in Washington, DC.
Sherri Cohen is the Head of Business Development at Bonhams Auction House for North America. She also leads the Trusts and Estates team on the East Coast. Sherri and her team assists attorneys, executors, fiduciaries, family offices and private clients in the valuation and sales of their tangible private property including everything from Asian Art, fine art, jewelry, watches, decorative arts to motor cars, collectibles, and rare books.
Darsi Monaco is the Director of Trusts and Estates at Gurr Johns, Inc. an international art advisory and appraisal firm. Darsi assists fiduciaries and private clients with the valuation and disposition of art and tangible personal property for estate planning, estate tax, divorce, estate litigation, charitable giving and using art as collateral. Darsi advises on IRS and USPAP rules, and best practices for valuations in complex art–related transactions and litigation.
Burton M. Fendelman, a practicing attorney with more than 35 years of experience in corporate business and finance and an avid collector of art and antiques, Mr. Fendelman brings vast experience working with professional appraisers, museums and foundations for donations to the panel. Currently, Mr. Fendelman's legal practice specializes in working with collectors, dealers, artists and others in the world of art and antiques. He consults on business, taxation, art and antiques collecting and collection issues and advises on the disposition of collections.
Pang-Mei Natasha Chang, is a member of Dunnington Bartholow & Miller's estates, trusts and private clients practice group, as well as its international, France, and charitable, not-for-profit and religious institutions practice groups. She counsels both domestic and international individuals, families, businesses and charitable organizations in estate and trust planning, and wealth transfer planning. She works with clients to design and implement tax-sensitive structures to meet their planning, business and charitable needs. Ms. Chang writes frequently on the protection of women in the modern family, including the critically-acclaimed book, Bound Feet & Western Dress (Doubleday).
Financial Aid Policy
Attorneys seeking to receive financial aid in the purchase of their tickets may contact the Center for Art Law through the "contact organizer" function on Eventbrite or at artlawteam@itsartlaw.org or by calling Tina Carter at (212) 682-8811.
Together, Center for Art Law and Dunnington is pleased to offer full or partial scholarships to New York attorneys who are unable to attend due to cost considerations.
Continuing Legal Education
CLE CREDIT for this program is pending in accordance with the requirements of the New York State CLE Boards for a maximum of one (1) professional practice credit. Out-of-state attendees will have to apply to their states' CLE Board for credit.
CLE credits for this course are provided by Dunnington Bartholow & Miller LLP.
Important COVID Protocols
All attendees must be vaccinated in order to attend the in-person session of the CLE event and proof of vaccination must be shown. Guests are encouraged to wear their masks while moving around the space.
About the Center for Art Law
The Center for Art Law is a New York-based research and education nonprofit that offers resources and programming for the advancement of a vibrant arts and law community. Through its website and monthly Art Law Blast newsletter, the Center disseminates information and keeps readers updated on art- and law-related news, events, cases, and publications. The Center facilitates conversations by hosting and participating in programs including conferences, workshops, clinics, film screenings, and more. Today a world-renowned asset to the art law field, the Center serves artists, attorneys, students and scholars of both disciplines, art market professionals, and members of the general public.
About Dunnington Bartholo & Miller LLP
In 2021, Dunnington Bartholow & Miller LLP will celebrate one hundred years of successfully serving its clients. A century ago, Dunnington was a small partnership of outstanding professionals whom prominent New York families relied on for their legal needs. Today, Dunnington is a fast paced, multi-faceted international practice that maintains its core values of reliability, trustworthiness and commitment to excellence. With 26 attorneys, we continue the high standard of personal service and attentiveness to clients that the firm has provided since its founding.
Dunnington provides a full array of legal services to its clients. This includes Corporate, Employment, Litigation, Trust & Estates, Intellectual Property, International, Real Estate, Immigration and Not-for-Profit practice areas. Further industry specific practice areas include Art law, Fashion law and Advertising law.
Dunnington lawyers practice in a wide range of industries and practice areas and serve a global client base seeking reliable advice in the New York market. Dunnington's personalized approach gives each client an efficient, cost-effective team to tackle the problem at hand.