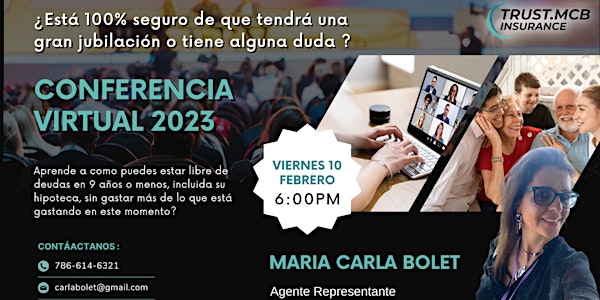 Multiple dates
¿Está 100% seguro de que tendrá una gran jubilación o tiene alguna duda ?
Programa comprobado que te permite obtener un control inmediato de sus gastos, deudas, ahorros e impuestos.
By Steven Rodriguez-Giudicelli
When and where
Date and time
February 10 · 3pm - July 14 · 4pm PST
About this event
Solución para el pago de deudas, la reducción de impuestos y el aumento del ahorro para el retiro a través de un producto seguro, predecible y que brinda garantías.
Puedo mostrarle cómo liberarse de los prestamistas en 10 años o menos, incluida su hipoteca, sin gastar dólares adicionales.
Muchos estadounidenses están que caminan y no avanzan… con metas para estar más
adelante, pero parece que no pueden lograrlo debido a los impuestos, la matrícula, la inflación, el costo creciente de la atención médica y muchos otros factores.
Y aquí es donde YFB TU BANCO FAMILIAR entra a ayudarles:
Una forma única de avanzar realmente. Es bastante simple en realidad... dejar de pagar a los
bancos y prestamistas. Toma cada dólar y haz que trabaje para ti. Evite riesgos y asegure su futuro con un crecimiento garantizado en el que puede confiar.
ENTRAR A SALA DE PRESENTACION: https://meet.goto.com/845631085
Para mas informacion llamar o escribir:
Maria Carla Bolet
Tel: 786-614-6321
Email: carlabolet@gmail.com