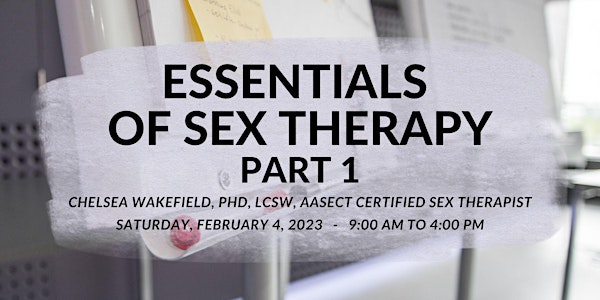 ESSENTIALS OF SEX THERAPY- PART 1
Most therapists receive little training in how to work with sexual issues. Here is the remedy!
Refund Policy
Contact the organizer to request a refund.
Eventbrite's fee is nonrefundable.
About this event
After this 6 hour class, taught by AASECT certified Sex Therapy, Dr. Chelsea Wakefield, you will have:
Increased your comfort and confidence for opening the topic of sex and how to create an atmosphere of acceptance and safety in which clients can talk about their sexual concerns.
Gained familiarity with some key figures in the history of sexology and learn about their important contributions to the field.
Be given tools you can use immediately:
How to do a sexual assessment – a protocol for taking historical, medical, developmental, and contextual information that will help you formulate a helpful, healing, client-centered treatment plan.
How to help clients move beyond a negative history that has a grasp on the present.
How to assess the gaps and provide the essential sex education your clients never got in school.
Protocols for assessing and addressing the most common sexual complaints (the DSM defined dysfunctions).
You will come to understand why a contextual/circular model of sexual response is more helpful than the traditional linear model for treating problems of desire in most women.
Provides a certificate of 6 hours of Social Work Contact Hours thru UAMS.
Part 2 - Essentials of Sex Therapy – POWERFUL EXPERIENTIAL METHODS FOR PIVOTAL CHANGE AND PROFOUND HEALING. See UAMSCouplesCenter for the winter/spring schedule.
Contact Dr. Wakefield with questions about this program, certification in Interdynamic Couples Therapy™ or future programs at cwakefield@uams.edu.
Chelsea Wakefield, Ph.D., LCSW, is an Associate Professor at UAMS where she is the Director of the Couples Center for Clinical Education. Her Ph.D. dissertation focused on women's sexual desire, and she is an AASECT-certified sex therapist. She is a popular conference speaker and the author of three books, Negotiating the Inner Peace Treaty; In Search of Aphrodite – Women, Archetypes, and Sex Therapy; and The Labyrinth of Love – the Path to a Soulful Relationship.