Description
Vetted by industry experts at Merck and Genentech, this new blended course is being offered to industry, students, and job seekers. Join BREP for this hands-on course following the info webinar and online course to acquire essential skills in automation technologies and practices related to the vibrant and growing biomanufacturing industry.
Attendees will learn:
-How to progress through typical automation project sequence
-Become familiar with typical instrumentation/automation documentation such as PFDs, P&IDs, Loop diagrams, specification documents (URS, FRS, SDS, STP, etc), commissioning and FAT/SAT
-The difference between various control strategies applicable to bioreactor automation, including split-range control, and cascade control
-Hands-on experience with a distributed control system (DCS) architecture/hardware/ DeltaV software and how to use it to control process equipment for a lab scale bioreactor
-How to use various process sensors/equipment and integrate them with a DCS via I/O hardware
-How to calibrate of various sensors and loop checking
-How to navigate, utilize various HMI's for control of bioreactor (lab scale), TFF (lab scale), and CIP (pilot scale) and operations
-Become familiar with utilities systems and pilot scale control room via guided tours
Prerequisite Online Course:
A prerequisite online course offered through the International Academy of Automation Engineering (IAAE) must be completed before attending this course. The online prerequisite course costs $450. Please register for the online course and bring your "Certificate of Completion" to the hands-on course.
Online materials will cover:
-Control
-Measurement, Sensors and Actuation
-Communication, Integration and Software
-Automation System Safety and Reliability
-Industrial Coltrol Systems Cybersecurity
-Introduction to Automation for Biomanufacturing
---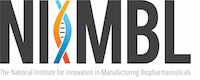 This course was developed with a project award from the National Institute for Innovation in Manufacturing Biopharmaceuticals (NIIMBL) and financial assistance from the U.S. Department of Commerce, National Institute of Standards and Technology (70NANB17H002).
---