Essentials of Automation Engineering for Biomanufacturing Hands-on Training...
Description
This course was developed with a project award from the National Institute for Innovation in Manufacturing Biopharmaceuticals (NIIMBL) and financial assistance from the U.S. Department of Commerce, National Institute of Standards and Technology (70NANB17H002).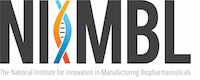 Vetted by industry experts at Merck and Genentech, this new blended course is being offered to industry, students, and job seekers. Join BREP for this hands-on course following the info webinar and online course to acquire essential skills in automation technologies and practices related to the vibrant and growing biomanufacturing industry.
Online materials will cover:
-Control
-Measurement, Sensors and Actuation
-Communication, Integration and Software
-Automation System Safety and Reliability
-Industrial Coltrol Systems Cybersecurity
-Introduction to Automation for Biomanufacturing
*Prior to registering for this course, students are required to complete the online material hosted by IAAE. This can be accessed here: https://myiaae.org/
Check out BREP's 3D models of their facility:
If the dates for this course do not fit your schedule, please check our partner sites at NC State or Worcester Polytech.