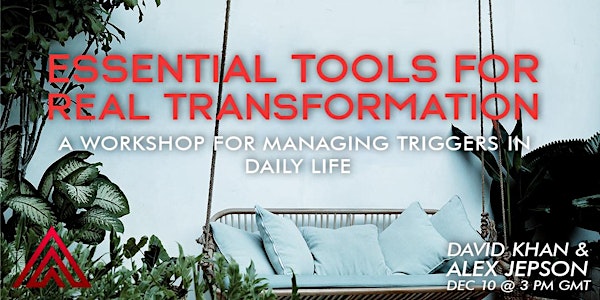 Essential Tools For Real Transformation
Learn effective tools for re-writing patterns and managing daily triggers in a 2-hour workshop.
Refund Policy
Contact the organizer to request a refund.
Eventbrite's fee is nonrefundable.
About this event
*** Replay available for those who cannot make it live. Will be sent out 1-2 days after the workshop ***
*** Check your local time HERE ***
Make your shift into a thriving life permanent!
We all know the process of healing and self-empowerment is challenging… Growth and evolution can be downright painful at times. Even more so when we apply this to business!
We've all done events, workshops, and spaces that make us feel better initially. But what happens afterwards? Are we actually equipped with the right tools to manage challenging times in the weeks that follow?
This is where the idea for our workshop came in. The old saying of "Give a man a fish and he will be hungry again tomorrow. Teach a man to fish and you feed him for a lifetime".
Despite our best efforts, our lives are run by our subconscious mind. Scientists estimate as much as 95% of our brain activity is unconscious, run by automatic patterns. And the brain is connected to the body via the nervous system. That means we deeply feel the effects of our belief systems in every cell of the body.
Over our lives we see an accumulation of beliefs on who we are, how the world works, what's safe, what we're capable of, what to avoid, etc.
This impacts our lives in many ways…
Imposter syndrome. Self-worth issues. Fears and blocks around money. Staying small and avoiding being seen. Feeling the impacts of fight, flight or freeze responses in our daily lives. The list goes on and on!
Reality then re-inforces itself based on this signal that we are broadcasting. We attract the same people and the same situations until we truly change.
But there's a silver lining here… A challenge and an opportunity.
We can stay in our old beliefs and keep running the same patterns OR we can generate new ones.
Yes, beliefs can be re-written! And when that happens, our entire experience of life changes:
Uncomfortable emotions become an opportunity for growth
We release the weight of a lifetime of trapped emotions
We experience more freedom as old blocks and barriers fall away
Our natural self emerges and we feel more empowered
And we have more energy and optimism towards life
These things then create a positive feedback loop and life starts spiralling upwards. And then:
We meet better quality people
We seem to manage money better
We find time to do the things we love
We feel more empowered to live life in a truly authentic way
This workshop is dedicated to giving you the tools to re-write these negative patterns permanently whenever they may arise. In this workshop, we will cover:
Why our beliefs and patterns are running in the first place
How to interrupt and stop energizing these old patterns
How we can release the trapped energy and emotions from our body
Method of self-inquiry to understand the nature of our patterns
How to create and strengthen new healthy, loving and empowering beliefs
The tools we will cover simply work. We have used them in our own personal and entrepreneurial journeys to live life to its fullest and build thriving businesses with healthy teams.
The workshop will take place on ZOOM beginning at 3 pm London time (check your time here)
Look forward to seeing you there!