Essential Tools 4 life! ... YOUR day of Empowerment, SHINE & Accountability...
Description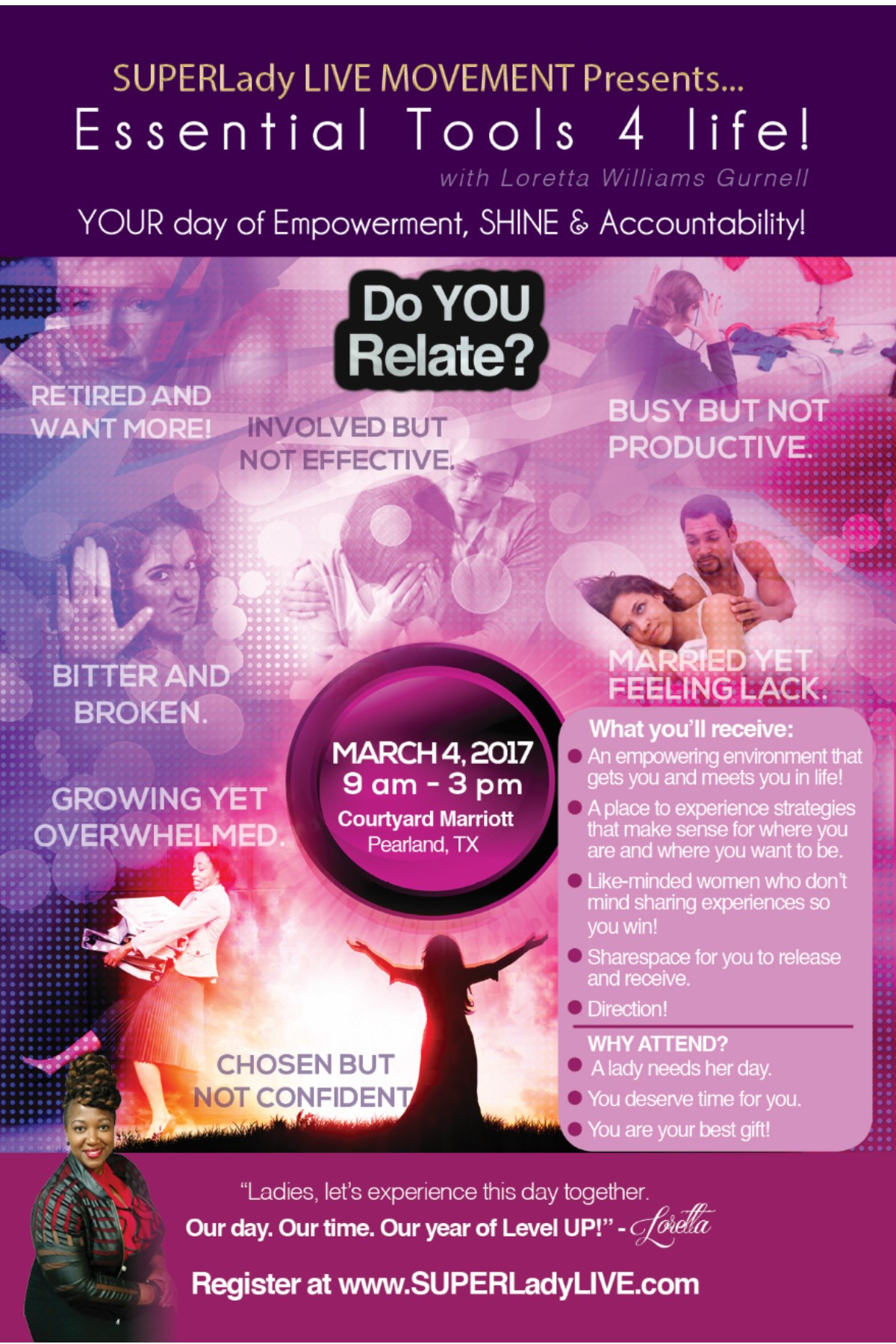 Ladies, let me just share … I've heard it all or experienced it for myself! – Loretta Williams Gurnell, B.S., M.Ed. - Your Essential Tools 4 life! ... Hostess!
It doesn't matter if you are young, older, married, single, divorced, widowed, entrepreneur, small business owner, career driven, just getting started or retired and settled in, we are all GUILTY! Guilty of putting OTHERS first before ourselves and sometimes to the point of our own destruction. As natural nurturers, this happens all the time. But even then, we can be hurting more than helping when we are not whole.
You deserve a day when it's all about YOU! And that's really OKAY! Come and experience an empowering environment filled with strategies and methods for loving you, seeing how others see you, setting boundaries that produce more and creating the space for more of what you need versus what others want. And if you've got it all TOGETHER, great. Then come and share what you know with others! #TOGETHERWeAreSTRONG
Remember ...
1. A lady needs her day. 2. You deserve time for you. 3. You are your best gift!
YOUR day of Empowerment, SHINE & Accountability! awaits you. "it's your time to shine" … #ET4Life
REGISTER Today!
Video/Camera Production Release and Waiver: An audio/video production will take place at the event along with still photography. By registering for this experience, you give full consent and voluntarily choose to and are in agreement to having your voice, image, and or like-ness shared through sound, digital editing and compilation of the day's events and activities which may include, advertisement, press releases, video viewing, television, social media outlets and/or website hosting along with non-printed display as well and by no means expect to receive any form of payment, exchange of services or goods from SUPERLady LIVE MOVEMENT or any of our partners/supporters. If it is your desire to not be captured in the above manner, please be reminded that it is your responsibility to remain aware of all camera use and remove yourself from any view of production. If you fail to do so, you waive any and all claims of public exposure, defamation of character, privacy or embarrassment. We aim to ocaptyre your best moments! With all that SUPERLady LIVE MOVEMENT does, we will uphold the highest integrity to continue representing ourselves and SUPERLady LIVE MOVEMENT'S Community well. Lets' SHINE TOGETHER.
---
A Few Frequently Asked Questions!
What makes SUPERLady LIVE MOVEMENT So Different? When it comes to talking about who we are as women and the many hats we wear, putting ourselves first is never a first thought. And if so, it's very - very rare. SUPERLady LIVE MOVEMENT'S Essential Tools 4 life! is an experience for women to nurture your #1 Asset, YOU! Our approach is simple ... BUILD You to GROW Your Business to Increase PROFITS! NOTE: BUSINESS=(Family, Entrepreneur Life, Small Biz, Ministry, Community, Non-profit, etc.) When you are nurtured, you SHINE bright everywhere you land! AN INTERNATIONAL MINDSET!
Our Theme: #TOGETHERWeAreSTRONG Our Goal: #levelUP
Hashtag: #ET4Life
Buddy Up: Anytime you experience greatness, it's always fun to experience it with a girlfriend, sistergirl or two. Share your registration with them on Facebook Twitter Instagram and LinkedIn
What should I do about breakfast and lunch? With your registration, you'll receive a light refreshing breakfast. For lunch, we suggest you buddy-up with another lady, increasing your networking power and grab a quick bite in one of the restaurants in the area. There will be plenty to discuss while you eat. It's a part of the process! In addition, light energy snacks and water will be provided throughout the day.
Parking: Parking is open with no additional cost.
Attire: Please be comfortable, cute and cool for pictures and video!
Notetaking: I ALWAYS carry my yearly workshop journal with me. Feel free to bring yours. You'll capture so much that you'll want to ... refer, refresh and remind yourself often, why and how you SHINE!