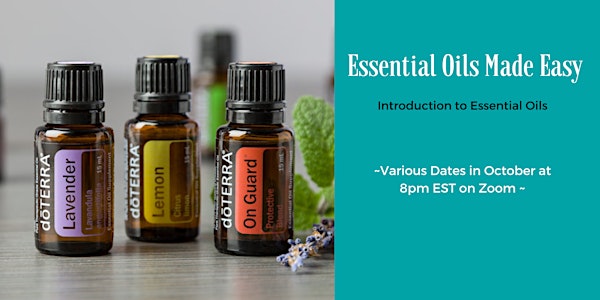 Essential Oils Made Easy (Introduction Class)
Join us for a conversation about how to have a healthy body, home, and family using essential oils & other natural solutions.
About this event
Have you heard a lot about essential oils but aren't quite sure what they are or how to use them?
Maybe you've been using them for awhile but just need a refresher or want to learn more about what's next on your essential oils journey?
Are you eager to see how doTERRA essential oils can support your health, but also other areas of your life?
If so, this class is for you!
This class is an Essential Oils 101 class for non-doTERRA essential oil customers and want to use essential oils for their health, home, and family in 2022!
Here's what you will learn in the class:
1. What essential oils are & why they are effective
2. Why doTERRA is a great company for essential oils
3. The Top essential oils and products to use to meet your health needs
4. How to get started and grow in your essential oils journey (including enrolling, loyalty rewards program, etc.)
5. What I offer for ongoing support for my customers
🎉WIN A FREE ESSENTIAL OIL🎉 >> RIGHT after this class, I will be doing a 15-minute presentation on "The Joy of Sharing Oils." If you stay for that presentation, you can enter the raffle to win a FREE Essential Oil from me!
Join me LIVE to get all your questions answered in real time and learn how you can get started!
Register below!
** NOTE - This class is only for those who are on my doTERRA Essential Oils Team OR do NOT have a wholesale account / wellness advocate account with doTERRA. If you are unsure if that's you, please reach out at madewellky@gmail.com