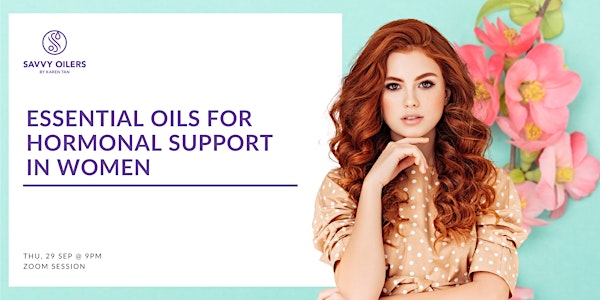 Essential Oils for Hormonal Support in Women
Essential Oils for Hormonal Support in Women
About this event
Have you ever heard friends or family members say these things?
"I lost/gained a lot of weight because of my thyroid."
"I couldn't sleep well at night."
"Oh, I have a problem with hair loss."
"I have a heavy menstrual cycle."
"I don't have a period."
Did you know that all of these symptoms are caused by a hormonal imbalance?
What can you do if you have a hormonal imbalance?
If you are one of those who are facing the hormone issue, then you should attend this session organized by our resident aromatherapist Karen Tan Hui Keen.
Come too if you are:
1) a newbie in essential oils
2) a veteran in essential oils (you can definitely share it with those around you, trust me, you'll sound super smart by copying the advice by Karen and sharing it with your friends 😉)
3) in the business of essential oils like me! (arm yourself with more knowledge, you'll never know when you will need it)
Let's find out how we can balance our lifestyle with essential oils by Karen Tan!
BLOCK your calendar TODAY:
Date: 30 September 2022 (Thursday)
Time: 9pm
This is another workshop brought to you by the Savvy Oilers community - organized by the community for the community.