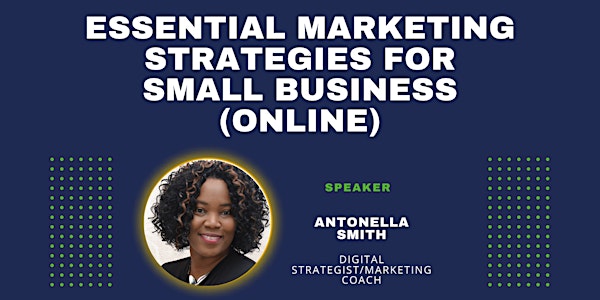 Essential Marketing Strategies for Small Business (Online)
An online session that is designed for small business owners to provide a tactical approach to marketing your business.
About this event
Positioning your business for long-term growth and success is critical. No one knows what the future holds and that's one reason why it's important to create a marketing strategy. Join me for an online session where I will share with you some essentials when implementing a successful marketing strategy.
Session takeaways:
►How to build your marketing strategy
►Setting your marketing goals and budget
►Developing your brand and driving brand awareness
►Understanding the benefits of digital marketing
Register today. The event link will be emailed to you prior to the event.
See you online!
_____
Coach: Antonella Smith is the CEO and Digital Marketing Strategist/Coach of Clear and Concise Marketing LLC. Antonella has over 20 years of success in developing and driving strategies as well as programs for Fortune 500 companies. She has used her experience in digital marketing and direct marketing to capitalize on emerging opportunities and propel the business growth for small and large businesses. Antonella's goal is to consistently provide successful solutions to her clients that produce real results and a strong Return on Investment (ROI).
_____
Terms of Participation Agreement: By registering for this event, you also consent to receive email communication from Clear and Concise Marketing LLC about events and updates that may be of interest to you.
Let's grow and scale your business. Click HERE for details about one-on-one coaching online.