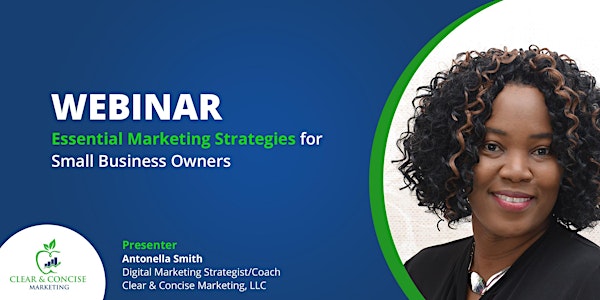 Essential Marketing Strategies for Small Business (Live Webinar)
Description
About this Event
Tired of the "throw it on the wall and see what sticks" approach to developing your business? Yep, I know you are! Plus, it just doesn't work.
Here's your first step to making an effective change. Register for an upcoming webinar session that is designed for small business owners to provide a tactical approach to marketing your business, delivering strategic guidance, expert insight and clear direction.
Session takeaways:
►The importance of creating a marketing strategy
►How to build your marketing strategy
►Setting your marketing goals and budget
►Developing your brand and driving brand awareness
►Understanding the benefits of digital marketing
NOTE: Multiple dates and times. Choose a date, register and see you soon!
___
Presenter:
Antonella Smith is the CEO and Marketing Strategist/Coach of Clear and Concise Marketing LLC. Antonella has over 20 years of success in developing and driving strategies as well as programs for Fortune 500 companies. She has used her experience in digital marketing and direct marketing to capitalize on emerging opportunities and propel the business growth for small and large businesses. Antonella's goal is to consistently provide successful solutions to her clients that produce real results and a strong Return on Investment (ROI).