Event Information
Location
Twelve Hotel Atlantic Station
361 17th Street NW
Atlanta, GA 30363
Description
Join us at Essence of Belly Dance 7 September 14-17, 2017 in Atlanta, GA! An epic weekend of dance with some of the most notable Belly Dance artists in the industry!
Our 2017 featured instructors include...
Mohamed Shahin
Mohamed Shahin is an inspirational instructor, world-renowned performer, and challenging choreographer of Egyptian Oriental Dance (Raqs Sharqi) and Egyptian/ Middle Eastern Folkloric Dance. His powerful technique, magnetic personality, and masterful knowledge of all styles of Middle Eastern Dance has turned Mohamed Shahin into one of the most sought after dance instructors and performers in the world today.

Mira Betz
Mira Betz has been teaching and performing Traditional and Contemporary forms of Middle Eastern dance for 20 years. Her work has been instrumental in the emergence of a new style known all around the world as Tribal Fusion, a dance rooted in tradition while forging new bonds between world dance and individuality. Mira, known as a "teacher's teacher", empowers students to cultivate curiosity, find their own unique voice, and brings the notions of artistry and integrity to every class. She travels internationally continuing to spread her experience, knowledge and love for dance through her captivating performance and engaging teaching style
Colleena Shakti
Trained in Odissi classical dance and well-versed in many styles of dance from India and beyond, Colleena lives an artistic path steeped in rich tradition. Yoga, Aesthetics and related philosophies are an integral part of her holistic vision that helps her to bridge tradition with modern expression.
Suhaila Salimpour
Suhaila Salimpour is a highly acclaimed performer, teacher, and choreographer of belly dance. Schooled from an early age in jazz, tap and ballet, Suhaila began integrating her extensive classical training with the Middle Eastern dance passed on by her mother, Jamila Salimpour. The result was a true artistic breakthrough: a revolutionary foundational technique that has brought the art of Belly Dance to a new level.

Natalie Nazario
Born in Puerto Rico, Natalie is described as bundle of beautiful energy tempered by technique and taste and dynamic performances. She moved to New York City in 2012 and soon afterwards started performing and teaching, and has forged her memorable brand as solo artist and as artistic director. Along with her most outstanding advanced students, Natalie founded 'Raks Al Zahra', an Oriental & Folkloric Dance Company based in New York City. Every year they present their show 'Raks Al Zahra Gala' to share their new work in a theater setting.

Andrus Ramir
Andrus Ramir is an award-winning dancer and Miami's premiere male entertainer. Andrus is known for his lines, shimmies and modern interpretation of belly dance. With over a decade of inimitable style, he captivates and continuously leaves his mark among spectators, making him an acclaimed and sought after performer in the USA. Andrus's mission is to educate, promote, and present bellydance in a professional and artistic manner to his students and audience.

Faaridah & Team Essence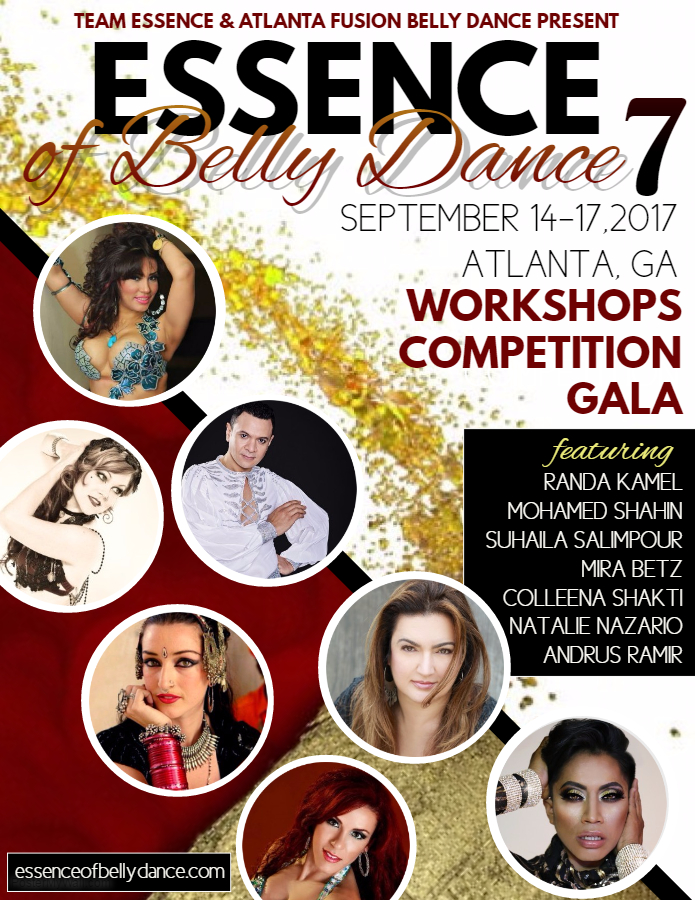 Location
Twelve Hotel Atlantic Station
361 17th Street NW
Atlanta, GA 30363