| | |
| --- | --- |
| Essence Music Festival Day Trip 2013 | |
Event Details
Join 3D Paradise Travel at one of the hottest music festivals of the year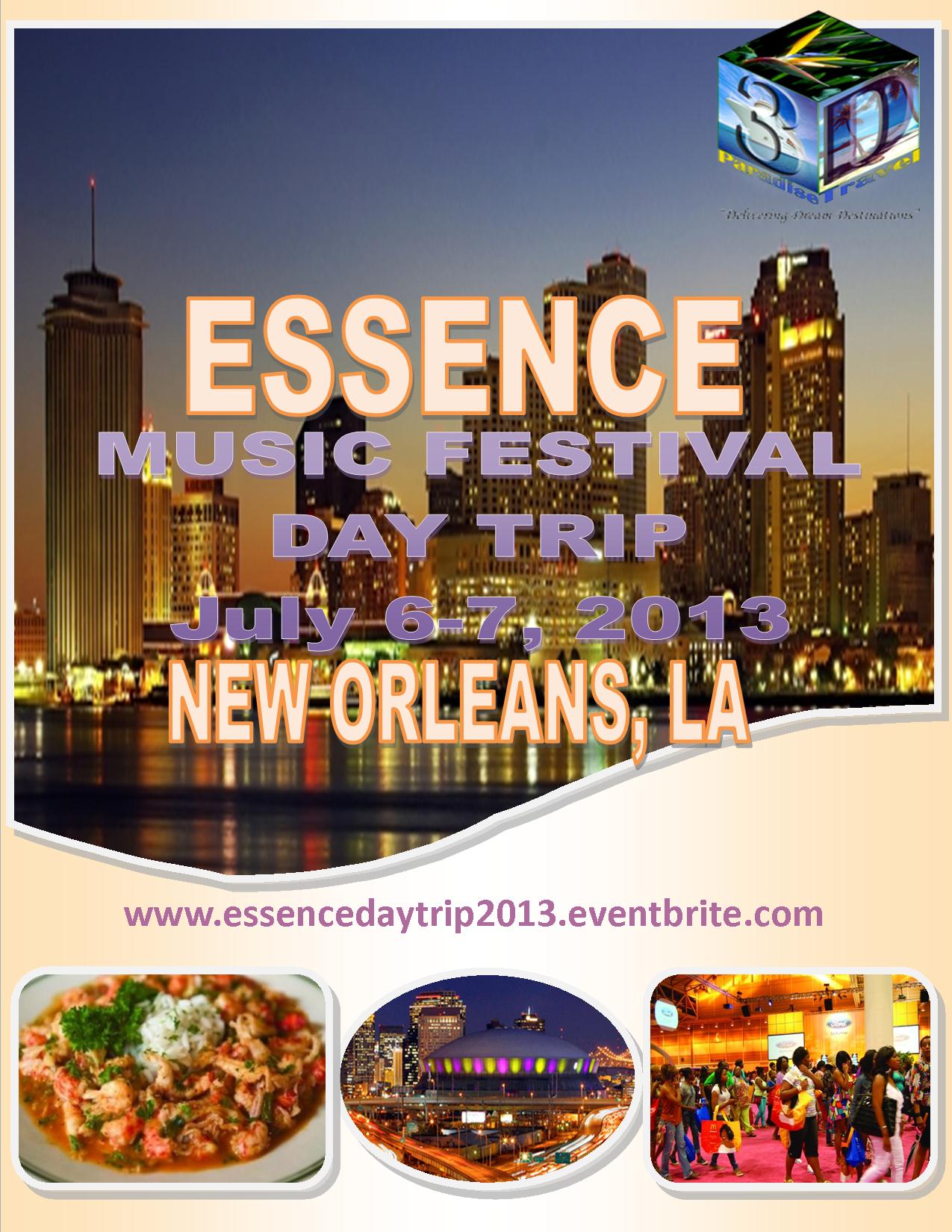 Essence Music Festival
New Orleans, LA
1 Day Party Bus
$85 per person
Enjoy the sights and sounds of the Mainstage Performances and the intimate Super Lounges. Enjoy the Empowerment Seminars, Cultural and Community Programs, Day Parties, Food, People, Celebrities, Meet New People, and so much more. Please be advised, 3D Paradise Travel is not affiliated with Essence Magazine or Essence Music Festival… We provide travel arrangements with convenient affordable costs giving you the opportunity to experience what the Essence Festival has to offer.
2013 Line-Up have been announced:
Mainstage Performers – Beyonce, LL Cool J, Jill Scott, Maxwell, New Edition, Charlie Wilson, Keyshia Cole, Brandy, Trey Songz
Intimate Superlounge – Anthony David, Big Daddy Kane, Bridget Kelly, Blackstreet, F. Stokes, Jody Watley, Kourtney Heart, Les Nubians, Leela James, Mia Borders, Mint Condition, Tamia.
Gospel Tribute to Pastor Donnie McClurkin & Tramaine Hawkins
Purchase your concert tickets through Essence Music Festival, or Ticketmasters.
Included:
-Rountrip Motorcoach Transportation from the Atlanta to New Orleans
-Cocktails/Beer on Motorcoach
-Full Day (Saturday Jul 6, 2013) in New Orleans to enjoy the festival
-Movies on the motorcoach
-Games/Prizes
-A Professional Travel Agent will travel with you on the motorcoach
Cost:
Full Payment - $85 per person
Pick-Up Location:
12:00AM The Parking Spot 2 3600N Desert Drive, East Point, GA 30344
12:45AM Kroger 2626 Rainbow Way, Decatur, GA 30334
Please be at the pickup location before the bus arrives. The bus will pick up everyone at the scheduled time and will not wait for anyone not at the location. We are not responsible for cars left in the parking lot. It is highly encouraged that you have someone drop you off and pick you up if your pickup location is at the Kroger. Parking is at your own risk. Parking at The Parking Spot 2 is a secure location with a 24 hour parking attendant for a small per day fee.
Refresh
You will have 45 minutes to freshen up, change clothes, and do anything else to get ready at the Louisiana Welcome Center for drop off in New Orleans.
Arrival in New Orleans
Everyone will be dropped off at Harrah's Casino.
Restaurants and bars are everywhere in New Orleans. The French Quarter is not far from Harrah's Casino and the parades aren't either. We will meet up at Harrah's Casino at 2am Central(3am Atlanta time). Keep a close eye on the time.
Drinks on the Bus
Remember to eat before boarding the bus. Definitely KNOW YOUR LIMIT. If you become out of hand we will pull you to the side and tell you to get a grip. Please do not get offended. We all want to have fun. You may bring a small cooler containing your favorite beverages.
Arrival Back in Atlanta
Our buses will leave New Orleans at 2am(Central) on Sunday and arrive in Atlanta around 10-11am.
Policies
-All payments are non-refundable due to contractual agreements with the hotels and motor coach companies.
-Please review our Policies at http://www.3dparadisetravel.com/14.html  
-It's important to stay within our within our deposit and payment deadlines. If you plan to fall behind please call us and let us know. When you fail to pay monthly deposits and you do not call we assume you have decided not to attend the event. In this case, your space can be re-sold for failure to adhere to monthly payment schedule.
-All motorcoaches will have alcoholic beverages served on them.
-Everyone must be 21 or older to ride the motorcoach. (Id's will be checked before boarding the motorcoach)
-Name changes are permitted up to 60 days before the trip.
-Client credit card is required at hotel check-in for incidentals.
-Hotel prices & offer subject to change if not booked at current prices.
Contact Us
3D Paradise Travel
"Delivering Dream Destinations"
(404) 610-8149
Like us on Facebook
www.facebook.com/3dparadisetravel
Twitter
@3paradisetravel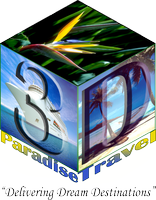 Where

NEW ORLEANS, LA

New Orleans, LA


Organizer
3D Paradise Travel, LLC
3D Paradise Travel, LLC is a licensed full-service Atlanta-based travel and events agency, "delivering dream destinations" in paradise worldwide. We specialize in leisure, individual, group, organization and corporate travel and event services.
Services offered include, but not limited to" cruises, all-inclusive resorts, getaways, events, festivals, reunions, youth teams, fundraisers, custom packages, etc. Select from our pre-packaged travel or allow us to customize your experience for you or your group with convenient budget and affordable payment plans (when available).
3D Paradise Travel would like to take you to paradise, contact us today to coordinate your next exciting travel destination or event plans.
Contact:
Phone: (404) 610-8149
Essence Music Festival Day Trip 2013