| | |
| --- | --- |
| Essence Music Festival 2013 - Thomas McCrary | |
Event Details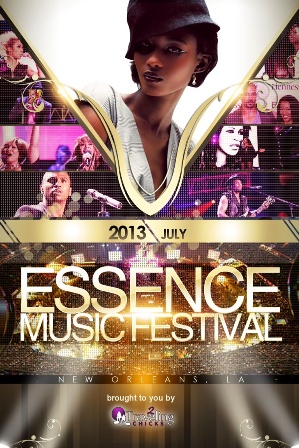 ESSENCE MUSIC FESTIVAL
July 5-8, 2013
New Orleans, LA
Essence Music Festival brings exclusive individuals into the city of New Orleans and allows you to partake in the best that the city has to offer.  The entertainment, music, concerts, parties, and food alone are worth the getaway.
Essence Music Festival is one of the biggest events of the year. Known as The Party With A Purpose, the festival offers empowerment seminars, face to face encounters with your favorite celebrities, concerts and much more! 
We've made the travel arrangements for you as well as created convenient, low monthly payments....Join your favorite 2 Traveling Chicks as we experience Essence Music Festival 2013!

Complete Travel Packages from select cities:
Roundtrip motorcoach transportation
3 nights at the Hilton Riverside
Free flowing cocktails on the bus
Movies on the bus
All White Boat Cruise
Gifts and Prizes
2TC travel agents will travel with you

Hotel Information

Hilton Riverside- SOLD OUT 
2 Poydras St
New Orleans, LA 70130


Holiday Inn
124 Royal St
New Orleans, LA 70130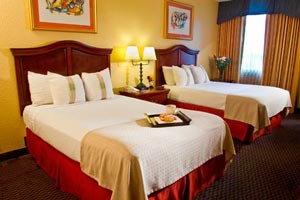 Full Travel Package Prices
$750 per person – Double Occupancy (2 ppl in a room)
$625 per person – Triple Occupancy (3 ppl in a room)
$575 per person – Quad Occupancy (4 ppl in a room)
 
Hotel Only Packages
$670 per person – Double Occupancy
$545 per person – Triple Occupancy
$495 per person – Quad Occupancy
 
Deposit Deadlines
$100 per person – February 20, 2013 
$100 or more per person – March 20, 2013
$100 or more per person – April 20, 2013
All final balances due - May 15 (NO EXCEPTIONS)

If you have friends or family members interested in purchasing All White Boat Cruise tickets, we have them available at a cost of $60 per person.
All tickets must be purchased by Friday, June 7, 2013.

We encourage your friends/family to purchase the All White Cruise tickets as soon as possible.  We may sell out before the deadline.

Pick-up Locations
Stonecrest Mall
2929 Turner Hill Rd
Lithonia, Ga

Target
3660 Marketplace Blvd
East Point, GA

Itinerary
Friday, July 5
Pick up at Stonecrest Mall - 5:30am
Pick up at Target Camp Creek - 6:00am
Arrive in New Orleans - 1:30pm

Monday, July 8
Depart New Orleans - 7:00am
Arrive in Atlanta - 3:00pm

All Times are Estimates

Please arrive at your pick up location BEFORE your scheduled pick up time.  We cannot sit and wait.  The bus will pull up and load everyone.
2 Traveling Chicks, LLC will not be responsible for vehicles left at pick up locations.
We encourage you to get dropped off and picked up.


Policies
-Concert tickets ARE NOT INCLUDED.  You should purchase your tickets via Ticketmaster or Essence Music Festival

-All payments are nonrefundable/nontransferable due to contractual agreements established with the hotels and motorcoach companies.

-It is important to stay within the deposit deadlines.
Failure to adhere to the deposit deadlines will result in cancellation of your reservations.  All monies paid will be forfeited.

-All motorcoaches will provide cocktails, you are welcome to bring your own small cooler and/or preferred drink.

-Everyone must be 21 or older to ride the motorcoach.

-Name changes are permitted up to 60 days before departure.

-Please register with an email address that is checked frequently.  All correspondence regarding this trip is sent via email.

-One person in each room will be required to present a credit card at check-in for incidentals.

-A late fee of $50 is applied immediately after the final payment date.

Pay Online or Mail Payments To:
2 Traveling Chicks
Attn: Essence 2013 TM
P.O. Box 930064
Norcross, GA 30003
Contact Us
Main Event Traveling Group  
Thomas McCrary
(678)389-0651
OR
2 Traveling Chicks
Torchia or Sharita
(888)669-1194

View Other Trips
www.twotravelingchicks.com

Join us on Facebook
www.facebook.com/2travelingchicksllc
Organizer
Two Traveling Chicks, LLC
2 Traveling Chicks, LLC's staff embodies extensive knowledge and experience in the travel industry. With our travel expertise, we will be offering extraordinary experiences in predefined and requested vacation/travel packages for our valued customers.
We provide personal, group, corporate, destination wedding, and honeymoon travel proposals.  We are licensed, bonded, and insured and are looking forward to serving your travel needs.
For more information, contact us at 888.669.1194 or trips@twotravelingchicks.com
Stay connected with us on the following social media pages:
Twitter: @2travelingchick
Instagram: 2travelingchicks
Facebook: www.facebook.com/2travelingchicksllc
Essence Music Festival 2013 - Thomas McCrary